Snowmobile Giveaway
Christian Brothers Racing along with Arctic Cat have graciously stepped up and made this giveaway possible at select AMSOIL Championship Snocross venues in the 2014-2015 season. Please support them, as they support us!
One Arctic Cat 120 Snowmobile will be given away at select National Events (five total).
Attend the AMSOIL Championship Snocross races and stop by the Christian Brothers Trailer for details.   The 120 is all decked out as a Christian Brothers Race sled.
Watch for the lucky young winners, hopefully they become the racers of the future!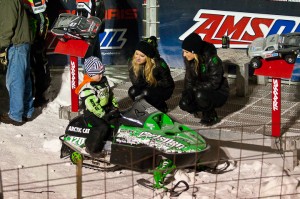 Christian Brothers Racing Gives Away Arctic Cat Snowmobile At Duluth National Snocross
Fertile, Minn. (December 5, 2012) – Give a kid a snowmobile and he will be a snowmobiler for life. That's the Christian Brothers Racing philosophy and that's why the team is giving away five Arctic Cat Sno Pro 120 snowmobiles over the course of the 2014-2015 ISOC National snocross race season. The first sled was given away this past November 23-25 at the ISOC Duluth National Snocross in Duluth, Minnesota. The winner? Two-and-a-half-year-old Lincoln Meyer from Flint, Mich. Lincoln was in town because his dad Brad and his big brother Hayden were both racing at Duluth.
We signed up at the Christian Brothers Racing merchandise trailer," said Lincoln's mom Jolene. "When we found out he won we couldn't believe it. Lincoln was so excited to have a snowmobile just like his big brother's!"
This was the Meyer's second trip to the Duluth National and their second time racing there. Lincoln has another brother, Hayden, who is 5-years-old, so Jolene said they "have a good start" to their racing team.
Each Arctic Cat Sno Pro 120 giveaway sled will be decked out with Christian Brothers Racing graphics featuring the same logos Pro riders Logan Christian and Garth Kaufman have on their Pro Open sleds. The team will give away four more Sno Pro 120s this season at the ISOC National stops in Shakopee, Fargo, Michigan and Lake Geneva. All you need to do to win is sign up at the Christian Brothers Racing merchandise trailer to take the sled for a test ride and you're automatically entered in the drawing.
"Signing up to ride the Arctic Cat Sno Pro 120 is fun for the kids and getting the chance to win one makes it that much more exciting," said Christian Brothers Racing co-owner Dwight Christian. "This is our way of helping get kids out to the races and into the sport."
The Christian Brothers Racing merchandise trailer will be at every ISOC National event this season and can typically found in the vendor area. Just look for the big green trailer with the DRIFT Racing and Troy Lee Designs logos.