Martin takes the win but Ski-Doo's Tim Tremblay makes a HUGE statement Saturday's Vision Kia Eastern National at Finger Lakes  
For more information contact:
Pat Schutte, PR Director, ISOC Racing
FARMINGTON, N.Y. – (Feb. 25, 2012) – While night two of 2011-'12 AMSOIL Championship Snocross Series racing – the Vision Kia Eastern National at Finger Lakes Casino and Racetrack – went to Polaris' Ross Martin, Ski-Doo racer Tim Tremblay made quite a statement with his 14th-to-podium rush in the Pro Open main event – an effort stand-in race announcer Levi LaVallee called the "Best he's ever seen."
And in Pro Lite division racing Kody Kamm (Polaris) made it a clean sweep on the weekend, topping Ski-Doo's Derek Ellis with a thrilling last lap pass at Finger Lakes.
AMSOIL Pro Open Saturday Final
With Friday's near hurricane-force winds subsiding, Saturday night ACSS at Finger Lakes featured stellar racing in both classes. In Pro Open Arctic Cat racer Cody Thomsen pulled the MONSTER Stud Boy Holeshot, leading the rest of the field by multiple sled lengths into the first turn. Hot on Thomsen's tail was Polaris' Ross Martin, followed closely by Friday night's Pro Open winner Robbie Malinoski (Ski-Doo).
Patient and calculating, Martin – who won both of his qualifiers heading into tonight's Pro Open main – stalked Thomsen and set him up for a pass on lap 13, only to have Thomsen charge right back. But Martin would have none of it from the rookie Pro Open class Arctic Cat pilot, rushing back past Thomsen in Ski-Doo corner and quickly opening up a multi-second lead that he'd enjoy through the checkers.
Said Martin: "I knew he (Thomsen) was up there, it's a long race, but I knew I had a long time to get it done. Sat back, followed where he went – just didn't want to get tangled at the beginning of the race. Lapped traffic was a tough thing tonight. Took a few chances here and there and it ended up working out."
Added 2nd place Malinoski: "I got out to a good start. But I'll tell you what, Ross just wanted it tonight a lot more than me – especially the first two laps. Hat's off to him. But I'm angry. Going to head home and working harder, look to get back on top of the podium in Fargo."
With one eye on the leaders, ACSS fans in-the-know kept another eye on Tremblay. The point leader after Friday's 2nd place finish, Tremblay wadded up in the first turn – then put on a valiant charge through the pack … eventually reaching the podium (3rd).
"Somebody went sideways in front of me, had no place to go. Crashed. Was like 'Oh, man,'" said Tremblay. "But I never gave up and I'm really happy about it. Heck of a race, bent up sled, really nice to be here tonight. Found a really good line in the whoop section and that helped."
Note: Tremblay leads Martin by two points, 339-337, with three races remaining on the 2011-'12 AMSOIL Championship Snocross Series tour.
Sledhead 24/7 Pro Lite Saturday Final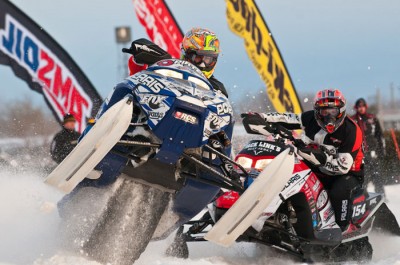 The most thrilling finish of the weekend – which brought the Vision Kia Eastern National fans at Finger Lakes to their feet – was certainly Saturday's Pro Lite final. Polaris' Kody Kamm was the man, again, trailing Derek Ellis (Ski-Doo) from lap 12 to the last turn of the 18th and final lap before blasting his way past Ellis for the win.
Said Kamm: "Once we got caught up to the lappers – and got clear – I was able to catch him in the last corner there. Didn't mean to hit him, but I did what I needed to do to win."
Both Kamm and Ellis separated themselves from the rest of the pack at the start, with Kamm taking the early lead. Midway through the race the two got into some lapped traffic and Ellis was able to take advantage of the situation, getting past Kamm on lap 12 and holding the lead into the last lap.
Added Ellis: "It was definitely an experience. First time this season I've been able to dice with Kamm. Caught him once we got into lappers, gave him a good hug inside. But in the end he wanted it a little more than me and I've got to hand it to him. Probably was a little more cautious than I needed to be, but I'll take a 2nd over a crash any day."
Joining Kamm and Ellis on the podium was Polaris rider Andrew Lieders, who made it to the main the hard way – through the LCQ – before running an excellent Pro Lite final for 3rd.
CLICK HERE for complete results for all classes.
CLICK HERE for current points standings.
Next up …
Who: World's top snowmobile racers, including former champ and current Pro Open points leader Tim Tremblay (Ski-Doo), Minnesota's hard-charging Robbie Malinoski (Ski-Doo), former champ Ross Martin (Polaris), defending '11 champ Tucker Hibbert – also from Minnesota – and yet another Minnesotan in New Year's eve snowmobile jumping legend Levi LaVallee!
What: Ninth round of the 2011-'12 AMSOIL Championship Snocross Series
When: March 2-3, 2012
Times: Opening ceremonies are at 6 p.m. both Friday at Saturday
Where: Buffalo River Race Park (BRRP), www.buffaloriverracing.com
ISOC/ACSS photos by Gary Walton
About ISOC Racing
The International Series of Champions (ISOC) is the premier snowmobile race sanctioning organization in North America and sanctions the national AMSOIL Championship Snocross Series, in addition to affiliating with nine regional circuits. Visit snocross.com for more information, fan and racer memberships, schedule details and more.