Tim Tremblay & Kody Kamm take top honors in the Pro racing classes, Fargo & ERX are top events & Scheuring Speedsports is named the top team 
For more information contact:
Pat Schutte, PR Director, ISOC Racing
Pat@ISOCRacing.com
LAKE GENEVA, Wis. (March 19, 2012) – Premix, FXR snowmobile clothing and Leatt Braces gave way to beer, sport jackets and neck ties on Sunday at Lake Geneva Resort & Spa for the 2011-'12 AMSOIL Championship Snocross Series' year-end awards banquet – a night filled with snowmobile industry star power, laughter – courtesy of comedian MC C. Willie Myles – and reflection on what will go down in the ISOC/ACSS record books as the best year with the least amount of snow ever.
Recognition for the generous ACSS' sponsors opened the show, foreshadowing a speech later in the program from AMSOIL Race Program Manager Jeremy Meyer committing to three more years of sponsorship of the ACSS by AMSOIL! Other sponsor shout outs from ceremony hosts Mike Schroeder, Paul Mack and Rob Powers went to Bully Dog, FXR, Ted Nielsen, Anheuser Bush and Traxxas, along with the three OEMS: Polaris, Ski-Doo and Arctic Cat.
ISOC's highly-anticipated "Season in Review" video, produced by Long Haul Productions' Joe Harewicz, garnered a lot of "Ooos" and "Ahhhs" from the packed hall at Lake Geneva, showcasing the great parity in the Pro Open class and highlights from the sport's future great in the Pro Lite class.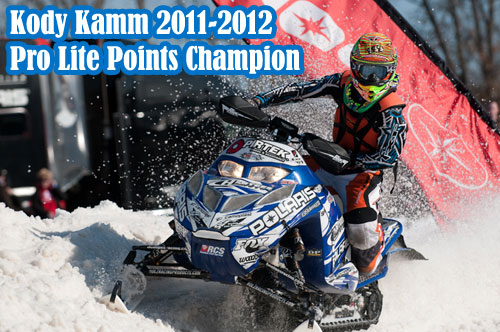 Scores of well-deserved awards handed out during the night began with ISOC's "Event of the Year," with this year's award being shared by the Fargo National BRRP and the ERX National in Elk, River, Minn. Both new venues that knocked things out of the park in terms of race track conditions and ISOC/ACSS fan amenities on their very first try.
Other awards on the night included:
Women's top racers, and No. 1 Jennifer Pare
Pro Am Plus 30, and No. 1 Mike Schultz
ACSS Pro Rookie of the Year, Darrin Mees (Ski-Doo)
ISOC Fan Favorite (online voting), Levi LaVallee (Polaris)
Freestyle Athlete of the Year: Dylan Harju
ISOC True Grit Award: Racer/Freestyler Corey Davis (Arctic Cat)
CJ Ramstad Memorial Award: TJ Gulla
Sport Class Awards, No. 1 Kevin Wallenstein
ISOC Spirit Award: ISOC's Operations Crew, led by Carl Schubitzke
ISOC Special Recognition Award: John "JD" Daniels
ISOC Special Recognition Award: AMSOIL's Jeremy Meyer
ACSS Pro Lite Awards, No. 1 Kody Kamm
ACSS Team of the Year: Scheuring Speedsports
ACSS Pro Open Awards: No. 1, Tim Tremblay
Long Haul Productions also put together a crash-filled blooper video that had everyone in attendance going wild, followed by a Sledhead 24/7 video with Paul Mack showcasing the upcoming 2013 Polaris, Ski-Doo, Yamaha and Arctic Cat sleds for the first time to the public.
For images on the ISOC ACSS Year End Banquet, please visit our Facebook page at:
http://www.facebook.com/#!/media/set/?set=a.10150577967200771.372279.37295730770&type=3
About ISOC Racing
The International Series of Champions (ISOC) is the premier snowmobile race sanctioning organization in North America and sanctions the national AMSOIL Championship Snocross Series, in addition to affiliating with nine regional circuits. Visit snocross.com for more information, fan and racer memberships, schedule details and more.