Defending 2011-'12 ACS champion Tremblay revisits his epic season last year – and opens up on the upcoming ACS season.
For more information contact:
Pat Schutte, PR Director, ISOC Racing
Pat@ISOCRacing.com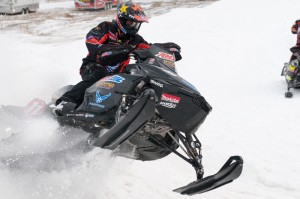 MINNEAPOLIS (Nov. 20, 2012) – Coming off his best season ever on the AMSOIL Championship Snocross, presented by Traxxas series tour, Canada's Tim Tremblay announced this past spring that he's joined forces with the Scheuring Speed Sports team – giving the 2011-'12 ACS Pro Open champion another great shot at this year's premier class title.
With an active summer motocross-wise in Canada and Quebec to keep his racing skills sharp, Tremblay's pumped to get the snocross season started and defend his championship. ISOC caught up with Tremblay between practice sessions at Scheuring's Planet X facility, where the champ's been shaking down his new 2013 Ski-Doo … an updated machine that he won last year's title on. So here's Tim Tremblay, your ACS Pro Open champion, on the 2012-'13 AMSOIL Championship Snocross season that begins this Friday with the AMSOIL Dominator® race.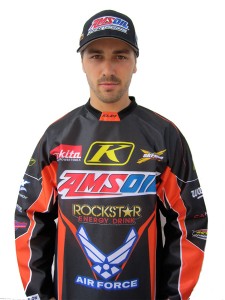 ISOC: The best snocross racer in the world this past ACS season … that's got a nice ring to it. When we spoke right after Lake Geneva last March things hadn't quite sunk in yet. Now that you've had a few months to think about it, what does the 2011-'12 AMSOIL Championship Snocross title mean to you?
Tremblay: Winning that championship last year was an awesome feeling. I'm proud for sure with what my old team and I have done last year. All the dedication and hard work paid off for sure.
ISOC: Huge news in regards to you moving to the Scheuring Speed Sports team this past May. How's things going with that … have you had much time to test the sled and equipment you'll be running just prior to Duluth here, given Planet X has only been 'officially' open since Nov. 12th?
Tremblay: Things are going very well with my new team Scheuring Speed Sports. I have been riding for three weeks now. We have done a lot of testing and I love my new sled.
ISOC: Talk about your new Scheuring Ski-Doo a bit more. Are the basic characteristics of it the same as the sled you raced to the title last year? Where might the 2013 Ski-Doo you're running this year have an advantage?
Tremblay: My sled from last year was pretty good overall. I'm sure this year's sled with my new team will be better. Ski-Doo made some good change for the 2013 sleds and Scheuring is putting much more time building those race sleds with tricky parts and light weight parts. Yes I'm sure it will be an advantage.
ISOC: The Pro Open lineup at Duluth is stacked. Your biggest rival last year, Ross Martin, for sure has something to prove after how things went down at the end of the season last year. Kody Kamm, who was unbeatable in Pro Lites, has moved up. Like Martin, Tucker Hibbert wants his title back. And that's not even mentioning your two hyper-fast teammates – Robbie Malinoski and Darren Mees.
Tremblay: I think it will be a really exciting year. A lot of guys switch team, couple Lites riders moved up. It's going to be interesting season for sure.
ISOC: Do you think it'll be harder to defend your AMSOIL Championship Snocross title than it was to win it?
Tremblay: To win last year championship was not easy. To win again this year will be hard for sure. But one thing is that I will have a solid sled so that part should help me.
ISOC: Coming into Duluth for the ACS opener, what are some of your favorite things about the race venue at Spirit Mountain.
Tremblay: The first race is always exciting. You don't really know how fast everybody is going. The crowd is awesome in Duluth … a lot of people are there to cheer for us!
ISOC: And, on the contrary, what are some things about the Duluth ACS track that might be difficult to deal with.
Tremblay: I got injured bad my very first year in Duluth. So I'm a little scare every time I race there (Tremblay laughs).
ISOC: Friday's the much anticipated AMSOIL Dominator – kicking off the 2012-'13 ACS season. With AMSOIL being one of your sponsors, how important is it for you to reel in as many heat wins as you can and make the finals – possibly win the thing?
Tremblay: AMSOIL is our biggest sponsor so for sure I want to win the Dominator®. It would be awesome for them that a racer from AMSOIL would win that race. (Note: Last year's Dominator® was won by Polaris' Ross Martin.)
ISOC: Ratcheting back to this past summer … did you get to ride much motocross at all?
Tremblay: Yes, I did a lot of dirt bike and a lot of races in Quebec and Canada. Everything went very well for me.
ISOC: Right on. Well, Champ, we'll look forward to seeing you here in a few short days. Going to be wild seeing you, Robbie & Darren all lined up on the same sleds and running identical gear. But what Duluth ACS opener isn't wild, eh?
Tremblay: Oh yeah … it's going to be wild! See everyone at Duluth and thank you.
What: AMSOIL Championship Snocross
When: Nov. 23-25
Where: Duluth's Spirit Mountain
Times: Practice starts each day at 8 a.m., amateur racing begins at 9:30 a.m., pros at noon.
Tickets: 3-day (Adult, 18-62 yrs = $47, Youth, 6-17/63+ = $40) … Daily Adult Pass = $27, Youth/Senior = $22 … 5 & under – FREE … Call 1-800-4-duluth for ticket info or www.visitduluth.com
Beginning with the AMSOIL Championship Snocross Series season opening round in Duluth, Minn. (Nov. 23-25) and running through the season finale in Lake Geneva, Wis. (March 15-17), CBS Sports Network will broadcast 16 half-hour race shows – all in HD – on Sundays at 10:30 a.m. EST. The AMSOIL Championship Snocross – as an added bonus – will also air in an evening repeat of each show during the week.
CBS Sports Network's coverage of the 2012-'13 AMSOIL Championship Snocross Series begins Sunday, Dec. 30th, at 10:30 a.m. EST.
About CBS Sports Network
CBS Sports Network (CBSSN) is the 24-hour cable destination of CBS Sports. The Network covers more than 340 live games annually, showcasing 30 men's and women's sports, in addition to a variety of studio shows, documentaries and original programs. CBSSN's live programming is highlighted by college sports and also features professional lacrosse, Professional Bull Riding (PBR), the sports news and commentary show ROME and the Tim Brando Show. CBS Sports Network is available across the country through local cable, video and telco providers and via satellite on DirecTV Channel 613 and Dish Network Channel 158. For more information, and to access the CBS Sports Network channel finder, go to www.cbssportsnetwork.com.
About ISOC Racing
The International Series of Champions (ISOC) is the premier snowmobile race sanctioning organization in North America and sanctions the national AMSOIL Championship Snocross Series, in addition to affiliating with nine regional circuits. Visit snocross.com for more information, fan and racer memberships, schedule details and more.
Photo courtesy of Gary Walton/SnoX365.com