Massive crowd packing Duluth's Spirit Mountain to the brim is treated to a couple stellar main events in the ACS Pro classes 
For more information contact:
Pat Schutte, PR Director, ISOC Racing
Pat@ISOCRacing.com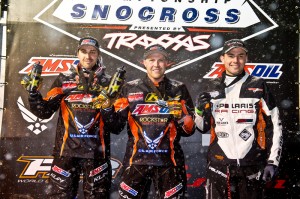 DULUTH, Minn. (Nov. 24, 2012) – AMSOIL Championship Snocross, presented by Traxxas, kicked off its 2012-'13 season in front of a massive crowd at Spirit Mountain on Saturday for the Duluth National, presented by Bully Dog. And taking top honors in the Pro divisions were Ski-Doo racers Robbie Malinoski (Pro Open) and David Joanis in Pro Lite.
With limited natural snow officials with International Series of Champions (ISOC) and the veteran snow making crew at Spirit Mountain were able to pull together a solid racetrack despite the entire state of Minnesota being brown in the day leading up to the race. A couple inches of natural snow would act like some free advertising for the popular event, celebrating its 21st year this weekend, as thousands of fans packed into the bleachers, along the course and inside Spirit Mountain's chalet to take in the first of two rounds of ACS racing in Duluth this weekend.
Pro Open
Like somebody shot a black and yellow arrow down the start straight, Robbie Malinoski (Ski-Doo) blew everyone off the hill with the Stud Boy Holeshot, marching into the first corner on his own and pulling out into the lead in front of Ross Martin (Polaris) and Ski-Doo teammate Tim Tremblay to start the year's first AMSOIL Championship Snocross Pro Open main.
Martin, fearless in his approach to tripling into the first corner off the finish line jump, would catch Malinoski with that daredevil move two laps into the contest, passing last year's Saturday Duluth National winner and making it stick to take the lead on lap three. Back in the pack Tucker Hibbert (Arctic Cat) would slash past 2011-'12 ACS Pro Lite champ and Pro Open Duluth rookie Kody Kamm (Polaris) and set his site on Tremblay who had the third podium spot in hand behind Martin and Malinoski.
By lap nine (of 24) the Tremblay/Hibbert heavyweight battle would pull the two closer in to Malinoski and Martin and they separated from the rest of the field, only to pass and re-pass lapped riders on the short 24-second lap track. Hibbert, who qualified 2nd behind Tremblay for Saturday's main, was all over the place trying out new lines to get past Tremblay, but the defending Pro Open champ wasn't having any of it as he held off Hibbert's high speed rushes.
With Martin up on Malinoski by three seconds on lap 19, Hibbert would blow off his sled and drop back to 5th behind Cody Thomsen (Arctic Cat). It was about this point in the race where race leader Martin took on a bunch of snow roost from lapped traffic and, two laps later, began to experience some engine issues with his sled. Malinoski tasted blood and closed the gap even further, before Martin's sled all but conked out on the final downhill straight.
Malinoski, in the right place at the right time, took the lead from Martin and went on for the win. Martin was able to limp over the finish line in 2nd, followed by Tremblay in 3rd. Thomsen would hold off Hibbert for 4th, rounding out your Duluth National top five!
Quotes
Malinoski: "That was kind of a gift from Ross with his sled going down, but we're pumped to be up here. I always work hard on my starts and it paid off tonight. But yeah, Ross was just ripping."
Martin: "I took a lot of snow and my sled started running on one cylinder … barely made it to the finish line."
Tremblay: "It was crazy out there with the lapped traffic. Then I bent my A-arm so I couldn't go as fast as I'd have liked. But I'm pretty happy to be up here on the podium."
Official – AMSOIL Duluth National Presented by Bully Dog – Pro Open #1 11/24/2012
Final
1. 4 Malinoski Robbie Ski-Doo Lino Lakes MN
2. 837 Martin Ross Polaris Burlington WI
3. 11 Tremblay Tim Ski-Doo Ste Jeanne D'Arc Quebec
4. 62 Thomsen Cody Arctic Cat Nisswa MN
5. 68 Hibbert Tucker Arctic Cat Pelican Rapids MN
6. 53 Kamm Kody Polaris Kenosha WI
7. 43 Christian Logan Arctic Cat Fertile MN
8. 9 Mees Darrin Ski-Doo Stanchfield MN
9. 311 Renheim Adam Ski-Doo Sweden
10.271 Narsa Petter Ski-Doo Sweden
11. 99 Pattyn Zach Ski-Doo Ravenna MI
12. 168 Broberg Justin Polaris Waukesha WI
13. 108 LaVallee Levi Polaris Longville MN
14. 52 Lidman Johan Polaris Pitea Sweden
15. 324 Pallin Kyle Polaris Ironwood MI
Pro Lite
Vermont's Lincoln Lemieux burst onto the AMSOIL Championship Snocross Pro Lite scene at Duluth, winning both of his qualifiers and leading Saturday's Pro Lite main event through lap six. But a crash would rock Lemieux out of first place and well off the podium while circling sharks David Joanis (Ski-Doo), Jake Scott (Polaris) and Andrew Lieders (Polaris) were quick to strike – with Joanis fighting off Scott for top honors in the ACS Pro Lite opener.
"This Ski-Doo's a rocket sled, faster than last year's … which I didn't think could happen," said Joanis, accepting his gold medal for 1st place.
When Lemieux went down and off his sled on lap six, New York's Scott would take the lead. Two laps later Canada's Joanis, who pulled the Stud Boy Holeshot, caught and passed Scott and the two separated from the rest of the field. With visibility difficult, although the riders said it wasn't that bad on the track (worse for the fans in attendance and the 100,000-plus watching the live webcast), Canada's Renaud Alexandre   (Ski-Doo) would pull up into 3rd place, with Lieders and Sweden's John Stenberg (Ski-Doo) rounding out the top five.
With six laps to go the #115 sled of Joanis was clicking off fast lap after fast lap, putting four seconds on Scott – who in turn was four seconds up on Lieders, who had passed Renaud for third and final podium spot. Joanis, Scott and Lieders would hold their podium positions, followed by Canada's Max Taillefer (Ski-Doo) in 4th place and Travis Muller (Ski-Doo) in 5th.
Official – AMSOIL Duluth National Presented by Bully Dog – Pro Lite #1 11/24/2012
Final
1. 115 Joanis David Ski-Doo Cochrane Ontario
2. 42 Scott Jake Polaris Port Jefferson Statio NY
3. 857 Lieders Andrew Polaris Colby WI
4. 144 Taillefer Maxime Ski-Doo Laval West Quebec
5. 436 Muller Travis Ski-Doo Windom MN
6. 154 Johnstad James Polaris Beltrami MN
7. 113 Lemieux Lincoln Ski-Doo St. Johnsbury VT
8. 151 Carlson Andrew Polaris Elk River MN
9. 793 Alexandre Renaud Ski-Doo Val-D'or Quebec
10. 202 Sagan Joey Ski-Doo Elmvale Ontario
11. 342 Kallstrom Nisse Polaris Sweden
12. 259 Stenberg John Ski-Doo Lofsdalen Sweden
13. 219 Byers Jamie Polaris Orillia Ontario
14. 173 Watkinson Corey Ski-Doo Port Carling Ontario
15. 126 Benoit Kaven Ski-Doo Bon Conseil Quebec
Action gets back underway tomorrow at the Duluth National at Spirit Mountain with round two of 2012-'13 AMSOIL Championship Snocross, presented by Traxxas.
What: AMSOIL Championship Snocross
When: Nov. 23-25
Where: Duluth's Spirit Mountain
Tickets: 3-day (Adult, 18-62 yrs = $47, Youth, 6-17/63+ = $40) … Daily Adult Pass = $27, Youth/Senior = $22 … 5 & under – FREE … Call 1-800-4-duluth for ticket info or www.visitduluth.com
Photo credit: Wayne Davis & Lissa Marsolek
Beginning with AMSOIL Championship Snocross' season-opening round in Duluth, Minn. (Nov. 23-25) and running through the season finale in Lake Geneva, Wis. (March 15-17), CBS Sports Network will broadcast 16 half-hour race shows – all in HD – on Sundays at 10:30 a.m. EST. The AMSOIL Championship Snocross – as an added bonus – will also air in an evening repeat of each show during the week.
CBS Sports Network's coverage of 2012-'13 AMSOIL Championship Snocross begins Sunday, Dec. 30th, at 10:30 a.m. EST.
About CBS Sports Network
CBS Sports Network (CBSSN) is the 24-hour cable destination of CBS Sports. The Network covers more than 340 live games annually, showcasing 30 men's and women's sports, in addition to a variety of studio shows, documentaries and original programs. CBSSN's live programming is highlighted by college sports and also features professional lacrosse, Professional Bull Riding (PBR), the sports news and commentary show ROME and the Tim Brando Show. CBS Sports Network is available across the country through local cable, video and telco providers and via satellite on DirecTV Channel 613 and Dish Network Channel 158. For more information, and to access the CBS Sports Network channel finder, go to www.cbssportsnetwork.com.
About ISOC Racing
The International Series of Champions (ISOC) is the premier snowmobile race sanctioning organization in North America and sanctions national AMSOIL Championship Snocross, in addition to affiliating with nine regional circuits. Visit snocross.com for more information, fan and racer memberships, schedule details and more.