Martin wins his second-straight $10,000 AMSOIL DOMINATOR® in convincing fashion over Tucker Hibbert 
For more information contact:
Pat Schutte, PR Director, ISOC Racing
Pat@ISOCRacing.com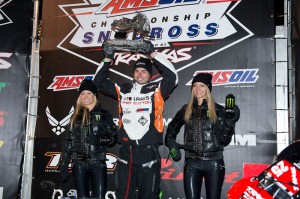 DULUTH, Minn. (Nov. 23, 2012) – AMSOIL Championship Snocross, presented by Traxxas, opened its 2012-'13 competition season with a spectacular one-on-one match race competition dubbed the AMSOIL DOMINATOR® – playing in front of a packed house at Spirit Mountain and foreshadowing what is certain to be two more thrilling days of snocross racing at the Duluth National, presented by Bully Dog.
Sixteen of the world's fastest snocross racers lined up in two-man, side by side two-lap match races, winding down a bracket of thoroughly exciting racing action for the AMSOIL Championship Snocross fans at Spirit Mountain on Friday. And in the end it was Polaris' Ross Martin defeating Arctic Cat's Tucker Hibbert for his second-straight $10,000 AMSOIL DOMINATOR® championship.
Handed a custom-made trophy crafted by the folks at AMSOIL from spare parts from all three brands (Polaris, Arctic Cat and Ski-Doo) that brave the AMSOIL Championship Snocross circuit, Martin was asked what he thought of the smartly crafted piece trumpeting his big win. "Yeah, I got a perfect place for it … right next to the other one," said Martin laughing.
The Wisconsin native got past Garth Kaufman (Arctic Cat) in the opening round, then bested rookie sensation Kody Kamm (Polaris) – last year's ACS Pro Lite champion – in a spectacular quarterfinal race. Martin then met he 2011 AMSOIL DOMINATOR® nemesis – Ski-Doo's Robbie Malinoski – in the semifinals … a rematch of their inaugural AMSOIL DOMINATOR® final last year. The two (Martin and Malinoski) would collide in the first turn after matching starts, Malinoski going high and Martin low. Martin got the better of it and put the hammer down, railing to victory in the two-lap sprint race.
Hibbert, the 5th seed overall (based on last year's Pro Open class o/a finish), would reach the finals via an opening round win over Logan Christian (Arctic Cat), then beat 4th seed Darren Mees (Ski-Doo) in the quarters. The night's most electrifying race would come in the semis of Bracket One when Hibbert met Levi LaVallee (Polaris), who had previously upset No. 1 seed Tim Tremblay (Ski-Doo) – last year's overall Pro Open champion.
Hibbert and LaVallee got virtually equal starts coming down the hill on the front straight, with Hibbert thumbing the throttle for just a click longer over LaVallee – the snowmobile distance jumping world record holder – on the finish line jump and taking the lead into and out of the first turn. But the fan-favorite LaVallee wasn't about to pack it in and literally berzerked his Polaris up the back straight and dive-bombed Hibbert in the left hander at the top of the hill – knocking Hibbert off his sled and himself (LaVallee) in the process. Bedlam ensured as the two combatants re-mounted their sleds and pull-started them to life at the exact same time.
Hibbert, though, had the benefit of being the front sled and, as LaVallee tried to make a pass on the outside line, Hibbert returned LaVallee's previous turn effort by casually – and legally – cutting LaVallee off to the side of the track – holding his lead line and eventually sewing up the win.
Action gets back underway tomorrow at the Duluth National at Spirit Mountain with the opening round of 2012-'13 AMSOIL Championship Snocross, presented by Traxxas.
What: AMSOIL Championship Snocross
When: Nov. 23-25
Where: Duluth's Spirit Mountain
Tickets: 3-day (Adult, 18-62 yrs = $47, Youth, 6-17/63+ = $40) … Daily Adult Pass = $27, Youth/Senior = $22 … 5 & under – FREE … Call 1-800-4-duluth for ticket info or www.visitduluth.com
Beginning with AMSOIL Championship Snocross' season-opening round in Duluth, Minn. (Nov. 23-25) and running through the season finale in Lake Geneva, Wis. (March 15-17), CBS Sports Network will broadcast 16 half-hour race shows – all in HD – on Sundays at 10:30 a.m. EST. The AMSOIL Championship Snocross – as an added bonus – will also air in an evening repeat of each show during the week.
CBS Sports Network's coverage of 2012-'13 AMSOIL Championship Snocross begins Sunday, Dec. 30th, at 10:30 a.m. EST.
About CBS Sports Network
CBS Sports Network (CBSSN) is the 24-hour cable destination of CBS Sports. The Network covers more than 340 live games annually, showcasing 30 men's and women's sports, in addition to a variety of studio shows, documentaries and original programs. CBSSN's live programming is highlighted by college sports and also features professional lacrosse, Professional Bull Riding (PBR), the sports news and commentary show ROME and the Tim Brando Show. CBS Sports Network is available across the country through local cable, video and telco providers and via satellite on DirecTV Channel 613 and Dish Network Channel 158. For more information, and to access the CBS Sports Network channel finder, go to www.cbssportsnetwork.com.
About ISOC Racing
The International Series of Champions (ISOC) is the premier snowmobile race sanctioning organization in North America and sanctions national AMSOIL Championship Snocross, in addition to affiliating with nine regional circuits. Visit snocross.com for more information, fan and racer memberships, schedule details and more.