The Scheuring Speed Sports team sweeps the entire Pro Open podium on Sunday w/ Tim Tremblay in 2nd & Darrin Mees 3rd 
For more information contact:
Pat Schutte, PR Director, ISOC Racing
Pat@ISOCRacing.com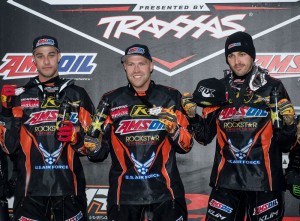 DULUTH, Minn. (Nov. 25, 2012) – It was only a matter of time before Scheuring Speed Sports – snocross' version of the NBA's Miami Heat – put all three of their superstar racers up on the box in an AMSOIL Championship Snocross, presented by Traxxas, event.
And that time was Sunday at the Duluth National, presented by Bully Dog.
Wrapping up the CJ Ramstad Cup weekend at Duluth's Spirit Mountain in front of one of the largest crowds to gather for a snowmobile race in this hemisphere, Robbie Malinoski (Ski-Doo) made it two-in-a-row by pulling the Stud Boy Holeshot and leading the weekend's final race wire-to-wire for the win. Malinoski was joined on the box by teammates Tim Tremblay (2nd), who also podiumed on Saturday (3rd), and a first-ever Pro Open podium finish for Darrin Mees (3rd).
And in Pro Lite racing action Canada's Andrea Renaud (Ski-Doo) would take advantage of a late race crash by Sweden's Marcus Johansson (Polaris) to win his first-ever AMSOIL Championship Snocross main event.
Pro Open
Quite literally, there was no stopping Ski-Doo's Robbie Malinoski this past weekend at Duluth. The powerful veteran racer – who hadn't doubled up at an AMSOIL Championship Snocross weekend since 2006 – swept both Pro Open main events at Duluth in convincing fashion, taking the points lead into rounds three and four of ACS in Bessemer, Mich., along with making a serious statement in regards to whether Malinoski still had what it takes to win at snocross' highest level.
"With everybody up here from Scheuring Speed Sports – this is pretty exciting," said Malinoski. "Everybody came through. Darrin's up here with this first-ever podium. Tim raced great – again. My Ski-Doo pulled another great holeshot … I'm speechless!"
When the green light shone on the start of the weekend's final even Malinoski was gone. Down the Spirit Mountain straight like he was racing against a field of stock sleds. Malinoski railed into the first turn and rode mistake-free, through countless lapped riders in the lack-of-snow-shortened race, and through cleanly to the checkers. There was never a doubt.
Behind Malinoski early were Mees and Polaris' Justin Broberg. Two relatively new guys up front in the pack, mainly because the usual front-running suspects – Martin, Hibbert & Tremblay – started outside the top four. Polaris' Martin, the winner of Friday's $10K AMSOIL DOMINATOR®, was all the way back in 12th qualifying position.
Tucker Hibbert (Arctic Cat) and Tremblay would collide on lap one, though both managed to rail back out of the turn where they got together. But this set the multi-time former ACS champ Hibbert back to 8th place early on in the 24-lap contest … a position you don't want to be in on such a small track with so many sleds (15). Tremblay, who qualified back in the 9th position, had a much better run at it, moving up to 3rd before getting past Mees for 2nd on lap 13 of the roughly 24-second laps.
As the podium position leaders spread out, Martin put on the best charge at race's end as he moved past Broberg into 2nd and set his site on Mees. With two laps to go Malinoski had all but checked out and the fans' attention focused on Martin and Mees – with Mees holding off the hard-charging Martin for his first-ever podium. Hibbert then managed to round out the top ten.
Quotes
Mees: "To get up here with my other two teammates – everybody crying – this is just so exciting. My adrenaline was going on the first few laps, then Tim (Tremblay) got by me and that was OK. But nobody after that was going to!"
Tremblay: "He (Mees) didn't let me get by him that easy. But no dirty stuff … we're all teammates. I just held my line and the rest was pretty good."
Official – AMSOIL Duluth National Presented by Bully Dog – Pro Open #2 11/25/2012
Final
1. 4 Malinoski Robbie Ski-Doo Lino Lakes MN
2. 11 Tremblay Tim Ski-Doo Ste Jeanne D'Arc Quebec
3. 9 Mees Darrin Ski-Doo Stanchfield MN
4. 837 Martin Ross Polaris Burlington WI
5. 68 Hibbert Tucker Arctic Cat Pelican Rapids MN
6. 27 Ohman Emil Ski-Doo Pitea Norrbotten
7. 168 Broberg Justin Polaris Waukesha WI
8. 93 Hayden Iain Polaris Chatsworth Ontario
9. 167 Allard Dave Ski-Doo St. Felcien Quebec
10. 43 Christian Logan Arctic Cat Fertile MN
11. 99 Pattyn Zach Ski-Doo Ravenna MI
12. 106 Ellis Derek Arctic Cat Fargo ND
13. 999 Crapo Colby Polaris St.Anthony ID
14. 62 Thomsen Cody Arctic Cat Nisswa MN
DQ – 311 Renheim Adam Ski-Doo Sweden
Overall Points (after two rounds)
1st Malinoski, 89
2nd Tim Tremblay, 75
3rd Ross Martin, 71
4th Tucker Hibbert, 67
5th Darrin Mees, 64
Pro Lite
A similar scenario played out in Sunday's AMSOIL Championship Snocross Pro Lite main event that had transpired on Saturday – with one rider dominating early, then wadding up and opening the door for another to take his place atop the podium.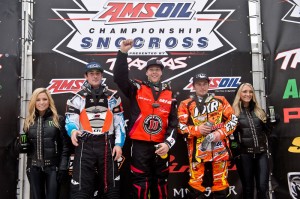 Rocketing out to the Stud Boy Holeshot in Sunday's Pro Lite main was the #722 Polaris of Sweden's Marcus Johansson. Having not even made the Pro Lite main the previous day, Johansson took out his aggression on the massive Duluth National finish line tabletop jump – tripling out into the first turn and easily putting distance between himself and his pursuers – Canada's Andrea Renaud (Ski-Doo) and Dylan Hall (Ski-Doo), along with Saturday's Pro Lite podium finisher Andrew Lieders (Ski-Doo).
Noteworthy early on in the race was that Saturday winner, David Joanis (Ski-Doo), jumped the start and was black-flagged early in the race. Joanis would pull off the track and take a DQ for Sunday's Pro Lite main.
On lap 14 – and with the race seemingly in control – Johansson made a massive mistake on the uphill rhythm section, blew off his sled and handed the lead over to Renaud. Hall and Lieders ripped by as well and, by the time he got going again, Johansson was all the way back in 6th place.
Things wouldn't change on the last lap as Renaud, Hall and Lieders held their podium positions – with Sweden's John Stenberg (Ski-Doo) and New York's Todd Corin (Polaris) rounding out the top five in 4th and 5th, respectively.
Said Renaud following the win, his first ACS career Pro Lites win; "The track was especially difficult. I tried to ride with no mistakes and I got my opportunity and felt I could take it. (It) Feels really good to be up here."
Official – AMSOIL Duluth National Presented by Bully Dog – Pro Lite #2 11/25/2012
Final
1. 793 Alexandre Renaud   Ski-Doo Val-D'or Quebec
2. 421 Hall Dylan Ski-Doo Ayr Ontario
3. 857 Lieders Andrew Polaris Colby WI
4. 259 Stenberg John Ski-Doo Lofsdalen Sweden
5. 136 Todd Corin Polaris Otego NY
6. 154 Johnstad James Polaris Beltrami MN
7. 722 Johansson Marcus Polaris Ostersund
8. 144 Taillefer Maxime Ski-Doo Laval West Quebec
9. 675 Rosemeyer Chase Ski-Doo Chippewa Falls WI
10. 42 Scott Jake Polaris Port Jefferson Statio NY
11. 436 Muller Travis Ski-Doo Windom MN
12. 342 Kallstrom Nisse Polaris Sodermamn gavleborg
13. 173 Watkinson Corey Ski-Doo Port Carling Ontario
14. 193 Pichner Matt Arctic Cat Owatonna MN
DQ -115 Joanis David Ski-Doo Cochrane Ontario
Overall Points (after two rounds)
1st Andrew Lieders, 77
2nd Renaud Alexandre , 75
3rd Jake Scott, 65
4th John Stenberg, 63
4th Marcus Johansson, 63
Next up: Rounds three and four of AMSOIL Championship Snocross, presented by Traxxas, at northern Michigan's Blackjack Resort, Dec. 7-8.
Who: World's top snowmobile racers
What: Round two of 2012-'13 AMSOIL Championship Snocross
When: Dec. 7-8
Times: Practice starts each day at 8 a.m., amateur racing begins at 9:30 a.m., pros at noon.
Where: Blackjack Resort
Tickets: Single day tickets are $20, three-day weekend passes are $30. Kids five and under are free. Tickets are available at the gate and online at snocross.com
More information: www.skiblackjack.com
Photo credit: Wayne Davis & Lissa Marsolek
Beginning with AMSOIL Championship Snocross' season-opening round in Duluth, Minn. (Nov. 23-25) and running through the season finale in Lake Geneva, Wis. (March 15-17), CBS Sports Network will broadcast 16 half-hour race shows – all in HD – on Sundays at 10:30 a.m. EST. The AMSOIL Championship Snocross – as an added bonus – will also air in an evening repeat of each show during the week.
CBS Sports Network's coverage of 2012-'13 AMSOIL Championship Snocross begins Sunday, Dec. 30th, at 10:30 a.m. EST.
About CBS Sports Network
CBS Sports Network (CBSSN) is the 24-hour cable destination of CBS Sports. The Network covers more than 340 live games annually, showcasing 30 men's and women's sports, in addition to a variety of studio shows, documentaries and original programs. CBSSN's live programming is highlighted by college sports and also features professional lacrosse, Professional Bull Riding (PBR), the sports news and commentary show ROME and the Tim Brando Show. CBS Sports Network is available across the country through local cable, video and telco providers and via satellite on DirecTV Channel 613 and Dish Network Channel 158. For more information, and to access the CBS Sports Network channel finder, go to www.cbssportsnetwork.com.
About ISOC Racing
The International Series of Champions (ISOC) is the premier snowmobile race sanctioning organization in North America and sanctions national AMSOIL Championship Snocross, in addition to affiliating with nine regional circuits. Visit snocross.com for more information, fan and racer memberships, schedule details and more.