Monster Energy/Arctic Cat racer scores his 4th-straight win and extends overall Pro Open point lead; David Joanis (Ski-Doo) wins Pro Lite 
For more information contact:
Pat Schutte, PR Director, ISOC Racing
Pat@ISOCRacing.com
SHAKOPEE, Minn. (Jan. 5, 2013) – With a massive crowd packing Minnesota's premier thoroughbred horse racing track – Canterbury Park Raceway – to the brim, AMSOIL Championship Snocross put on a second great night of racing action for the hearty fans in this snowmobile-friendly region of the country. Minnesota native Tucker Hibbert (Pelican Rapids) quite literally ran away with his second win on the weekend, making it a clean sweep of the Traxxas National, presented by Jimmy John's. And in the support Pro Lite class action it was Ski-Doo's David Joanis (Canada) taking top honors and extending his overall class points lead as well.
Pro Open
Canterbury's race weekend culminated with a WILD one on Saturday night in the Pro Open main event with Hibbert winning his fourth straight while defending AMSOIL Championship Snocross Pro Open champion Tim Tremblay (AMSOIL/Scheuring Speed Sports/Ski-Doo) was black flagged (and eventually DQ'ed) for an aggressive driving move on Ross Martin (DuPont/Jack Links/Polaris).
The three aforementioned racers led the contest early, separating themselves from the rest of the pack and looking as if they'd finish up the 22-lap contest in that order. However, Martin would go down on his own on lap 17 – then was dragged by Tremblay's sled as Tremblay tried to get by. ISOC officials would quickly point the black flag at Tremblay while Martin eventually got back to his sled and kept running.
In the midst of all this Hibbert rode as dominant a race as he had all season, the best part of it for the Canterbury fans being that Hibbert had to rush to the front of the pack – cleanly past Tremblay and Martin – following a 4th place start. "It was a little bit tougher to get up here today, but it was really fun early on running with Ross and Tim," said Hibbert. "Just an exciting race. I hope everyone had fun tonight and make sure you stop by our booth later on for a poster!"
With Tremblay and Martin out of the picture, Kody Kamm (Monster Energy/Polaris) put himself in a position to podium for the second-straight night. "I saw Ross fall off and I was like 'Oooo … podium!' I'm lucky to be up here I guess."
And scoring his first-ever Pro Open class podium was rookie racer Petter Narsa (BOSS Racing/Jimmy John's/Ski-Doo). "The track was really rough and tight but I liked it," said Narsa.
Rounding out the top five in the Pro Open class at Canterbury on Saturday were Justin Broberg (Polaris/Pirtek/FXR) in 4th and Kyle Pallin (Mystik Lubricants/Loctite/Polaris) in 5th.
Pro Open Results
1 68 Hibbert Tucker Arctic Cat Pelican Rapids MN
2 53 Kamm Kody Polaris Kenosha WI
3 271 Narsa Petter Ski-Doo Moskosel
4 168 Broberg Justin Polaris Waukesha WI
5 324 Pallin Kyle Polaris Ironwood MI
6 27 Ohman Emil Ski-Doo Pitea Sweden
7 43 Christian Logan Arctic Cat Fertile MN
8 4 Malinoski Robbie Ski-Doo Stacy MN
9 108 LaVallee Levi Polaris Longville MN
10 837 Martin Ross Polaris Burlington WI
11 48 Kaufman Garth Arctic Cat Driggs ID
12 99 Pattyn Zach Ski-Doo Ravenna MI
13 999 Crapo Colby Polaris St.Anthony ID
14 106 Ellis Derek Arctic Cat Fargo ND
DQ 11 Tremblay Tim Ski-Doo Ste Jeanne D'Arc Quebec
Pro Open Overall Points
1 Tucker Hibbert 6 245 Monster Energy/Arctic Cat 68 Arctic Cat Pelican Rapids, MN
2 Robbie Malinoski 6 216 AMSOIL/Air Force/Makita 4 Ski-Doo Stacy, MN
3 Ross Martin 6 215 Judnick Motorsports 837 Polaris Burlington, WI
4 Tim Tremblay 6 201 AMSOIL/Air Force/Makita 11 Ski-Doo Ste Jeanne D'Arc, Quebec
5 Darrin Mees 6 173 Scheuring Speedsports 9 Ski-Doo Stanchfield, MN
6 Logan Christian 6 167 Christian Brothers Racing 43 Arctic Cat Fertile, MN
7 Kody Kamm 6 157 Hentges Racing 53 Polaris Kenosha, WI
8 Justin Broberg 6 146 Hentges Racing 168 Polaris Waukesha, WI
9 Emil Ohman 6 146 Warnert Racing 27 Ski-Doo Pitea, Norrbotten
10 Petter Narsa 6 142 Team Jimmy John's/Skidoo/BossRacing 271 Ski-Doo, Sweden
Pro Lite
Overall AMSOIL Championship Pro Lite class points leader David Joanis put up a statement race on Saturday at Canterbury Raceway, leading the Pro Lite main event wire-to-wire and extending his point lead over the next closest racer to 15.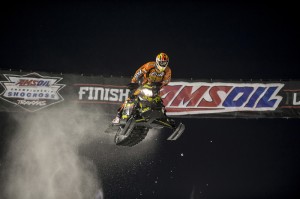 "I had a goal to be on the box both nights this weekend. So to finish it off with a win is just awesome," said Joanis.
Blasting down the Canterbury straight bar-to-bar to open the Pro Lite main, Joanis and rival Jake Scott (Polaris) held their sleds wide open – with Joanis winning the battle of nerves at the end and looking over to Scott – at high speed – as if to say "Yeah!" As Joanis set a torrid pace up front, the three riders that fell into place behind him – Scott, Polaris' Corin Todd and Andrew Lieders (Polaris) – had the foursome breaking away from the rest of the pack.
On lap two Todd would get past Scott, as would Lieders midway through the 15-lap contest. Lieders would then get past Todd on lap nine – and that's how the podium would play out: Joanis (1st), Lieders (2nd) and Todd (3rd).
"We ran a lot better than last night," said Lieders. "The whole Leighton Motorsports Team did an awesome job and have done so over the last eight races."
Rounding out the top five in Saturday's Pro Lite main event at Canterbury were Scott (4th) and Friday winner Travis Muller (Ski-Doo) in 5th.
Pro Lite Results
1 115 Joanis David Ski-Doo Cochrane Ontario
2 857 Lieders Andrew Polaris Colby WI
3 136 Todd Corin Polaris Otego NY
4 42 Scott Jake Polaris Port Jefferson Statio NY
5 436 Muller Travis Ski-Doo Windom MN
6 793 Alexandre Renaud Ski-Doo Val-D'or Quebec
7 421 Hall Dylan Ski-Doo Ayr Ontario
8 931 Leighton Trevor Polaris Eagle ID
9 248 Nastala Brett Ski-Doo Milton WI
10 221 Ludwig Brian Polaris Freedom WI
11 543 Blanshan Jacob Arctic Cat Garfield MN
12 173 Watkinson Corey Ski-Doo Port Carling Ontario
13 630 Boylan Casey Ski-Doo Anchorage AK
14 144 Taillefer Maxime Ski-Doo Laval West Quebec
15 202 Sagan Joey Ski-Doo Elmvale Ontario
Pro Lite Overall Points
1 David Joanis 6 221 Royal Distributing 115 Ski-Doo Cochrane,
2 Jake Scott 6 206 Team LaVallee 42 Polaris Port Jefferson Station, NY
3 Andrew Lieders 6 202 Lieders Racing/Leighton Motorsports 857 Polaris Colby, WI
4 Travis Muller 6 194 Warnert Racing 436 Ski-Doo Windom, MN
5 Renaud Alexandre 6 192 Team Jimmy John's/Ski-doo/Boss Racing 793 Ski-Doo Quebec
6 James Johnstad 6 173 Judnick Motorsports 154 Polaris Beltrami, MN
7 Dylan Hall 6 168 Royal Distributing 421 Ski-Doo Ayr,
8 John Stenberg 4 139 Team Bauerly Racing 259 Ski-Doo Lofsdalen,
9 Joey Sagan 6 136 FR Motorsports 202 Ski-Doo Elmvale, Ontario
10 Maxime Taillefer 6 131 Taillefer Motorsports 144 Ski-Doo Laval West, Quebec
Next up: Rounds seven and eight of AMSOIL Championship Snocross, presented by Traxxas, at South Dakota's Days of '76 Rodeo Grounds, Feb. 1-2.
Who: 150 of the world's top snowmobile racers
What: Round seven and eight of 2012-'13 AMSOIL Championship Snocross
When: Feb. 1-2
Times: Practice starts each day at 8 a.m., amateur racing begins at 9:30 a.m., pros at noon.
Where: Days of '76 Rodeo Grounds
Host hotel: First Gold Hotel
Tickets: Advance tickets are $10 for Friday and $15 for Saturday and $20 for a two-day pass. Children 5 and under are free, kids 5-12 are $5. Gate prices are $15/$20/$30. Reserved seating starts at $15. Tickets are available at the gate, by phone at (800) 344-8826 and online at: http://deadwood.blackhillsvacations.com/Search.aspx/Details/rBKtEgIYypsfAA2/2071498
More information: www.deadwood.com/events
Photos courtesy of Wayne Davis and Lissa Marsolek
Beginning with AMSOIL Championship Snocross' season-opening round in Duluth, Minn. (Nov. 23-25) and running through the season finale in Lake Geneva, Wis. (March 15-17), CBS Sports Network will broadcast 16 half-hour race shows – all in HD – on Sundays at 10:30 a.m. EST. The AMSOIL Championship Snocross – as an added bonus – will also air in an evening repeat of each show during the week.
About CBS Sports Network
CBS Sports Network (CBSSN) is the 24-hour cable destination of CBS Sports. The Network covers more than 340 live games annually, showcasing 30 men's and women's sports, in addition to a variety of studio shows, documentaries and original programs. CBSSN's live programming is highlighted by college sports and also features professional lacrosse, Professional Bull Riding (PBR), the sports news and commentary show ROME and the Tim Brando Show. CBS Sports Network is available across the country through local cable, video and telco providers and via satellite on DirecTV Channel 613 and Dish Network Channel 158. For more information, and to access the CBS Sports Network channel finder, go to www.cbssportsnetwork.com.
About ISOC Racing
The International Series of Champions (ISOC) is the premier snowmobile race sanctioning organization in North America and sanctions national AMSOIL Championship Snocross, in addition to affiliating with nine regional circuits. Visit snocross.com for more information, fan and racer memberships, schedule details and more.