Eagle, ID (January 28, 2013) Although the final result does not tell the complete story, it was an outstanding weekend for Colby Crapo at the ESPN Winter X Games in Aspen, Colorado.
Crapo rode extremely well in his qualifying round and transferred directly into the main event with a fifth place finish. In the main event, Crapo was battling for sixth place when a hard crash on the epic X Games course knocked him out of the fight. Crapo remounted and was able to salvage a very respectable 11th place finish.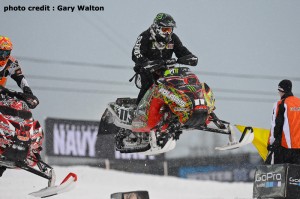 During the weekend, the team helped out with fellow Polaris racer Paul Thacker who was competing for the first time in the adaptive snocross class. Thacker made an impressive debut finishing third in the paraplegic division.
Up next are rounds 7 and 8 of the ACS national tour in Deadwood, South Dakota.
For complete photo gallery and downloads, go to: http://actiongraphics.zenfolio.com/p266727531 Access code: LMS2013
For more information, including racer bios, events schedule and team photos, visit www.leightonmotorsports.com
Colby Crapo – Qualifying Round 5th – Final 11th.
Contact: Trace Leighton
208-941-4700
trace@leightonmotorsports.com