Longville, MN (January 29, 2013) – Buttermilk Mountain in Aspen, Colorado held the 2013 Winter X Games, a venue that has hosted Winter X since 2002. With the return of Snocross, Levi LaVallee had his schedule packed full with competing in all snowmobile events; Freestyle, Speed and Style, Snocross and Best Trick. Fellow Team LaVallee riders, Kyle Pallin and Jake Scott where also able to compete in Winter X, in the Snocross event.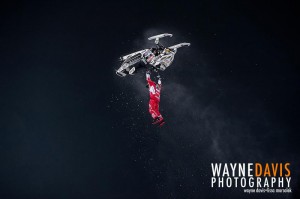 Snowmobile Freestyle kicked off the Winter X Games Thursday evening. The format for this years Freestyle event was a little different than in the past where each rider was only allowed to take on the freestyle course twice and had 75 seconds to hit as many freestyle ramps within the allotted time. LaVallee was able complete 9 jumps total each round and in his final attempt LaVallee nailed his run with huge extensions, perfect landings and throwing a KOD (kiss of death) flip earning a high score of 89 and taking home Gold. Saturdays event was Snowmobile Speed and Style, a combination of Snocross and freestyle where the riders go head-to-head in bracket format. LaVallee worked his way into the final by defeating Justin Hoyer and Willie Elam. In the final run, LaVallee squared off against Cory Davis. LaVallee was able to stay ahead of Davis throughout the entire race and out-scored him in the freestyle portion, earning LaVallee's second Gold at Winter X 2013.
Immediately after earning his second Gold, LaVallee went straight to X Games Medical to have his left arm/shoulder area looked at. The medical staff diagnosed a torn muscle in his lat, which LaVallee had assumed was from the large extensions from his KOD flips. Medical iced and taped LaVallee's shoulder and recommend a MRI and further treatment when he returned home.
Sunday, the final day of Winter X Games, held both the Snocross and Snowmobile Best Trick events. LaVallee was scheduled to compete in both, and after going out for the Snocross practice Sunday morning, LaVallee's torn muscle was restricting him to fully compete the way he wanted. Without wanting to further damage his muscle, LaVallee announced he would not be able to compete in either disciplines on Sunday.With LaVallee out, Team LaVallee still had two other riders, Kyle Pallin and Jake Scott to represent in
Snocross. Scott a Pro Lite rider, was an alternate for Snocross and was able fill an empty spot and compete with the pros. Scott was able to make it into the final, taking a 3rd in his qualifying round. Pallin was riding very strong in the snocross seeding, coming in as the 5th fastest rider. However in his qualifying round, Pallin had an unfortunate off and bad luck in the LCQ which prevented him from making the Snocross final. Off of the line in the Snocross final, Scott found himself mid-pack. With consistent riding and holding his lines, Scott finished his first Snocross final at Winter X Games in an awesome 7th place. Congratulations Jake Scott!
What an awesome X Games. I came in with little expectation being I have not been able to compete in two years and bringing home two Golds is an amazing feeling!" stated LaVallee
QUICK FACTS
LaVallee has 9 Winter X Games Medals, 6 of them being Gold
CALEB MOORE UPDATE
Caleb Moore was injured on Thursday evening in the Freestyle competition. Moore remains in critical condition and is being monitored in ICU. We at Team LaVallee are sending our thoughts and prayers with Caleb and the entire Moore Family. For Caleb's story and more information visit: http://www.giveforward.com/calebmoore
VIDEOS
Winter X Games 2013 Aspen – Rollout Video: http://www.youtube.com/watch?v=PdtVd2zjubI
Winter X Games 2013 Gallery: http://xgames.espn.go.com/aspen13/gallery/8879718/adventurous-trick-day
Levi's Gold Medal Run in Freestyle: http://www.youtube.com/watch?v=_kS1E5C5PPU
Levi's Gold Medal Run in Speed & Style: http://www.youtube.com/watch?v=H6ZqyihB0Vc
XGames.com / Levi LaVallee Wins Another Gold
http://xgames.espn.go.com/article/8870248/x-games-aspen-levi-lavallee-wins-snowmobile-speed-style-gold
COMING UP
Deadwood National – Deadwood, SD February 1-2, 2013
https://snocross.com/feb-1-2013-deadwood-sd/
Traverse City National – Traverse City, MI February 8-9, 2013
https://snocross.com/feb-8-9-2013-traverse-city-mi/
PHOTOS
All photos are ©WayneDavisPhotography. Unauthorized use is prohibited. Contact Wayne Davis or Lissa Marsolek for more information
wayne@waynedavisphotography.com / lissa@justlissa.com