Fertile, Minn. (February 12, 2013) – Steeped in tradition, the list of winners of I-500 cross-country snowmobile race reads like a who's who of snowmobile racing. This past weekend Arctic Cat/DRIFT Racing/Stud Boy Traction/Christian Brothers Racing rider Ryan Simons added his name to that list when he won the 40th running of the prestigious race. Unlike it's original point-to-point format which brought racers from Winnipeg to St. Paul or vice-versa for so many years, the current race centers around the home of Arctic Cat snowmobiles in Thief River Falls, Minn., and riders follow a unique course each day, logging roughly 160-miles a day for three days down frozen rivers, snow-filled ditches, woods and minimum maintenance roads.
The race began on Thursday, February 7. Simons opened a lead of nearly three minutes on Day 1, but only after a big crash almost put his race in jeopardy.
"I had a big crash on the first day," said Simons. "It was a potentially race-ending crash, but I got lucky and was able to finish the day and the crew fixed the sled up for Day 2."
CBR riders Brian Dick, who won the last running of the I500 in 2011, and Zach Herfindahl both went out on the first day with mechanical failures. Herfindahl's sled had a freak engine problem early on the first leg. Brian had passed the leader on the course and was breaking trail when he broke a roller in his clutch while headed back to the casino on the third leg.
On Day 2 Simons opened his lead up to 10 minutes after a near flawless run. Over the 160-mile course that included two fuel stops and various stop signs at road crossings, Simons held a 66MPH pace. To give you and idea how fast that is, an off-road trophy truck like you see in the Baja 100 typically runs about a 60MPH average speed.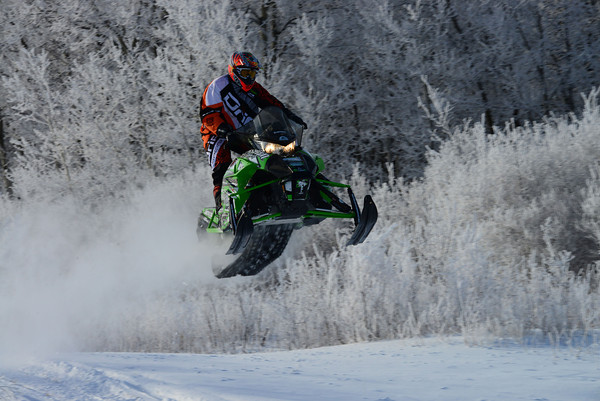 "My mechanics Hector Olson and Cory Berberich told me I had to dial it back or the sled wouldn't last the race distance," said Simons. "I had the lead and now they told me it was about finishing, so I didn't ride as hard as I did on the first day."
After two days of clear skies, the third and last day of the race dawned gray with freezing drizzle. With poor visibility from flat light and moisture freezing on his goggles, Simons again slowed his pace but held his 10-minute lead for the rest of the race distance.
"I was definitely slower again on the last day, but I knew I had a big lead and I didn't want to make any big mistakes in the flat light," Simons said. "Also, the intake screens on the sled froze over so the sled was down on power since it wasn't getting any air."
Simons has two Pro 600 race wins (Pine Lake, Oslo) so far this season and is the reigning Pro 600 points champion. This is his first I-500 win and the points gain from winning this race puts him in a prime position to win a third points title. A brutal race where attrition is a huge factor in the results, for many cross-country racers the I-500 becomes a source of frustration and many become obsessed with winning it.
"I haven't been racing as long as some of the guys on the team, so the I-500 wasn't really as much of a must-win race for me as it is for some of the other guys on the team and on the circuit," said Simons. "But it's a big race and when you win any big race it's a great feeling. I just want to than the team for working so hard to help me win it."
"Our family has been involved in this race since the early days," said Christian Brothers Racing co-owner Dwight Christian. "To win this race is always big for our team and for all our sponsors, and I'm really proud of what Ryan and the team did this weekend."
For more information on Christian Brothers Racing visit www.christianbrosracing.com