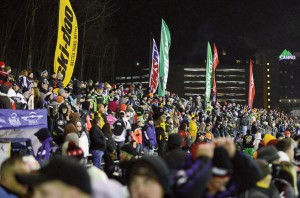 Feb. 27, 2013 – Lake Nebagamon, WI – We talked to fans that drove 3 and 4 hours to catch Rounds 11 and 12 ofAmsoil Championship Snocross, at New York's Seneca Allegany Casino & Hotel, Salamanca, NY. The grandstands were so full the fans lined the sides of the track. Gotta love that!
Ross Martin did not disappoint his fans – qualifying No. 1 for Friday Night's Final. Martin was solid off the line and powered to the the lead quickly. Ross was flying and was unchallenged for 6 laps, when a slight
check up on a jump cost him the lead. Martin recovered quickly resulting in a 2nd place finish.
Saturday was tough. A hard crash in Round 1 had Ross coming through the LCQ to qualify for the final. Starting in the back row he came out of the first corner 6th or 7th and by corner two was in 2nd. Martin ran in the top three for the first 19 laps when a nasty crash knocked him down to a 7th place finish.
"Gotta take the good with the bad. Friday we ran really well and Saturday had some bad luck. We want to send a huge shout out to our fans in New York. Their tremendous support make the tough breaks a little easier." said Scott Judnick, Owner of Judnick Motorsports.
Rounds 13 and 14 of Amsoil Championship Snocross Series, in Fargo, ND. Buffalo River Race Park, Glyndon, MN (15 minutes east of Fargo) – March 8-9.
If you missed any of the action tune into CBS Sports Network.
Traverse City, MI – March 3rd – 10:30am EST Round 10
Seneca Allegany's Air Force Snocross, Allegany, NY – March 10th – 10:30am EST Round 11
Seneca Allegany's Air Force Snocross, Allegany, NY – March 17th – 10:30am EST Round 12
You can follow Ross Martin on Facebook and Twitter @RossMartin837
Thank You To Our Outstanding Sponsors.
DuPont, Jack Links Beef Jerky, Amsoil, Polaris, Motorfist, SSI, Fly, Fox, EVS, Factory Pipe, Stud Boy, Renton Coil Springs, Jeff Foster Trucking, C&A Pro, HMK, C-Tech,Link Ford, Camoplast, Champion, Mitsuboshi, Holeshot
Judnick Motorsports
Scott Judnick – Team Owner
7621 S. East Lake Blvd
Lake Nebagamon, Wi 54849
Phone: 218.348.6188
scott@judnickmotorsports
www.judnickmotorsports.com