Ram World Cup – featuring U.S. vs. the World – is set for AMSOIL Championship Snocross finals weekend at Lake Geneva
Tucker Hibbert & Ross Martin lead Team U.S.A. against defending ACS champion Tim Tremblay (Canada) and Sweden's Emil Ohman of the World team
For more information contact:
Pat Schutte, PR Director, ISOC Racing
Pat@ISOCRacing.com
MINNEAPOLIS (March 1, 2013) – What country produces the best snocross racers? Canada and the European Nordic countries surely have an argument with reigning AMSOIL Championship Snocross Pro Open class champion Tim Tremblay (Quebec) and top five overall Pro Open point racer Emil Ohman (Sweden) leading the World team, while the States are led by multi-time champ Tucker Hibbert (Minnesota) and perennial speedster Ross Martin (Wisconsin). Bring in Ram Trucks as the title sponsor and you've got the makings for a big time snocross throw down on the ACS' final day at Lake Geneva (Wis.) in March!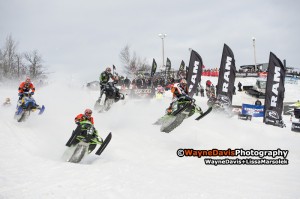 A pocket version of the popular Motocross des Nations, the Ram World Cup brings together the flag-waiving Canadian and Nordic countries versus the snowbelt States for a one-time event here on U.S. snow set to crown a true Ram World Cup champion.
"With such an international flavor on the AMSOIL Championship Snocross tour it's a given that we're able to serve up such an event for our fans – many of which travel to the Lake Geneva finals from Canada and overseas to back their country's racers," said ISOC President/Race Director Carl Schubitzke.
In addition to the Pro class racers each country will feature two Pro Lite class racers, with each country qualifying five racers (three Pro and two Pro Lite) in the 15-minute qualifying event for the team motos. The three event format will feature a standard start to the seven-minute opening moto, with the second and third motos featuring staggered starts with an inverse starting order (1st place in the previous moto starts in the last gate position). Sunday's (March 17th) Ram World Cup at Lake Geneva wraps up two days of the world's premier Pro class snocross racing up and down the slopes of Lake Geneva ski area, March 15-16.
Next up: Round seven of AMSOIL Championship Snocross, presented by Traxxas at Buffalo River Race Park outside Fargo, N.D., March 8-9.
Who: 2012-'13 AMSOIL Championship Snocross Series' Fargo Ram Trucks Snocross National, Buffalo River Race Park, Glyndon, Minn.
Race Dates: March 8-9
Where: Buffalo River Race Park, Glyndon, Minn. (15 minutes east of Fargo!)
Tickets: Available in advance online at www.buffaloriverracing.com and snocross.com
Photos courtesy of Lissa Marsolek/Wayne Davis Photography
Beginning with AMSOIL Championship Snocross' season-opening round in Duluth, Minn. (Nov. 23-25) and running through the season finale in Lake Geneva, Wis. (March 15-17), CBS Sports Network will broadcast 16 half-hour race shows – all in HD – on Sundays at 10:30 a.m. EST. The AMSOIL Championship Snocross – as an added bonus – will also air in an evening repeat of each show during the week.
About CBS Sports Network
CBS Sports Network (CBSSN) is the 24-hour cable destination of CBS Sports. The Network covers more than 340 live games annually, showcasing 30 men's and women's sports, in addition to a variety of studio shows, documentaries and original programs. CBSSN's live programming is highlighted by college sports and also features professional lacrosse, Professional Bull Riding (PBR), the sports news and commentary show ROME and the Tim Brando Show. CBS Sports Network is available across the country through local cable, video and telco providers and via satellite on DirecTV Channel 613 and Dish Network Channel 158. For more information, and to access the CBS Sports Network channel finder, go to www.cbssportsnetwork.com.
About ISOC Racing
The International Series of Champions (ISOC) is the premier snowmobile race sanctioning organization in North America and sanctions national AMSOIL Championship Snocross, in addition to affiliating with nine regional circuits. Visit snocross.com for more information, fan and racer memberships, schedule details and more.