Buffalo River Race Park sees Hibbert and Scott taking top honors at the Ram Trucks Snocross outside Fargo, N.D.
Tucker Hibbert wins his 10th Pro Open main (out of 13) on the season while Jake Scott increases his overall point lead in the Pro Lite class
For more information contact:
Pat Schutte, PR Director, ISOC Racing
Pat@ISOCRacing.com
GLYNDON, Minn. (March 8, 2013) – A rough and highly technical track at Buffalo River Race Park greeted AMSOIL Championship Snocross, presented by Traxxas fans just outside Fargo, N.D. for the running of the Ram Trucks Snocross on Friday night. And just as they did the at the world's premier snocross series' previous round in New York, Tucker Hibbert (Monster Energy/Arctic Cat) and Jake Scott (Mystic Lubricants/Loctite/Polaris) came away victorious in the Pro Open and Pro Lite classes, respectively.
AMSOIL Championship Snocross continues at Buffalo River Race Park on Saturday with opening ceremonies and the "Live" webcast on snocross.com beginning at 6 p.m. CST.
Pro Open
An itchy throttle thumb got No. 2 Pro Open qualifier Ross Martin (DuPont/Jack Links/Polaris) in a whole heap of trouble on Friday at Buffalo River Race Park. What looked to be a canon of a start for the No. 3-ranked Pro Open racer was soon turned into a black flag and a trip to the very back of the 15-sled pack. So that meant the Stud Boy holeshot award would go to Hentges Racing/Polaris' Justin Broberg, his first ever Pro Open holeshot.
Martin's creeping start would affect a number of other top qualifying racers, including the No. 1 qualifier with the first gate pick and overall Pro Open point leader Tucker Hibbert. Seemingly pinched off at the start, Hibbert managed to come out of a bunched up pack of racers in 5th, then quickly moved up to 3rd – and eventually 2nd past Kody Kamm (Monster Energy/Hentges Racing/Polaris) before the end of the opening lap. Hibbert, no doubt angered that Martin jumped the start, was closing on Martin when the black flag flew and Martin pulled over. From there Hibbert again made it look easy as he tamed the rugged Fargo track to the tune of a nearly 20-second victory at the end of the 18 laps.
"Yeah, Ross jumping the start threw me off, but I was able to make a few passes and get to the lead," said Hibbert. "The track was super gnarly … feels good to win here at my home race."
So with Martin watching the entire pack breeze by, Hibbert was followed by Kamm and Johan Lidman (Carlson Racing/Polaris). Kamm would miss a turn and take a ride out into the weeds, allowing Lidman to get past into 2nd, but came back on the track in 3rd with Broberg and Robbie Malinoski (Scheuring Speed Sports/AMSOIL/Ski-Doo) in 5th.
On lap 11 Malinoski would leave the track with what appeared to be an aggravated knee injury – something that's been bothering him for the last several weeks. The following lap (12) Kamm would move past Lidman and into 2nd. As the top three continued to separate from the rest of the field, fans at BRRP focused their attention on the charging Ross Martin, who'd made his way through nine of the world's top premier Pro Open class racers and up to 6th place. Then, on the last lap, Martin would make amends for jumping the start by passing Logan Christian (Christian Brothers Racing/Arctic Cat) for 5th place, with Broberg in 4th.
Said 2nd place finisher Kamm: "I got off to a 2nd place start. Ross got black flagged, so I had the lead for a couple turns before Tucker passed me. Then later in the race I fell, got back going and was able to pass Johan and take 2nd.
Added Lidman, on his first ever AMSOIL Championship Snocross Pro Open podium: "Words can't describe how I feel right now. I'm so happy! I've been waiting for three seasons for this to happen and I can't thank the Carlson team enough, along with Polaris for making such a great race sled."
Friday Fargo Ram Trucks Snocross Pro Open Results
1 68 Hibbert Tucker Arctic Cat Pelican Rapids MN
2 53 Kamm Kody Polaris Kenosha WI
3 52 Lidman Johan Polaris Pitea Sweden
4 168 Broberg Justin Polaris Waukesha WI
5 837 Martin Ross Polaris Burlington WI
6 43 Christian Logan Arctic Cat Fertile MN
7 324 Pallin Kyle Polaris Ironwood MI
8 11 Tremblay Tim Ski-Doo Ste Jeanne D'Arc Quebec
9 99 Pattyn Zach Ski-Doo Ravenna MI
10 9 Mees Darrin Ski-Doo Stanchfield MN
11 717 Bauer Mike Polaris Owen WI
12 27 Ohman Emil Ski-Doo Sweden
13 24 Bauerly Paul Ski-Doo Milaca MN
14 106 Ellis Derek Arctic Cat Fargo ND
15 4 Malinoski Robbie Ski-Doo Stacy MN
Pro Lite
No. 1 qualifier Jake Scott had the first gate pick, but it was Matt Pichner (Arctic Cat ) that got up front early and led the opening laps of the Pro Lite main event at Buffalo River Race Park. Scott would tangle in the opening moments of the race with Dylan Hall (Royal Distributing/Ski-Doo), though both racers would remain upright and continued the spirited charge after Pichner.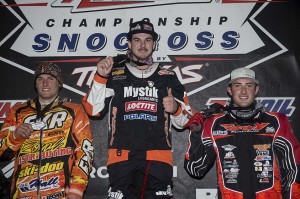 On lap four Scott would move past Pichner for the lead – a lead he would extend to ten seconds over the next-closest racer en route to victory on Friday at Fargo.
"Feels great to be up here," said Scott. "I got a top three start and rode my own race. But most of all tonight I had fun out there."
Once Hall got past Pichner as well, Andrew Carlson (Carlson Racing/Polaris) made his move on Pichner for the final podium spot – but ended up getting bucked off his sled and out of podium contention. 2nd place overall point holder in the Pro Lite class, David Joanis (Royal Distributing/Ski-Doo), was moving up from the back row and into 5th place with six laps to go. Joanis then picked up two spots quickly, and was up into 3rd place before a crash sent him flying and his sled upside down in a hole alongside the track.
With Joanis out Scott led Hall and Pichner, with Andrew Lieders (Leighton Motorsports/Polaris) up to 4th and Travis Muller (Warnert Racing/Ski-Doo) in 5th with five laps remaining. And though there was no question as to who was up front (Scott was up ten seconds at this point), it was anyone's guess who's round out the podium and a second separated the next four racers.
Muller would get past Pichner for 3rd with one lap to go, then threw it away with only a few turns to go. Lieders would more or less then inherit the third and final podium spot behind Scott and Hall.
"Means a lot to get up here in 2nd," said Hall. "I got right to the final this week, no LCQ like the last race in New York. So that helped, and it was a good race for our team tonight."
Added Lieders: "I kinda got lucky there when Joanis went down, then Muller as well. This is for the Crapo family. Colby's dad is having some health issues and they're great people and I hope he's doing better."
Friday Fargo Ram Trucks Snocross Pro Lite Results
1 42 Scott Jake Polaris Port Jefferson Station NY
2 421 Hall Dylan Ski-Doo Ayr Ontario
3 857 Lieders Andrew Polaris Colby WI
4 193 Pichner Matt Arctic Cat Owatonna MN
5 675 Rosemeyer Chase Ski-Doo Chippewa Falls WI
6 144 Taillefer Maxime Ski-Doo Laval West Quebec
7 198 Pattyn Nick Ski-Doo Ravenna MI
8 248 Nastala Brett Ski-Doo Milton WI
9 122 Wallenstein Kevin Ski-Doo Cadillac MI
10 151 Carlson Andrew Polaris Elk River MN
11 310 McClelland Riley Arctic Cat Red Wing MN
12 436 Muller Travis Ski-Doo Windom MN
13 115 Joanis David Ski-Doo Cochrane Ontario
14 173 Watkinson Corey Ski-Doo Port Carling Ontario
15 543 Blanshan Jacob Arctic Cat Garfield MN
Next up: Round seven of AMSOIL Championship Snocross, presented by Traxxas at Buffalo River Race Park outside Fargo, N.D., March 8-9.
Who: 2012-'13 AMSOIL Championship Snocross Series' Fargo Ram Trucks Snocross National, Buffalo River Race Park, Glyndon, Minn.
Race Dates: March 8-9
Where: Buffalo River Race Park, Glyndon, Minn. (15 minutes east of Fargo!)
Tickets: Available in advance online at www.buffaloriverracing.com and snocross.com
Photos courtesy of Lissa Marsolek/Wayne Davis Photography
Beginning with AMSOIL Championship Snocross' season-opening round in Duluth, Minn. (Nov. 23-25) and running through the season finale in Lake Geneva, Wis. (March 15-17), CBS Sports Network will broadcast 16 half-hour race shows – all in HD – on Sundays at 10:30 a.m. EST. The AMSOIL Championship Snocross – as an added bonus – will also air in an evening repeat of each show during the week.
About CBS Sports Network
CBS Sports Network (CBSSN) is the 24-hour cable destination of CBS Sports. The Network covers more than 340 live games annually, showcasing 30 men's and women's sports, in addition to a variety of studio shows, documentaries and original programs. CBSSN's live programming is highlighted by college sports and also features professional lacrosse, Professional Bull Riding (PBR), the sports news and commentary show ROME and the Tim Brando Show. CBS Sports Network is available across the country through local cable, video and telco providers and via satellite on DirecTV Channel 613 and Dish Network Channel 158. For more information, and to access the CBS Sports Network channel finder, go to www.cbssportsnetwork.com.
About ISOC Racing
The International Series of Champions (ISOC) is the premier snowmobile race sanctioning organization in North America and sanctions national AMSOIL Championship Snocross, in addition to affiliating with nine regional circuits. Visit snocross.com for more information, fan and racer memberships, schedule details and more.