Ross Martin steps up and snaps Tucker Hibbert's win streak, tops Pro Open class @ BRRP; Jake Scott wins Lites
Martin dominates the qualifiers and beats defending champ Tim Tremblay to the checkers in a thrilling main event outside Fargo, N.D.
For more information contact:
Pat Schutte, PR Director, ISOC Racing
Pat@ISOCRacing.com
GLYNDON, Minn. (March 9, 2013) – Dashing through the snow and certainly making amends for his black flagged false start on Friday at Buffalo River Race Park, Wisconsin's Ross Martin (DuPont/Jack Links/Polaris) made a statement on Saturday at the AMSOIL Championship Snocross, presented by Traxxas' Ram Truck Snocross round run just outside Fargo, N.D. – topping the world's elite professional snocross racers, including the nearly unstoppable Tucker Hibbert (Monster Energy/Arctic Cat).
And in the Pro Lite main event at BRRP on Saturday it was again Jake Scott (Mystic Lubricants/Loctite/Polaris) that took it to the field, locking down his second consecutive weekend sweep with 1st/1st finishes on Friday and Saturday.
Pro Open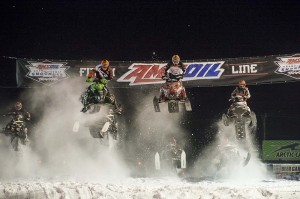 With the Stud Boy Holeshot once again going to Kyle Pallin (Mystic Lubricants/Loctite/Polaris), Ross Martin quickly made his way to the front of the pack via his inside line start and No. 1 gate pick as the day's Pro Open qualifier at Buffalo River Race Park. Friday's winner Tucker Hibbert was close behind in 4th place (qualified 4th as well) and was making his move up front when he left the track on the back portion of the race track and re-entered the track all the way back in 13th place.
At the same time as Hibbert had issues fellow Arctic Cat pilot Logan Christian (Christian Brothers Racing), who was running in 2nd place at the time, pulled off the track and his night was ended. So this left Martin with a near three-second lead over Emil Ohman (Warnert Racing/Ski-Doo) and the defending AMSOIL Championship Snocross Pro Open champion Tim Tremblay (Scheuring Speed Sports/AMSOIL/Ski-Doo).
By lap seven of the 18-lap contest Martin had put nearly four seconds on the next-closest racer (Ohman) while Hibbert moved into the top ten. Tremblay would then put his head down and charge up to Ohman, getting past the Swedish great a couple laps later.
With Martin now holding off the hard-charging defending champ Tremblay, there was no way Hibbert – despite a spectacular run from last (eventually) into the top five would be able to catch the leaders. The only question was if Tremblay could catch Martin, to which Martin would ride a wide sled the last couple laps and hold off Tremblay for the victory.
"Yesterday I was pretty disappointed, so I'm super happy to be up here tonight," said Martin. "I just wanted to come in today and win. Qualified No. 1 and got the first gate pick and up front early. When I was up front I just had the biggest smile on my face. Put my head down and just went for it."
For the defending Pro Open class champ Tremblay it was another podium finish, though his first win of the season would barely elude him again. "I got a good start and made my way up to 2nd and battled Ross, but I couldn't get around him. Glad there wasn't a green sled on the podium (a reference to Hibbert's dominance this year). I hope we can get a win before the end of the season."
Third place in Saturday's Pro Open main at BRRP would go to Ohman, who put in a strong race in holding off Pallin late. "I feel very good … good to be up here. Thanks to my team from Warnert Racing for putting together a great sled for me."
Though Hibbert has a substantial lead in the overall Pro Open points chase, Martin broke up the virtual tie between himself and Tremblay heading into Saturday's Pro Open main at BRRP and now leads the defending champ by five points (500-495) for the No. 2 position behind Hibbert (577 points).
Saturday Fargo Ram Truck Snocross Pro Open Results
1 837 Martin Ross Polaris Burlington WI
2 11 Tremblay Tim Ski-Doo Ste Jeanne D'Arc Quebec
3 27 Ohman Emil Ski-Doo Pitea Norrbotten, Sweden
4 324 Pallin Kyle Polaris Ironwood MI
5 68 Hibbert Tucker Arctic Cat Pelican Rapids MN
6 99 Pattyn Zach Ski-Doo Ravenna MI
7 53 Kamm Kody Polaris Kenosha WI
8 4 Malinoski Robbie Ski-Doo Stacy MN
9 52 Lidman Johan Polaris Pitea Sweden
10 24 Bauerly Paul Ski-Doo Milaca MN
11 717 Bauer Mike Polaris Owen WI
12 244 LePage Bobby Polaris Duluth MN
13 168 Broberg Justin Polaris Waukesha WI
14 106 Ellis Derek Arctic Cat Fargo ND
15 43 Christian Logan Arctic Cat Fertile MN
AMSOIL Championship Snocross Pro Open Overall Points (w/ two rounds remaining)
1 Tucker Hibbert 14 577 577 Monster Energy/Arctic Cat 68 Arctic Cat Pelican Rapids, MN
2 Ross Martin 14 500 500 Judnick Motorsports 837 Polaris Burlington, WI
3 Tim Tremblay 14 495 495 Amsoil/Air Force/Makita 11 Ski-Doo Ste Jeanne D'Arc, Quebec
4 Kody Kamm 14 421 421 Hentges Racing 53 Polaris Kenosha, WI
5 Emil Ohman 14 400 400 Warnert Racing 27 Ski-Doo Pitea, Norrbotten
6 Robbie Malinoski 13 389 389 Amsoil/Air Force/Makita 4 Ski-Doo Stacy, MN
7 Logan Christian 14 388 388 Christian Brothers Racing 43 Arctic Cat Fertile, MN
8 Kyle Pallin 14 372 372 Team LaVallee 324 Polaris Ironwood, MI
9 Justin Broberg 14 361 361 Hentges Racing 168 Polaris Waukesha, WI
10 Darrin Mees 14 349 349 Scheuring Speedsports 9 Ski-Doo Stanchfield, MN
Pro Lite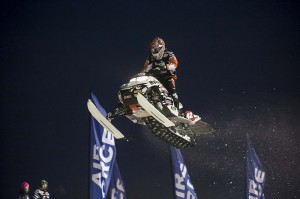 Much of the same off the start in Saturday's Buffalo River Race Park Pro Lite main with Jake Scott busting out to the early lead with Andrew Carlson (Carlson Racing/Polaris) and David Joanis (Royal Distributing/Ski-Doo) in hot pursuit. But with the podium all but decided with just a several laps to go in the 12-lap contest, all heck broke loose when Carlson wadded up and Joanis ran over him.
As both racers on the ground (thankfully OK) and their sleds on their sides, Andrew Lieders (Leighton Motorsports/Polaris) and Joey Sagan (FR Motorsports/Ski-Doo) came blasting past and into the final two podium spots behind Scott. And though Travis Muller (Warnert Racing/Ski-Doo) and Riley McClelland (McClelland Racing/Arctic Cat) would give chase, there weren't enough laps left to catch Lieders (2nd) and Sagan (3rd).
And Scott was long gone.
"My second win of the weekend … I'm so pumped right now," said Scott, who qualified in the No. 1 position for Saturday's Pro Lite main event. "I got the holeshot and then just had fun racing out there and was able to win."
For Lieders it'd be his second podium of the weekend, admitting it was a bit of gift again (Joanis and Muller went down on Friday, allowing Lieders to make the podium) – but he'll take it. "The Pro Lite class is so fast and chaotic … I'm just happy to get up here on the podium. Thanks to Trey Leighton, the team owner. It's his birthday today and this is for him."
The third and final podium position went to Sagan, who won his opening heat race and ran well all day to put himself in a position to podium – his first trip to the rostrum this year. "I'm super stoked, this is my first time up here," said Sagan, who moved into the top ten in overall Pro Lite points (10th). "Sucks for David (Joanis), but that's racing and I'm happy to capitalize on it."
With one round remaining (two races) Scott now has a sizable 59-point lead over 2nd place overall Lieders.
Saturday Fargo Ram Truck Snocross Pro Lite Results
1 42 Scott Jake Polaris Port Jefferson Station NY
2 857 Lieders Andrew Polaris Colby WI
3 202 Sagan Joey Ski-Doo Elmvale Ontario
4 436 Muller Travis Ski-Doo Windom MN
6 248 Nastala Brett Ski-Doo Milton WI
7 310 McClelland Riley Arctic Cat Red Wing MN
8 122 Wallenstein Kevin Ski-Doo Cadillac MI
9 105 Kraus Jordan Polaris Osage MN
10 115 Joanis David Ski-Doo Cochrane Ontario
11 144 Taillefer Maxime Ski-Doo Laval West Quebec
12 675 Rosemeyer Chase Ski-Doo Chippewa Falls WI
13 193 Pichner Matt Arctic Cat Owatonna MN
14 151 Carlson Andrew Polaris Elk River MN
15 793 Alexandre Renaud Ski-Doo Val-D'or Quebec
AMSOIL Championship Snocross Pro Lite Overall Points (w/ two rounds remaining)
1 Jake Scott 14 527 527 Team LaVallee 42 Polaris Port Jefferson Station, NY
2 Andrew Lieders 14 468 468 Lieders Racing/Leighton Motorsports 857 Polaris Colby, WI
3 David Joanis 14 466 466 Royal Distributing 115 Ski-Doo Cochrane,
4 Travis Muller 14 460 460 Warnert Racing 436 Ski-Doo Windom, MN
5 Renaud Alexandre 14 409 409 Team Jimmy John's/Ski-doo/BossRacing 793 Ski-Doo Val-D'or, Quebec
6 Dylan Hall 14 392 392 Royal Distributing 421 Ski-Doo Ayr,
7 Andrew Carlson 14 368 368 Carlson Motorsports 151 Polaris Elk River, MN
8 Chase Rosemeyer 14 306 306 Team Bauerly Racing 675 Ski-Doo Chippewa Falls, WI
9 Matt Pichner 12 297 297 MP Racing 193 Arctic Cat Owatonna, MN
10 Joey Sagan 14 296 296 FR Motorsports 202 Ski-Doo Elmvale, Ontario
Next up: Rounds 15 and 16 of 2012-'13 AMSOIL Championship Snocross, plus the Ram World Championships, March 15-17, Grand Geneva Resort & Spa, Lake Geneva, Wis.
Who: 150 of the world's top snowmobile racers
What: Rounds 15 and 16 of 2012-'13 AMSOIL Championship Snocross, plus the Ram World Championships
When: March 15-17
Where: Grand Geneva Resort & Spa, Lake Geneva, Wis.
Times: Opening ceremonies are at 6 p.m. on Friday and Saturday, Noon on Sunday.
Host hotel: Grand Geneva Resort & Spa
Tickets: General admission tickets are $25 per day or $40 for the entire three-day weekend! Children 5 and under are free. Tickets are available at the gate and online at snocross.com
More information: www.grandgeneva.com
Photos courtesy of Lissa Marsolek/Wayne Davis Photography
Beginning with AMSOIL Championship Snocross' season-opening round in Duluth, Minn. (Nov. 23-25) and running through the season finale in Lake Geneva, Wis. (March 15-17), CBS Sports Network will broadcast 16 half-hour race shows – all in HD – on Sundays at 10:30 a.m. EST. The AMSOIL Championship Snocross – as an added bonus – will also air in an evening repeat of each show during the week.
About CBS Sports Network
CBS Sports Network (CBSSN) is the 24-hour cable destination of CBS Sports. The Network covers more than 340 live games annually, showcasing 30 men's and women's sports, in addition to a variety of studio shows, documentaries and original programs. CBSSN's live programming is highlighted by college sports and also features professional lacrosse, Professional Bull Riding (PBR), the sports news and commentary show ROME and the Tim Brando Show. CBS Sports Network is available across the country through local cable, video and telco providers and via satellite on DirecTV Channel 613 and Dish Network Channel 158. For more information, and to access the CBS Sports Network channel finder, go to www.cbssportsnetwork.com.
About ISOC Racing
The International Series of Champions (ISOC) is the premier snowmobile race sanctioning organization in North America and sanctions national AMSOIL Championship Snocross, in addition to affiliating with nine regional circuits. Visit snocross.com for more information, fan and racer memberships, schedule details and more.