MINNEAPOLIS (April 12, 2013) – Three world class riders, two top-ten year-end finishes, strong and consistent performances week in and week out, and a string of podiums to end the season (8 in all on the national tour). No doubt about it, the 2012-2013 season will go down as one of the best ever for Carlson Motorsports, and already the outlook for next season is bright as the team enjoys time away, regroups, and resets for what should be their most competitive season ever.
Despite struggles early on, the speedy "Swede" Johan Lidman reemerged mid-season as he found his grove with a third place podium at the Eagle River World Championships in January. Johan became more determined, more confident, and a whole lot faster as the season progressed, and eventually was battling for heat wins, and podium finishes race after race. Lidman capped off the season by returning home to Sweden to compete in the Clash of Nations. At the Clash, Johan made the front row with a third, second and first in qualifying, and finished just one slim second off the podium in the final. Johan then completed the season with a victory at the Wallace Sweden Stadium Cross.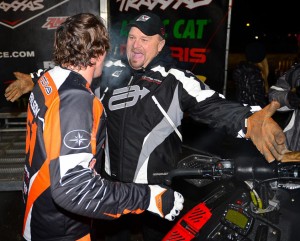 Steadfast determination and growing confidence is also what marked the make-up of Pro-Lite rider Andrew Carlson, who also struggled early in the season until suddenly everything "clicked". Pumped with confidence and the best prepared and performing sleds on tour, Andrew found himself continually battling for the podium and position with eventual year-end champion Jake Scott.
Andrew also made the trek across the pond to race at the Clash of Nations and he appeared to be the odds on favorite to win the Pro-Stock final, with a pair of convincing heat wins under his belt. However tragedy struck before that could happen as an unexpected off and subsequent knee injury prematurely ended Andrew's quest and his season.
The podium run wasn't just limited to the Pro ranks for Carlson Motorsports either. National tour rookie Ryan Springer, joined the Carlson Motorsports team on a limited basis this past winter, and he quickly made a name for himself as a go for broke rider who was never afraid to mix it up. By season's end, Springer scored three national Sport podiums including a victory in Deadwood, South Dakota. Ryan finished just outside of the top-ten and is already being pegged as a favorite to win it all in the Sport class next season.
With so much success, the injury to Andrew Carlson looked to finish the season on a down note. However after a trip to Vail, Colorado to one of the top specialty surgeons in the country; a successful reconstructive surgery; and unwavering commitment on a complete recovery has Carlson eyeing the start line for the Duluth National opener in late November.
"It was a rewarding season," said team owner and manager Chris Carlson. "I'm so proud of everyone on our team for really coming together and competing at such a high level week after week. We have the best crew and the best sponsors anywhere…just real, genuine people who want to succeed. Andrew's injury was hard to take after he came on so strong at the end of the season, but he is completely committed to this sport and being ready for the first race of the season."
Carlson Motorsports would like to extend a heartfelt thanks to everyone who has supported and followed the team throughout the season. Your thoughts and prayers on behalf of Andrew Carlson are sincerely appreciated. You can follow Carlson Motorsports on Facebook or at their website: www.carlsonmotorsportsllc.com
Photos: Gary Walton
About Carlson Motorsports
Carlson Motorsports is a family of racers, mechanics and sponsors who are proud of our accomplishments on the track and off, and are driven to excellence in everything we do. Our racing organization is driven by a deep-rooted passion for the sport and an operational philosophy grounded in integrity. To learn more about Carlson Motorsports LLC, and how you can partner and share in their success, visit their website at www.carlsonmotorsportsllc.com