James Johnstad (#154 Judnick Motorsports Pro-Lite Class) quietly walks up to the autograph table at the World of Wheels Motorsport Expo in Minneapolis, Minnesota. He lays out his posters, and pulls out his sharpie ready to sign autographs for his fans. The line is full of people eager to meet James Johnstad, and talk to him about his experiences in the world of snocross. He begins to sign posters and answer questions from his fans. You can see on his face that he enjoys talking about snocross, and his passion for racing for Judnick Motorsports.
That same face expressed disappointment last year at Canterbury. He was in the hunt for first place in Pro-Lites, but he got involved in a crash that caused him to bow out of racing for the remainder of the season. Disappointed, but yet determined he's training hard to take another run at the Pro-Lite Championship.
During his down time signing autographs, we talked to him about that crash and what it means to race for Judnick Motorsports.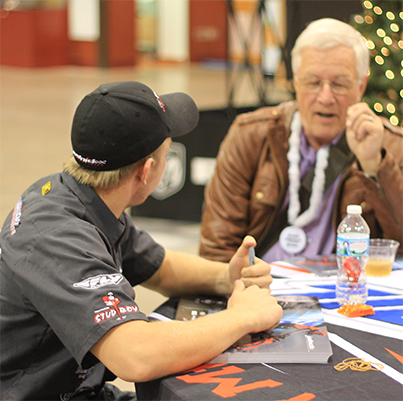 ISOC: Unfortunately you were injured in Canterbury in January and you haven't been racing yet. How are you preparing to bounce back from that January injury?
James: Training and riding bikes as much as I can, and just stay focused. I knew I was a front runner when I got hurt and I know I still have that so it's just a matter of having patience in a way until I can be back on the sled to race again and having the confidence. I know I can be a front runner.
ISOC: When you're on the track, waiting for the green, and you're about to hit the throttle, what's the first thing that comes to your mind?
James: Go.
ISOC: Go?
James: Go.
ISOC: That's it?
James: Not much is going through my mind at that point in time. It pretty much comes down to the point where you know, yeah, to be confident in yourself that you'd know you've done everything. You've done everything that you have in your power and will that to be prepared for that start. Just know that you are ready and that you're going to be the first into the corner.
ISOC: Take us back to January in Canterbury. You got injured. When you talk about what goes through your mind, what goes through your mind when you get injured?
James: Right off coming to that final, I knew I was leading the points for Pro-Lite. That was a really big confidence booster for me and I still have yet to win a Pro-Lite final. I knew my sled was dialed. We made some changes before that final. We're ready to go and that first lap, I just remember coming around. I remember Andy tripling and then Jake doubling. I doubled and then I just remember hearing a sled coming from behind me, tripling. I knew for sure I was going to get hit. When I made it back to the starting line, I knew it wasn't good and it was a bad feeling knowing that I won't be able to finish off the season or even be able to race the next day, knowing I'd lose that points lead.
ISOC: How do you feel about the Pro-Lite division this year? Is the competition for Pro-Lite this year going to be tough?
James: Yeah, it's always going to be tough the next year. Someone always steps it up no matter what team they're on or who they're for. The only thing I control is me so I might as well do the most I can in my effort.
ISOC: What's it like to have Scott Judnick as a Team Owner?
James: Scott is the best team owner anyone could ask for! He always makes sure Ross and I have everything that we need to win! Scott makes sure we are always having fun on and off the track.
ISOC: Other than Racing, what's the toughest part of the racing season for you?
James: Other than racing, the toughest part of the season is being away from the familiarity of my home, my routine and being at so many different places in a short period of time.
ISOC: What's the one thing you want to tell your fans?
James: That's a good question. I don't know. Hopefully, you enjoy the races. Cheer for anyone not just me. It's the love of the sport that you should be cheering so just go and enjoy the races, I guess.
ISOC: Who's your sponsors you'd like to thank?
James: I'd like to thank Judnick Motorsports, Polaris, Amsoil, DuPont, Jack Links, SSI and our new sponsors, Klim, Fly Racing, Fox Shox and Study Boy. I couldn't do it without any of them. They're a big help and they make Ross and I go really fast on the track.
You can find out more about James Johnstad and Pro-Open Rider Ross Martin by visiting the Judnick Motorsports Official Website: http://judnickmotorsports.com/
Follow Judnick Motorsports on Twitter:  https://twitter.com/Judnick24