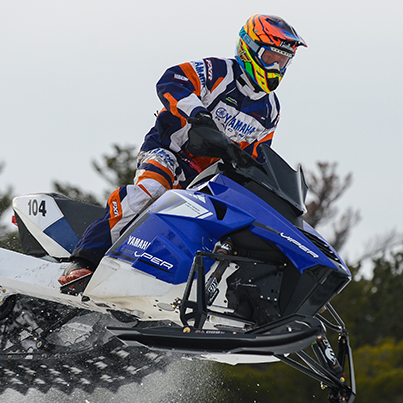 Pleasant Prairie, WI—Yamaha is pleased to announce that it's supported riders will appear at select snocross races early this season as part of its testing ahead of the USXC cross country racing season. "We have been working on our new SR Viper RTX race sleds all summer and fall," explained Yamaha Snowmobile Racing's Eric Josephsen. "Our team has developed a great setup on the new sled with an eye on our primary goal, which is to win the USXC Pro title this season and be a consistent podium finisher in RMSHA. With this new sled, we want to test it in competition before the season gets under way, like a preseason football game. That will let us work out any hiccups before we get to the Pine Lake race."
Reigning USXC Semi-Pro Champ Ben Lindbom will return to the team in the Pro ranks this season, and is joined by Pro rider Matt Piche on the Cross Country circuit. Both riders plan to gain seat time at the first two ISOC events in Duluth, MN, and Bessemer, MI, before they begin the battle for the Cross Country title.
Yamaha has also hired Steve Taylor to participate in the ISOC test and development sessions. "Most people know Steve as a fierce snocross competitor," explained Josephsen. "But he is also a very talented and methodical testing and development rider. He brings a lot of experience and enthusiasm to the team.
"We know this is an unconventional way to start a race season," Josephsen added. "But we think it will give us a lot of momentum and insight into the new sleds as the USXC season gets going."
Yamaha fans can follow the team throughout the season at facebook.com/YamahaSnowmobilesUSA and youtube.com/user/YamahaSnowmobilesUSA.