Contact: Pat Schutte
PR Director, ISOC Racing
pat@highprofilepr.com
DULUTH, Minn. (Dec. 1, 2013) – Blasting through the flat light at great speeds and handling the equally blinding roost while launching high above the Duluth skyline, Tucker Hibbert (Monster Energy/Arctic Cat/Ram) completed the sweep of rounds one and two of AMSOIL Championship Snocross, powered by Ram, with another dominant performance on Sunday – topping the 2nd place finisher by 17 seconds in the weekend's final contest.
And in the Pro Lite division Andrew Carlson (Sportech/Polaris) put together an excellent run to the checkers, winning his first-ever AMSOIL Championship Snocross Pro Lite main event.
Overall on the weekend the 35,200 fans in attendance was the third-largest crowd in the 22-year history of the Duluth National, just behind 2008 and 2010.
Pro Open
The Mystic/Polaris/Team LaVallee duo of Kyle Pallin and Levi LaVallee got off the starting line ahead of everybody to open Sunday's Pro Open main with Pallin pulling the Stud Boy Holeshot and leading the pack up through the Air Force Fly Zone. Hibbert would play it safe from the inside start position he selected as the No. 1 qualifier, getting out of the blocks in 3rd.
Coming down the Ram Rhythm Section Hibbert got by LaVallee, then stalked Pallin until the second lap where Hibbert cut up the inside of the AMSOIL Finish Line table top jump and squared off the ensuing corner, forcing Pallin to the outside and taking the lead.
From there it was academic as two laps later Hibbert clicked off the day's fastest lap – a 27.417 smoker – that cleared him from the rest of the field.
"You couldn't ask for a better weekend. Good starts, strong riding and my Arctic Cat ran perfect," said Hibbert, who is now three wins away from breaking Blair Morgan's all-time pro snocross win record of 84. "These are the kind of weekends you try and hold on to forever."
The action heated up behind Hibbert early on when Saturday podium finisher Cody Thomsen (Arctic Cat) was black flagged for running Tim Tremblay (Scheuring Speed Sports/Ski-Doo) off the track. Tremblay, the 2012 AMSOIL Championship Snocross Pro Open champ, would regroup and finish 8th, while Thomsen had to leave the race with a DNF.
As Pallin rode a strong and consistent race in 2nd place, much like he did in Saturday's 3rd place run for the Michigander, Ross Martin (DuPont/Jack Links/Polaris) made a spirited charge through the field, passing Darrin Mees (Jimmy John's/Boss Racing/Ski-Doo) and fast rookie racer Kody Kamm (Hentges Racing/Polaris) to move up to 3rd place midway through the contest.
With three laps to go the three frontrunners – Hibbert, Pallin and Martin – were out of touch with the rest of the field. Hibbert had a near 20-second lead and was cruising, choosing not to make a run at Martin and Pallin to possibly lap the entire field again – like he did on Saturday. The podium would be populated by Hibbert (1st), Pallin (2nd) and Martin (3rd), with Kamm and Logan Christian (Christian Bros Racing/Arctic Cat) rounding out the top five, respectively.
Said Martin: "We had a little bit of a struggle this weekend, but got things worked out and came back and made the podium today – so I'm pumped with that."
Add Pallin of his 2nd place podium finish: "It's hard to get up here and ever harder to stay up here. I've just got to keep my head down and work hard and enjoy the times we can get up here."
Pro Open results
1 Tucker Hibbert, Monster Energy/Arctic Cat/Ram
2 Kyle Pallin, Team LaVallee/Polaris
3 Ross Martin, Judnick Motorsports/Polaris
4 Kody Kamm, Hentges Racing/Polaris
5 Logan Christian, Christian Brothers Racing / Drift / Arctic Cat
6 Jake Scott, Team LaVallee/Polaris
7 Justin Broberg, Hentges Racing/Polaris
8 Tim Tremblay, AMSOIL/Air Force/Rockstar/Ski-Doo
9 Colby Crapo, Huber Motorsports/Polaris
10 David Joanis, Christian Brothers Racing/Arctic Cat
11 Iain Hayden, Rockstar/Energy Polaris
12 Darrin Mees, Boss Racing/Ski-Doo
13 Levi LaVallee, Team LaVallee/Polaris
14 Danny Poirier, Bailey Hulten/Polaris
15 Cody Thomsen, Arctic Cat
Pro Lite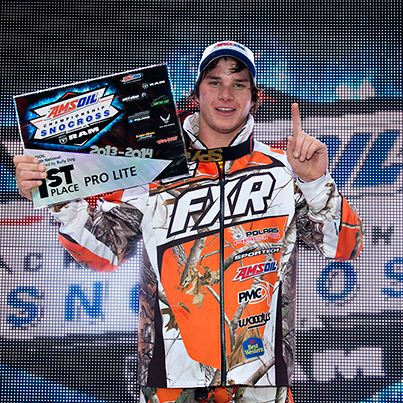 "I'm so pumped right now – my first Pro Lite win," said Carlson. "Coming back from an injury (knee), I couldn't be more excited. Thanks to my trainer, Kurt, for getting me back into shape."Holeshot to checkers, Andrew Carlson was flat out on it Sunday in the Duluth Pro Lites. Never a question from the green flag through the igniting fire pots above the AMSOIL Finish Line banner, Carlson's 1st place performance was masterful.
With the top spot on the rostrum never in question, a number of good battles played out chasing the final two trophy spots. Justin Parnell (Ski-Doo) and Max Taillefer (Ski-Doo) would get together on the second lap, hitting the deck in their bid for the front of the pack. The middle-of-the-track accident held up a few riders just long enough to let Kevin Wallenstein (Ski-Doo) and Corin Todd (Polaris) break away in pursuit of Carlson.
Clicking off fast lap after fast lap, Carlson would put four seconds between himself and the next—fastest racer, which happened to be Todd by the race's midway point.
On lap 11 (of 14) Carlson was further in control, while Corin and Wallenstein space themselves out comfortably from Andrew Lieders (Polaris) and Dan Dolecki (Ski-Doo). The five front runners would hold position through the last three laps, avoiding a number of tip overs (that brought out yellow flags) with Carlson (1st), Todd (2nd) and Wallenstein (3rd) making up the round two Pro Lite podium.
Pro Lite results
1 Andrew Carlson, Polaris
2 Corin Todd, Leighton/Polaris
3 Kevin Wallenstein, Ingles Performance/Ski-Doo
4 Andrew Lieders, Team LaVallee/Polaris
5 Daniel Dolecki, Anderson/Dee's/Ski-Doo
6 Marcus Johansson, Carlson/Polaris
7 Riley McClelland, Arctic Cat
8 Zak Mason, Leighton/Polaris
9 Nisse Kjellstrom, Polaris
10 Korbyn Anderson, Ski-Doo
11 Corey Watkinson, Arctic Cat
12 Justin Parnell, Huber/Ski-Doo
13 Maxime Taillefer, Ski-Doo
14 Dylan Hall, Royal Hall Racing/Ski-Doo
15 Matt Pichner, HAALA Racing/Arctic Cat
DNS Brett Nastala, Goodwin Performance/Ski-Doo
AMSOIL Championship Snocross, powered by Ram, returns to action Dec. 6th and 7th at Bessemer, Michigan's Blackjack Ski Resort for the Northern Clearing Snocross – rounds three and four of AMSOIL Championship Snocross.
2013-'14 AMSOIL Championship Snocross, powered by Ram
Round/Date City/State
1 – Nov. 29-Dec. 1 Duluth, Minnesota
2 – Dec. 6-7 Bessemer, Michigan
3 – Jan. 3-5 Shakopee, Minnesota
4 – Jan. 31-Feb.1 Deadwood, South Dakota
5 – Feb. 7-8 Salamanca, New York
6 – Feb. 21-22 Mt. Pleasant, Mich.
7 – March 7-8 Fargo, N.D.
8 – March 14-16 Lake Geneva, Wisconsin
Beginning with AMSOIL Championship Snocross' season-opening round in Duluth, Minn. and running through the season finale in Lake Geneva, Wis. CBS Sports Network will air 16 half-hour programs of the ACS races.
Photos courtesy of Lissa Marsolek/ISOC
About ISOC Racing
The International Series of Champions (ISOC) is the premier snowmobile race sanctioning organization in North America and sanctions national AMSOIL Championship Snocross, in addition to affiliating with nine regional circuits. Visit snocross.com for more information, fan and racer memberships, schedule details and more.