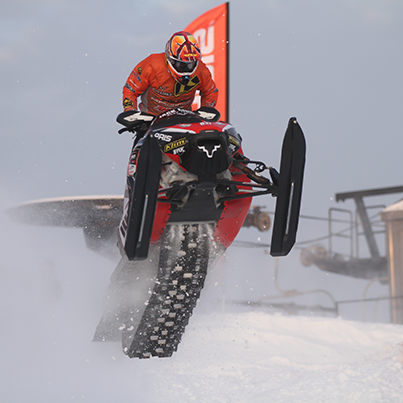 DULUTH, Minn. (Dec. 1) – Team Polaris professional Ross Martin admitted the season-opening AMSOIL Duluth National didn't produce his best weekend in the AMSOIL Championship Snocross series, but a gritty third-place result in Sunday's second main event did bring a sly smile to the face of the Burlington, Wis.-based rider.
"It definitely feels good to get up on the podium," Martin said. "We've had a bit of a struggle this weekend. We put a lot of new parts on the sled this year, and we're just working through some little bugs. I expect we'll have a lot more races that end up here (on the podium). We just need to get settled in."
Martin's weekend started with a shocking first-round elimination in the annual AMSOIL Dominator, an event he'd won the last two years. He then squandered the lead in Saturday's main when he crashed in the tricky rhythm section and ended up near the back of the pack.
But Sunday was a different story for the 29-year-old as he recorded first- and second-place finishes in the day's two qualifiers before locking up third in the finale.
"We changed the suspension, shocks, and a few different links in the rear suspension to put more track on the ground," Martin said of the changes the team made overnight. "It made a huge difference and the sled felt way better, but I honestly think there's room to do even more.
"Today's race was all about being patient. I knew there was going to be a lot of carnage, so I needed to stay clean. I learned a little yesterday. I had a podium finish in me for sure but kind of blew it by pressing too hard. I think if I had been more patient then it would have worked out better for me. Today I was patient and I got the result.
"Being sponsored by AMSOIL, it's very cool to do well here in their backyard. I wish I'd done better, but this podium finish today will definitely make the ride home a lot easier."
Martin's teammate at Judnick Motorsports, Pro-Lites rider James Johnstad, was injured during qualifying and was taken to a local hospital for further evaluation. Johnstad won Saturday's Pro-Lites race.
Sunday's race will air at 7:30 p.m., Dec. 29, on CBS Sports Network.
The series picks up next Friday and Saturday with the Northern Clearing Snocross doubleheader in Bessemer, Mich.