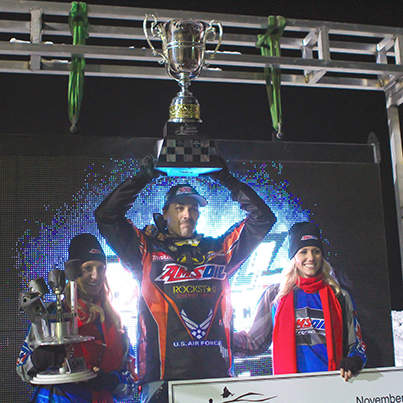 DULUTH, Minn. (Dec. 1) – The championship-contending duo of Tim Tremblay and Robbie Malinoski will likely be glad to put Spirit Mountain in their rearview mirror after a disappointing Sunday left Tremblay with a bloody nose and Malinoski with a rare DNQ.
After such a promising start to the weekend — Tremblay and Malinoski went 1-2 in Friday's AMSOIL Dominator — the pair struggled in the first two points races of the AMSOIL Championship Snocross series.
Tremblay was crashed into during both races. On Saturday his Ski-Doo was rendered completely useless and he was forced to pull out of the race, finishing in last place. On Sunday he quickly overcame a second-row starting position and was all the way up to third by Lap 2 when Cody Thomsen knocked him completely off his mount. By the time he recovered, the best he could do was climb up to eighth.
"He drilled me pretty hard," Tremblay said. "I don't know what caused that, but I plan to look at the video and try to figure it all out. That was one of the hardest hits I've ever taken in competition.
"I felt great until that point. I made up a bunch of ground on the start going up that hill and the sled was fast. I was closing in on the leader, had him right in front of me, and then, bam, I'm on the ground and my sled is up on its side. It's very bad luck, for sure."
As Tremblay tended to his wounds, Malinoski vowed to put in overtime to get his season back on track.
The multi-time champion from Humboldt, Saskatchewan, finished fourth and sixth in the two qualifiers, forcing him to the last-chance qualifier. He only needed to finish in the top five to advance to the main event but wound up sixth.
"I had a pretty good gate pick (in the LCQ) and tried to get a good start," Malinoski said. "I launched fine and tried doubling in, but I started swapping and just had to get out of it. After that I was dead-last going up the hill, so I just tried to settle down. I managed to make a few passes but then got stuck behind this group of three riders. I kept eating their roost and just couldn't get any clear space. That was that.
"We got some stuff we need to work through. We just got our butts kicked this weekend, and we need to go home, regroup, and get to work. We'll definitely be testing a lot this week. At least we have a base to work from now."
Malinoski finished ninth in Saturday's race.
Sunday's race will air at 7:30 p.m., Dec. 29, on CBS Sports Network.
There will be little time to regroup as the series picks up next Friday and Saturday with the Northern Clearing Snocross doubleheader in Bessemer, Mich.