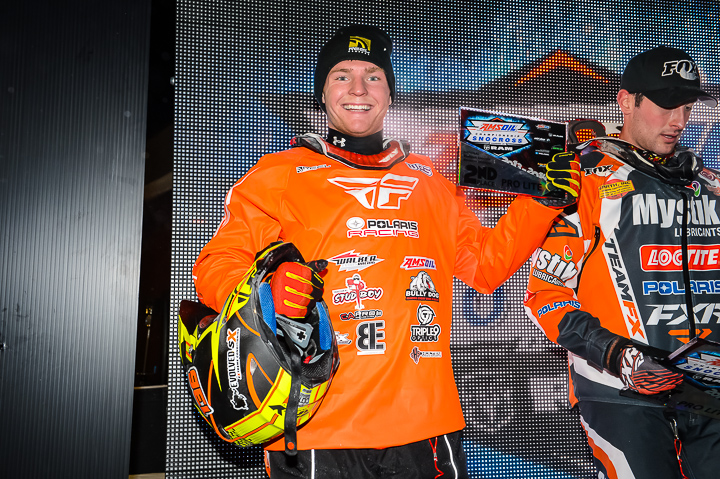 Bessemer, Mich. (December 9, 2013) – Corin Todd and Jennifer Pare each picked up right were they left off at the season opening race in Duluth, capturing second place finishes in their respective main events on the daunting slopes of the Black Jack Ski Hill on Michigan's upper peninsula.
For Corin, it was one of his best weekends ever in national snocross competition, sweeping his qualifers on Friday with a sixth place in the Pro Lite final and going 2-2 in Saturday qualifying before racing to a second in the final.
Pro Lite rookie Zac Mason continued to make his presence felt in the class, racing to two heat race victories and two top 10 main event finishes, including a sixth on Saturday.
Trevor Leighton rounded out the trifecta, putting all three team members in the main events, finishing 11th and 12th. All three racers are also in the top 10 in class points, with Todd and Mason firmly inside the top five.
Jennifer Pare had another closely contested battle with Swedish rival Marica Renheim in the Pro Women's main event. Pare swept here qualifying races and lead most of the final before dropping one position on the last lap to finish second.
The team now takes a much deserved break for the holidays before resuming action at Canterbury Park in Shakopee, Minnesota in four weeks.
Television coverage:
CBS Sports Network – Round 3, January 5, 2014 @ 5:00pm EDT
Round 2, December 29, 2014 @ 7:30pm EDT
Free live streaming @ www.ustream.tv/ISOC
For more information, including racer bios, events schedule and team photos,
visit www.leightonmotorsports.com
Round #3 Results Heats Final
Corin Todd 1-1 6
Zak Mason 1-4 9
Trevor Leighton 3-5 11
Round #4 Results Heats Final
Corin Todd 2-2 2
Zak Mason 3-1 6
Trevor Leighton 5-4 12
Jennifer Pare 1-1 2
Photos by Gary Walton