Contact: Pat Schutte
PR Director, ISOC Racing
pat@highprofilepr.com
BESSEMER, Mich. (Dec. 7, 2013) – With temperatures plummeting well below zero degrees Tucker Hibbert (Monster Energy/Arctic Cat/Ram) managed to remain red hot, winning his fourth-straight AMSOIL Championship Snocross, powered by Ram, contest with yet another convincing victory at Blackjack Ski Resort, completing the weekend sweep and, in the process, tying the great Blair Morgan for the most pro snocross race wins at 84.
Saturday's support Pro Lite class at Blackjack would go to Andrew Lieders (Mystic/Polaris/Team LaVallee), who completed the weekend sweep in Michigan's Upper Peninsula with a 1st/1st effort.
Saturday Pro Open
Despite his lowest qualifying position of the year (3rd), Hibbert caught a break on the start when the racer lined up next to him, AMSOIL/Scheuring Speed Sport/Ski-Doo's Robbie Malinoski, false started and was moved to the back row. This gave Hibbert a bit of extra elbow room off the start and he used that to his advantage to move up to 2nd place early, right behind Kyle Pallin (Mystic/Polaris/Team LaVallee) – who pulled the Stud Boy Holeshot.
"We got a good start and got into some lappers pretty quick, and it got a bit scary (due to the poor visibility issues)," said Hibbert. "But the track was better tonight, not as much ice underneath."
With the No. 1 and No. 2 qualifiers – Ross Martin (DuPont/Jack Links/Polaris) and Kody Kamm (Monster Energy/Hentges Racing/Polaris) – getting hemmed in at the start and out of the top five, Pallin, Hibbert and Tim Tremblay (AMSOIL/Scheuring Speed Sport/Ski-Doo) would break away from the rest of the field.
Hibbert would make his way past Pallin with a slick inside move on the left hander at the base of the "Dirty Dozen" jumps, breaking away down the start straight unchallenged. By then end of the next lap (lap two) Hibbert would have already built a 3.5 second lead.
Pallin would stay on it as well, motivated in part by the legions of Upper Peninsula snocross fans that packed the Blackjack lodge and balcony to cheer on their homeboy.
"This is so special, to do good here in front of my hometown fans – I can't thank them enough," said Pallin.
With Pallin up 2.5 seconds on Tremblay, Kamm and Martin would charge through the pack – in horrible conditions (due to the lingering snow dust) – and up to 4th and 5th places, respectively. But the lead that Hibbert, Pallin and Tremblay built would hold strong over the ten-lap contest.
"It was really hard, really cold and the vision was real tough," said Tremblay. "So I'm just happy to be up here on the podium tonight."
Blackjack Saturday Pro Open results
1 Tucker Hibbert Monster Energy/Arctic Cat 68 Arctic Cat Pelican Rapids, MN
2 Kyle Pallin Team LaVallee 324 Polaris Ironwood, MI
3 Tim Tremblay Amsoil/Air Force/Rockstar 11 Ski-Doo Ste Jeanne D'Arc, Quebec
4 Kody Kamm Hentges Racing 53 Polaris Kenosha, WI
5 Ross Martin Judnick Motorsports 837 Polaris Burlington, WI
6 Darrin Mees BossRacing 9 Ski-Doo stanchfield, MN
7 Justin Broberg Hentges Racing 168 Polaris Mukwonago, WI
8 Cody Thomsen Arctic Cat 62 Arctic Cat Nisswa, MN
9 David Joanis Royal Distributing/Christian Brothers Racing 115 Arctic Cat Cochrane (Kok rane),
10 Logan Christian Christian Brothers Racing / Drift 43 Arctic Cat Fertile, MN
11 Petter Narsa Team Jimmy John's/Ski-doo/BossRacing 271 Ski-Doo Moskosel,
12 Danny Poirier Ingles performance 312 Ski-Doo St Theodore d'Acton,
13 Robbie Malinoski Amsoil/Air Force/Makita 4 Ski-Doo Stacy, MN
14 Jake Scott Team LaVallee 42 Polaris Port Jefferson Station, NY
15 Levi LaVallee Team LaVallee 108 Polaris Longville, MN
Saturday Pro Lite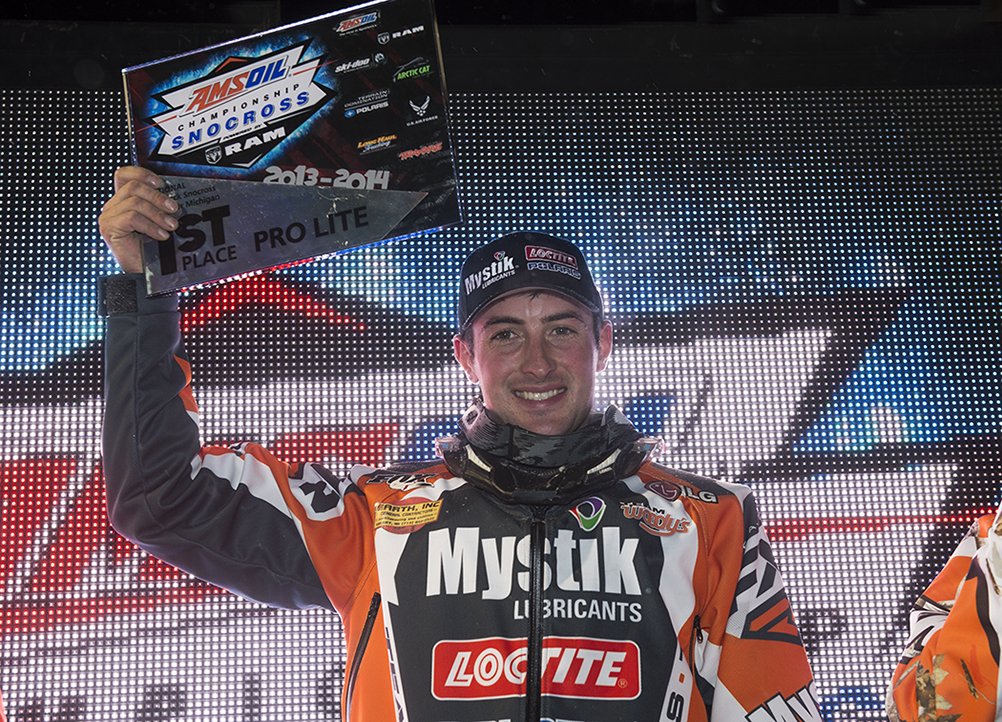 The No. 1 gate pick, a holeshot, flawless racing and the night's fastest Pro Lite lap (62.65) allowed Lieders to complete the weekend sweep of Blackjack, running green-to-checkers for the second-straight night in the 1st/1st effort aboard his Team LaVallee Polaris.
"I am just so pumped for this weekend," said Lieders. "We got things turned around after Duluth and I can't thank this team enough for the support and equipment they gave me."
Following Lieders off the start up the steep pitch of Blackjack's front ski run were Andrew Carlson (Sportech/Polaris) and Zak Mason (Leighton Motorsports/Polaris). The early podium run would soon welcome another racer when Mason's teammate, Corin Todd, came charging up and into 3rd place on the second lap (of seven).
While Lieders opened up his lead up front, thanks to his error-free riding, Todd caught up to Carlson with two laps to go, then passed his fellow Polaris mount on the last lap on the top section of the course.
"I had such a good race going with Andrew, we both made some mistakes and I was able to finally get past him with a clean pass on the last lap," said Todd.
Carlson would hold off a spirited charge from his Carlson Motorsports teammate, Marcus Johansson, for 3rd place – his fourth podium in four races on the AMSOIL Championship Snocross tour this year.
"I'm just pumped to be up here for the fourth time in a row," said Carlson. "I know I've got to work on my speed, but have some time to do that before Canterbury."
Rounding out the top five in Saturday's Pro Lite main event at Blackjack were Johansson in 4th and
Blackjack Saturday Pro Lite results
1 Andrew Lieders Team LaVallee 857 Polaris Colby, WI
2 Corin Todd Leighton Motorsports 136 Polaris Otego, NY
3 Andrew Carlson CARLSON MOTORSPORTS 151 Polaris Big Lake, MN
4 Marcus Johansson Carlson Motorsports 227 Polaris Ostersund,
5 John Stenberg Team Bauerly Racing 259 Ski-Doo Lofsdalen,
6 Zak Mason LEIGHTON MOTORSPORTS 863 Polaris Gaylord, MI
7 Nick Pattyn Stud Boy Racing 198 Ski-Doo Ravenna, MI
8 Chase Rosemeyer Team Bauerly Racing 675 Ski-Doo Chippewa Falls, WI
9 Corey Watkinson Watkinson Motorsports, Arctic Cat 173 Arctic Cat Port Carling, Ontario
10 Maxime Taillefer Taillefer Motorsports 144 Ski-Doo Laval West, Quebec
11 Travis Muller Warnert Racing 436 Ski-Doo Windom, MN
12 Trevor Leighton Leighton Motorsports 931 Polaris Eagle, ID
13 Dylan Hall Royal / Hall Racing 421 Ski-Doo Ayr, Ontario
14 Michael George MFG Racing 307 Arctic Cat Pine Plains, NY
15 Riley McClelland McClelland Racing 310 Arctic Cat Red Wing, MN
AMSOIL Championship Snocross, powered by Ram, returns to action following the holidays, Jan. 3-5, for the Canterbury Park (Shakopee, Minn.) Traxxas Snocross, presented by Jimmy John's, round five of the series.
2013-'14 AMSOIL Championship Snocross, powered by Ram
Round/Date City/State
1 – Nov. 29-Dec. 1 Duluth, Minnesota
2 – Dec. 6-7 Bessemer, Michigan
3 – Jan. 3-5 Shakopee, Minnesota
4 – Jan. 31-Feb.1 Deadwood, South Dakota
5 – Feb. 7-8 Salamanca, New York
6 – Feb. 21-22 Mt. Pleasant, Mich.
7 – March 7-8 Fargo, N.D.
8 – March 14-16 Lake Geneva, Wisconsin
Beginning with AMSOIL Championship Snocross' season-opening round in Duluth, Minn. and running through the season finale in Lake Geneva, Wis. CBS Sports Network will air 16 half-hour programs of the ACS races.
Photos courtesy of Lissa Marsolek/ISOC
About ISOC Racing
The International Series of Champions (ISOC) is the premier snowmobile race sanctioning organization in North America and sanctions national AMSOIL Championship Snocross, in addition to affiliating with nine regional circuits. Visit snocross.com for more information, fan and racer memberships, schedule details and more.