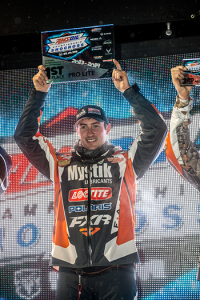 Longville, MN (December 10, 2013) – The Northern Clearing Snocross National, held at Blackjack Resort and Ski Hill in Bessemer, Michigan was a hometown race for Pro Rider, Kyle Pallin. This was the third year the ISOC Snocross Series brought us to Bessemer. With cold temps and endless piles of snow, Bessemer hosts one of the largest and more technical tracks on the circuit. Most known for it's "dirty dozen" a downhill section of the track hosting 12 deep jumps where timing and technical riding skills are key to get through smoothly.
The 2-day National brought Team LaVallee into Rounds 3 and 4 of the 2013/2014 ISOC Snocross Series. Throughout the weekend one thing that was overall consistent for the entire team, were the hole-shots. Each rider was able to get off of the line if not first, near the front of the pack in each qualifier and final.
Team LaVallee's Pro Lite rider, Andy Lieders had a fantastic weekend of racing, were out of the 6 races he competed in, he won all but one heat. Along with ripping great hole-shots, Lieders rode smart and smooth throughout the weekend. In the Pro Lite final Friday night, Lieders came out of the gate first and was able to keep that position throughout the entire race, making it his first Pro Lite podium and win of this season. And carrying that same momentum into Saturdays racing, Lieders had a perfect day, winning both of his qualifying rounds and taking 1st in the Pro Lite #2 final, sweeping the Bessemer National.
Levi LaVallee kicked off the final night of racing in Bessemer with his crowd pleasing back-flip intro. For the Pro Open Finals, both Friday and Saturday night – Team LaVallee was excited to have all three riders make each respective final. But the highlight of the weekend was hometown hero, Kyle Pallin earning his way to the top of the podium, taking home another second place finish and making it his third podium of the season. In the Pro Open Final Saturday night, Pallin ripped the holeshot and came off of the line first, he was passed by Tucker Hibbert but was able to hold on to the 2nd place position throughout the entire 20-lap final. The Team has a short break over the holiday season, with the 3rd snocross national heading to Canterbury Park in Shakopee Minnesota, January 3-4, 2014.
"It was an overall great weekend for Team LaVallee. There are areas where we need to improve, but this time off will allow us additional testing and riding time. I'm proud to be a part of a team that is so determined and dedicated. We are already looking forward to the next race after the holidays." – Levi LaVallee (Co-Owner/Racer, Team LaVallee)
RACE RESULTS
Pro Round 3 & 4 (LaVallee)
Round 1: 7th Round 2: 2nd LCQ: — Final: 12th
Round 1: 3rd Round 2: 8th LCQ: 3rd Final: 15th
Pro Round 3 & 4 (Pallin)
Round 1: 5th Round 2: 4th LCQ: 1st Final: 5th
Round 1: 3rd Round 2: 1st LCQ: — Final: 2nd
Pro Round 3 & 4 (Scott)
Round 1: 4th Round 2: 2nd LCQ: — Final: 14th
Round 1: 5th Round 2: 3rd LCQ: — Final: 14th
Pro Lite #1 & #2 (Lieders)
Round 1: 3rd Round 2: 1st LCQ: — Final: 1st
Round 1: 1st Round 2:1st LCQ: — Final: 1st
PHOTOS: ©WayneDavisPhotography2013 – Unauthorized use is prohibited.