Contact: Pat Schutte
PR Director, ISOC Racing
pat@highprofilepr.com
MINNEAPOLIS (Dec. 12, 2013) – Pretty much the entire United States knows it's been cold as all heck. From the Eastern seaboard to California, and most definitely the Snowbelt States, below-zero temperatures have caused all sorts of havoc. But fortunately for the ISOC team, AMSOIL Championship Snocross, powered by Ram, sponsor FXR Racing provided gear that worked beyond expectations as temperatures dipped do minus-30 degrees at the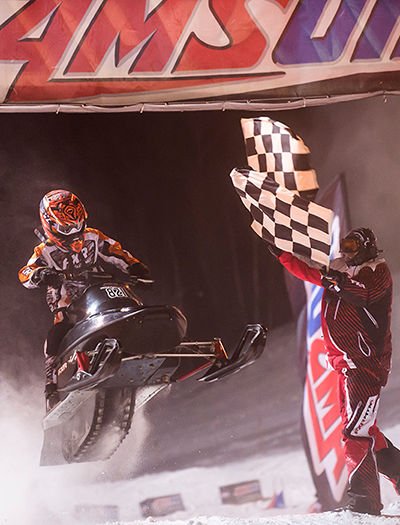 Bessemer, Mich. round this past weekend.
How cold was it? ISOC Assistant Race Director Jesse Strege said: "As tough of conditions as we've ever dealt with in the ISOC era of snocross for sure."
And Strege, himself a former pro racer, ought to know. There for the original Duluth National 22 years ago, Strege – in charge of all the track workers on the ACS tour – has no doubt witnessed firsthand the worst of the worst conditions imaginable for racing snocross. And through it all Strege has been with FXR Racing, as the Canada-based company founded by Milt Reimer that also generously backs AMSOIL Championship Snocross and many of the top racers on the tour.
"Most of the track crew that work AMSOIL Championship Snocross for ISOC are also avid snowmobilers. And I hear often from them that, once they're out flagging working on the track for six, seven or eight-plus hours straight, they comment on FXR Racing gear's warmth, saying 'I've got to get some more gear like this,'" explained Strege. "So yeah, our guys were all about their FXR Racing gear last weekend at Bessemer."
Strege said that one of the benefits of having your track workers in clothing that not only keeps them warm, and also looks excellent, is that the workers are able to concentrate better, especially when things ramp up in the Pro classes. "When you're out in the cold for hours on end you really run the risk of losing your focus," said Strege. "It's so cold you become more concerned with self-preservation rather than the job at hand.
"But fortunately for us our FXR Racing gear kept us in the game at Bessemer."
Another benefit, according to Strege, was that he didn't have to rotate guys in and out of the race. With all of his workers outfitted in FXR Racing gear from head to toe (hats, gloves, jackets, pant, hoodies, underwear and boots), they were comfortable enough to remain on the track throughout the night program – even though the temperatures, with wind chill, dipped below minus-30 degrees!
"FXR Racing's gear has improved to the point where you're still very flexible, which allows you to be mobile," said Strege. "And when you need to jump out on the track with the yellow flag it's crucial that you're able to move quickly – and get out of the way just as quickly. Before FXR Racing came on board with ISOC, with all the layering we had to do, it was impossible to move around like we can in our FXR Racing gear."
For more information on FXR Racing's gear – including the same stuff the ISOC track workers wore in surviving the coldest race in the history of AMSOIL Championship Snocross – check out FXR Racing's website at: www.fxrracing.com
AMSOIL Championship Snocross, powered by Ram, returns to action following the holidays, Jan. 3-5, for the Canterbury Park (Shakopee, Minn.) Traxxas Snocross, presented by Jimmy John's, round five of the series.
2013-'14 AMSOIL Championship Snocross, powered by Ram
Round/Date City/State
1 – Nov. 29-Dec. 1 Duluth, Minnesota
2 – Dec. 6-7 Bessemer, Michigan
3 – Jan. 3-5 Shakopee, Minnesota
4 – Jan. 31-Feb.1 Deadwood, South Dakota
5 – Feb. 7-8 Salamanca, New York
6 – Feb. 21-22 Mt. Pleasant, Mich.
7 – March 7-8 Fargo, N.D.
8 – March 14-16 Lake Geneva, Wisconsin
Beginning with AMSOIL Championship Snocross' season-opening round in Duluth, Minn. and running through the season finale in Lake Geneva, Wis. CBS Sports Network will air 16 half-hour programs of the ACS races.
Photos courtesy of Lissa Marsolek/ISOC
About ISOC Racing
The International Series of Champions (ISOC) is the premier snowmobile race sanctioning organization in North America and sanctions national AMSOIL Championship Snocross, in addition to affiliating with nine regional circuits. Visit snocross.com for more information, fan and racer memberships, schedule details and more.