February 3, 2014 – Monster Energy/Arctic Cat's Tucker Hibbert rode with the determination of a true champion at the ISOC National Snocross Deadwood Shootout in southwestern South Dakota. From a caution zone disqualification Friday, to a show-stopping rally from the back of the pack Saturday, Hibbert persevered to maintain his points lead in the coveted Pro Open Championship.
The Days of '76 Rodeo grounds featured a sub 30-second track with a mix of man-made and natural snow. The short, tight course caused uncomfortably close racing. Despite winning all his qualifying rounds and putting on impressive comeback rides both main events, Hibbert's final results were polar opposite.
After ripping the holeshot in Friday night's final, Hibbert was pushed off the track in turn two. He quickly regained his composure, reentered the course and started his drive to the front of the 14-rider field. On lap 20 of 22, he moved into podium position and striking distance of the lead. The following lap, he clipped a down rider's sled on the front rhythm section and crashed. He quickly remounted to finish in sixth place. After the race, he learned he was disqualified for jumping through a caution zone and would receive no points for his finish. Unaware of his actions, he reviewed video footage of the infraction with officials and accepted his penalty.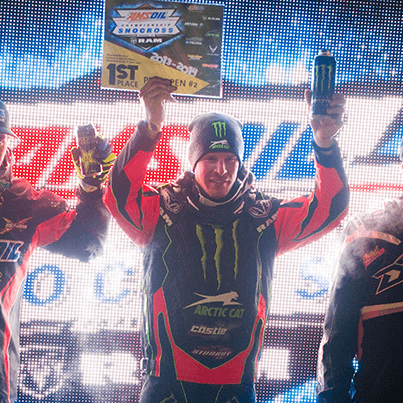 In Saturday night's final, he lined up on the inside and again pulled the holeshot but quickly found himself on the ground after Kody Kamm delivered a hard hit. Uninjured, Hibbert ran back to his sled while 13 riders flew past him. He put his head down and diced his way around riders with unparalleled determination, bringing the entire crowd to its feet. On lap 17 of 22, he laid down the fastest lap of the night and cut the final three seconds off of Tim Tremblay's once 13-second lead. Hibbert and Tremblay hit the finish line jump side-by-side on lap 19 and with the inside line, Hibbert had the pull he needed to make the pass. With a clean lead, Hibbert kept charging to win the race by over four seconds.
Hibbert will take his 50-point lead to rounds nine and ten of the ISOC National Snocross tour in Salamanca, New York this weekend. Watch all the action live online at ustream.com/isoc.
Tucker Hibbert – #68 Monster Energy/Arctic Cat
"This weekend was a crazy mix of emotions for me. I had one of my worst races Friday night and then one of my best Saturday night. The tight track made for intense racing and I was not super comfortable all weekend. I'm not a big fan of small tracks and happy to get through the weekend safe and ready for the second half of the season. I wanted to win more than ever Saturday night after being taken out of the lead in the second corner of both finals. I got up and going as fast as I could. I started charging and gauging my progress off the race leader. I rode as hard as I could within my limits and never let up until I had cleared the finish line with the win. Big thanks to my team for sticking with me and staying focused through the wild weekend."