Contact: Pat Schutte
PR Director, ISOC Racing
pat@highprofilepr.com
SALAMANCA, N.Y. (Feb. 7, 2014) – AMSOIL Championship Snocross, powered by Ram, rolled into snow-covered upstate New York for the Seneca Allegany Casino Air Force Snocross and Tucker Hibbert (Monster Energy/Arctic Cat) would again reign victorious, overcoming a near crash at the start and passing for the lead with ten laps remaining to earn his 8th victory of the season (out of nine rounds).
And in Pro Lite action it was James Johnstad (Judnick Motorsports/Polaris) who raced to a convincing victory in that class' 20-lap main event.
Pro Open
Hibbert shook off an opening lap get together with Levi LaVallee (Mystic/Loctite/Polaris), caused when LaVallee's teammate, Kyle Pallin, over-shot a massive berm on the inside lane of corner two and literally dropped down onto the front of LaVallee's sled. Right behind was Hibbert and the two had to lock up the brakes and come to a dead stop in order to avoid crashing into LaVallee.
Once things cleared up Pallin managed to pull things together and took the early lead, but was quickly caught and passed by Johan Lidman (Warnert Racing/Ski-Doo) – the No. 3 qualifier (behind Pallin & Hibbert). Lidman and Pallin would swap back and forth in the 1st place position in some excellent racing early on the 28-lap contest, until Pallin came off his sled on lap three.
Qualifying 9th and starting mid-pack, Kody Kamm (Hentges Racing/Polaris) came blasting in and quickly took the lead from Lidman. Hibbert, who had started around 7th place, was also on his horse – passing Logan Christian (Christian Bros. Racing/Arctic Cat) and Pallin to move up to 4th place. From there Hibbert took a breath – then set his site on the leader Kamm and 2nd place Lidman.
"I got tangled up there at the start, then finally got up to the 2nd and 3rd place guys," explained Hibbert. "It took a bit to get by them, including Kody. He (Kamm) rode well for 2nd place, hung right in there."
Hibbert gained the lead on Kamm with a slick move to the outside lane and massive jump over the finish line – where he passed Kamm in the air. Once up front, a familiar spot for Hibbert this year, the defending Pro Open class champ took charge and cruised through the last ten laps for the win.
Kamm would hold strong for 2nd, but was challenged at the end by Pallin – who cracked off the fasted lap times of the night in chasing (back) down the leaders. "That was definitely some interesting racing," said Pallin. "I made a couple mistakes early, but just kept picking off guys there towards the end and made it up here."
Rounding out the top five in the Pro Open class on Friday at Seneca Alleghany were Lidman in 4th and Christian in 5th.
Salamanca Friday Pro Open results
1 Tucker Hibbert Monster Energy/Arctic Cat 68 Arctic Cat Pelican Rapids, MN
2 Kody Kamm Hentges Racing 53 Polaris Kenosha, WI
3 Kyle Pallin Team LaVallee 324 Polaris Ironwood, MI
4 Johan Lidman Warnert Racing 52 Ski-Doo Pitea, Sweden
5 Logan Christian Christian Brothers Racing / Drift 43 Arctic Cat Fertile, MN
6 Justin Broberg Hentges Racing 168 Polaris Mukwonago, WI
7 Mike Bauer Jess Racing 717 Arctic Cat medford, WI
8 Cody Thomsen Arctic Cat 62 Arctic Cat Nisswa, MN
9 Petter Narsa Team Jimmy John's/Ski-doo/BossRacing 271 Ski-Doo Moskosel,
10 Mathieu Morin Team Jimmy John's/ Ski—Doo/ BOSS Racing 14 Ski-Doo Val Dor, Quebec
11 Danny Poirier Ingles performance 312 Ski-Doo St Theodore d'Acton,
12 Zach Pattyn Stud Boy Racing 99 Ski-Doo Ravenna, MI
13 David Joanis Royal Distributing 115 Arctic Cat Cochrane (Kok rane),
14 Levi LaVallee Team LaVallee 108 Polaris Longville, MN
DNS Tim Tremblay Amsoil/Air Force/Rockstar 11 Ski-Doo Ste Jeanne D'Arc, Quebec
Pro Lite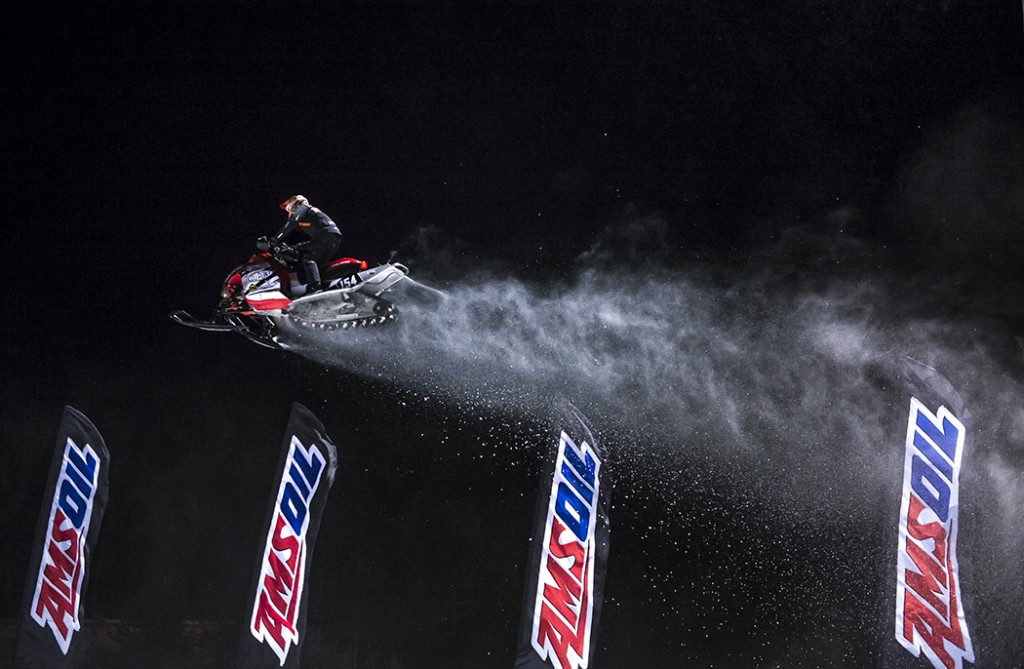 It looked to be a replay of Deadwood (S.D.) in the Pro Lite opener at Seneca Alleghany as
Andrew Carlson (Carlson Motorsports/Polaris) yanked another monster holeshot from the outside gate pick, but the current Pro Lite points leader would get forced to the outside on turn two and would end up dropping back and not being a factor to winner Johnstad and the rest of the podium placers.
By lap three Johnstad had opened up on the rest of the field, with Corey Watkinson (Watkinson Racing/Arctic Cat) moving into 2nd, Carlson in 3rd and Chase Rosenmeyer (Team Bauerly/Ski-Doo) in 4th.
Local New Yorker Corin Todd (Leighton Motorsports/Polaris) would make a charge to the front after a middle pack start, making a big run past Rosenmeyer and Carlson up into 3rd place. As the laps clicked off quickly on short squared oval, Johnstad opened up a descent lead on Watkinson – only to run into lapped traffic and a caution flag. This allowed Watkinson to run right up onto Johnstad's tail and actually bump the leader (albeit lightly).
"The yellow flag and lappers clogged us up pretty good," said Watkinson. "But James (Johnstad) rode really well. I'm just pleased to be up here in 2nd place."
As Johnstad controlled the final laps, Watkinson and Todd would put up equally consistent and fast laps and were not challenged in their runs for 2nd and 3rd places, respectively.
"The track got really rough, lots of laps on a short course is pretty demanding," said Todd. "Lots of roost, which made it tough."
Added Johnstad: "It's a bummer I got hurt at Duluth (Minn.), but I've been able to come back and we've got our heads down and are trying to get as many wins as we can and see where we end up at the end."
Salamanca Friday Pro Lite results
1 James Johnstad Judnick Motorsports 154 Polaris Beltrami, MN
2 Corey Watkinson Watkinson Motorsports, Arctic Cat 173 Arctic Cat Port Carling, Ontario
3 Corin Todd Leighton Motorsports 136 Polaris Otego, NY
4 Andrew Lieders Team LaVallee 857 Polaris Colby, WI
5 Chase Rosemeyer Team Bauerly Racing 675 Ski-Doo Chippewa Falls, WI
6 Lincoln Lemieux Lemieux Racing 113 Ski-Doo St. Johnsbury, VT
7 Andrew Carlson CARLSON MOTORSPORTS 151 Polaris Big Lake, MN
8 Jordan Kraus Relentless Racing 105 Polaris Osage, MN
9 Zak Mason LEIGHTON MOTORSPORTS 863 Polaris Gaylord, MI
10 Trevor Leighton Leighton Motorsports 931 Polaris Eagle, ID
11 Casey Boylan Team Boylan 630 Ski-Doo Anchorage, AK
12 Dylan Hall Royal / Hall Racing 421 Ski-Doo Ayr, Ontario
13 John Stenberg Team Bauerly Racing 259 Ski-Doo Lofsdalen, Sweden
14 Kyle Rau Rau Racing 325 Arctic Cat Lawton, MI
15 Kevin Wallenstein Ingles Performance 122 Ski-Doo Cadillac, MI
AMSOIL Championship Snocross, powered by Ram, continues Saturday night, Feb. 8, at Seneca Allegany Casino & Hotel with the running of the Seneca Allegany Casino Air Force Snocross!
2013-'14 AMSOIL Championship Snocross, powered by Ram
Round/Date City/State
1 – Nov. 29-Dec. 1 Duluth, Minnesota
2 – Dec. 6-7 Bessemer, Michigan
3 – Jan. 3-5 Shakopee, Minnesota
4 – Jan. 31-Feb.1 Deadwood, South Dakota
5 – Feb. 7-8 Salamanca, New York
6 – Feb. 21-22 Mt. Pleasant, Mich.
7 – March 7-8 Fargo, N.D.
8 – March 14-16 Lake Geneva, Wisconsin
Beginning with AMSOIL Championship Snocross' season-opening round in Duluth, Minn. and running through the season finale in Lake Geneva, Wis. CBS Sports Network will air 16 half-hour programs of the ACS races.
Photos courtesy of Lissa Marsolek/ISOC
About ISOC Racing
The International Series of Champions (ISOC) is the premier snowmobile race sanctioning organization in North America and sanctions national AMSOIL Championship Snocross, in addition to affiliating with nine regional circuits. Visit snocross.com for more information, fan and racer memberships, schedule details and more.