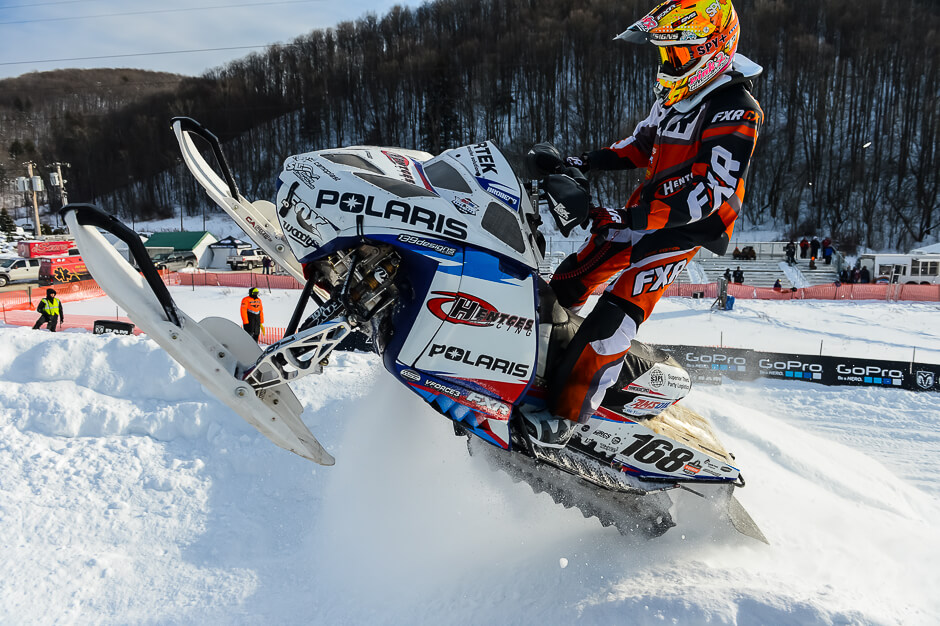 Shakopee, Minn. (Feb. 10, 2014) –Hentges Racing continues the consistency needed to win a championship with two more podium finishes at the Seneca Allegany U.S. Air Force Snocross in Salamanca, N.Y., during rounds nine and 10 of 2013-14' AMSOIL Championship Snocross. With two of the most reliable racers in the pro ranks, Polaris/Pirtek/FXR Racing riders Kody Kamm and Justin Broberg remain ready for action.
Broberg went through a hard day of qualifying on Friday with an off in round two, sending him right to the LCQ where things began to turn around for him. With only five sleds on the line and the main event coming up, Broberg never lifted from the hole shot and rode as fast as he needed to go to transfer on as the 11th qualifier.
"My goal was to just make it through the first couple laps clean and go from there. I saw 7th position on the pit board and let it rip. On the last lap, I made the pass for 5th on Logan Christian but got to high in the corner. It was definitely clean racing like the old days. I'm happy with 6th from the back row with the day I had," said Broberg recapping the main event.
The first round of qualifying also did not start well for Kamm but he was quickly back up and running. In round two, Kamm would take 2nd place and go on as the 9th qualifier in the main event.
The Eastern national was home to two-28 lap finals, with around twenty second lap times. After a great start, Kamm was in the lead by over a second on second place. By lap nine, he had over a three second lead. On the start of lap 16, Tucker Hibbert took the lead over Kamm in mid air. They would finish 1st and 2nd respectively.
Broberg was much stronger in qualifying on Saturday with 4th and 2nd place finishes, easily avoiding the LCQ this time. Kamm starting the day with round one domination and mediocre finishing in round two.
In the main event, Kamm was closing in on Kyle Pallin for his 2nd place position. Broberg got pinched on the start but was able to move up from after a number of laps from 8th to 5th. In round 10 of the season, Kamm takes his spot up on the podium again but this time in 3rd place and just under two seconds behind Pallin. Broberg rounds out the top five in the final race of the weekend in the AMSOIL Pro Open class.
"Qualifying was tough all weekend. On Friday I was able to compete in the top five even from a back row start. Coming out of a weekend like this healthy is always the most important. There are still a few more rounds to go and the team is doing so well," said Broberg.
He continues to finish in or around the top five (always is in the top 10) during finals even despite a rare LCQ transfer into a main event, like what occurred on Friday. Due to his consistency, he moves up one more position in the Pro Open point standings to 4th place.
The chase for the championship continues as Kamm stays in 2nd place in the Pro Open point standings; down 70 points behind the defending champion and current point leader Tucker Hibbert. With only three rounds remaining, Kamm is still hopeful for a chance at his first pro championship. His teammate Broberg is right where he wants to be – in the top five of the best Snocross racers in the world.
"I am really happy with two consistent podium finishes this weekend. The track was really small and it was all about getting a good start. If you weren't in the front of the pack it was very tough. There was a lot of hard racing and battling to finish where I did. My body is a bit sore," said Kamm.
Fast stats…
Seneca Allegany U.S. Air Force Snocross – Friday Results
Round 1: 6th Justin Broberg
8th Kody Kamm
Round 2: 8th Justin Broberg
2nd Kody Kamm
LCQ: 1ST Justin Broberg
Final: 6th Justin Broberg
2nd Kody Kamm
Seneca Allegany U.S. Air Force Snocross Saturday Results
Round 1: 4th Justin Broberg
1st Kody Kamm
Round 2: 2nd Justin Broberg
5th Kody Kamm
Final: 5th Justin Broberg
3rd Kody Kamm
Friday's race (round 9) will air at 10:30 a.m., Feb. 23, and Saturday's race (round 10) at 10:30 a.m., March 2, on the CBS Sports Network. Tune into the 16 half-hour programs of the ACS that will be televised. For live action from home tune into: http://www.ustream.tv/isoc.
Next up…Hentges Racing will be traveling to Mt. Pleasant, Mich., for the Soaring Eagle Ram Snocross. Only three rounds remain in the series. Rounds 11 and 12 (out of 16) are on Feb. 21- Feb. 22, 2014. See you there and be sure to follow the team on Facebook and Twitter!
ACS Schedule
1 – Nov. 29-Dec. 1 Duluth, Minnesota
2 – Dec. 6-7 Bessemer, Michigan
3 – Jan. 3-5 Shakopee, Minnesota
4 – Jan. 31-Feb. 1 Deadwood, South Dakota
5 – Feb. 7-8 Salamanca, New York
6 – Feb. 21-22 Mt. Pleasant, Michigan
7 – March 7-8 Fargo, North Dakota
8 – March 14-16 Lake Geneva, Wisconsin
About Hentges Racing:
Hentges Racing was formed in 2000 in Minneapolis, MN, as a true family endeavor. In what is a short time in motor racing. Hentges Racing has become the premiere factory Polaris Snocross team and a competitive force to be reckoned with each weekend. With championship-caliber technical resources and developmental support of a manufacturer like Polaris married with the heart and passion of the Hentges family, young racers Kody Kamm and Justin Broberg are poised to continue Hentges Racing's tradition of success.