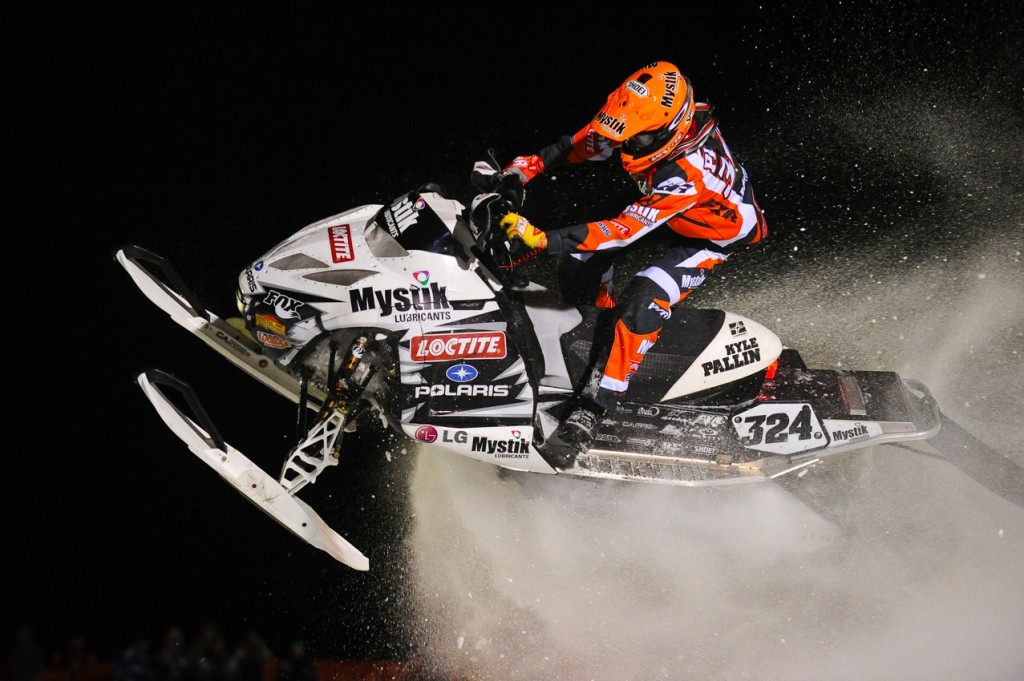 Longville, MN (February 11, 2014) – Straight from the Deadwood Shootout, Team LaVallee headed to the east coast for Rounds 9 and 10 on the ISOC Championship Snocross Series. The 5th stop was held at Seneca Allegany Casino in Salamanca, New York. In similarities to Deadwood, the track in Salamanca was short and tight. The hole shot, protecting your lines, and consistency where key in taking a podium spot in New York.
With temps in the single digits for the 2-Day National, the snow conditions where a sugary consistency. Where as Levi LaVallee explained "sugar-type snow" is soft and constantly changing. In Friday night racing, LaVallee qualified 5th for the pro open final, the best he has done this season. Coming off of the line in the Round 9 Pro Open Final, Pallin and LaVallee where the first two riders out of the gate. Rounding into the second corner, Pallin went high and slid over the burm, brushing LaVallee. Pallin was able to charge on but LaVallee was then hit by another rider, causing him to fall back and finish in 14th place. Pallin continued to charge hard throughout the 28-lap final and finished an awesome 3rd.
In Pro Lite, Lieders had great qualifying rounds, allowing him to be in the front row for the Friday night final. Off of the line and amongst 14 other riders, Lieders put his head down and pushed through the 22-lap final and finished an impressive 4th place. Saturday, is where Lieders really shined. Coming into the final, as the number one qualifier, Lieders came out 5th off of the line. With the final full of yellow flags, due to down riders, it was a tough race to pass. Lieders worked his way up to an exciting second place, ending his weekend on the podium.
And rounding out the weekend in Pro Open Round 10, Pallin and LaVallee where riding strong. Off of the line in the 28-lap final, LaVallee in the back row and Pallin in the front, Pallin ripped the hole shot and came out first amongst the pack. Pallin was able to hold onto the 1st place position until lap 10. Trying hard to charge back for the 1st place position was a challenge, with lapers and snow-dust causing harsh visibility, Pallin sat in the second position the rest if the final. LaVallee finished a solid 12th and Pallin was able to nab his second podium of the weekend!
Pro Rider Jake Scott, still struggling with a diagnosed lung infection sat out the New York national. With a 2 week break, we expect to see Scott back on the track in Mt. Pleasant, Michigan for rounds 11 and 12.
"Salamanca was a weekend to remember for sure. Another short track challenged our Team but this time we were able to leave with 3 podium finishes. I couldn't be prouder." – Levi LaVallee (Co-Owner/Racer, Team LaVallee)
RACE RESULTS
Pro Round 9 & 10 (LaVallee)
Round 1: 4th Round 2: 3rd LCQ: — Final: 14th
Round 1: 6th Round 2: 6th LCQ: 1st Final: 12th
Pro Round 9 & 10 (Pallin)
Round 1: 2nd Round 2: 1st LCQ: — Final: 3rd
Round 1: 3rd Round 2: 3rd LCQ: — Final: 2nd
Pro Round 9 & 10 (Scott)
Round 1: — Round 2: — LCQ: — Final: —
Round 1: — Round 2: — LCQ: — Final: —
Pro Lite #1 & #2 (Lieders)
Round 1: 1st Round 2: 4th LCQ: — Final: 4th
Round 1: 1st Round 2: 1st LCQ: — Final: 2nd
RACE TV SCHEDULE
Episode 9: Seneca Allegany U.S. Airforce Snocross February 23rd, 2014 @ 10:30 AM ET / CBS Sports Network
Episode 10: Seneca Allegany U.S. Airfoce Snocross March 2nd, 2014 @ 10:30 AM ET / CBS Sports Network
Photos: ©WayneDavisPhotography – Unauthorized use in prohibited