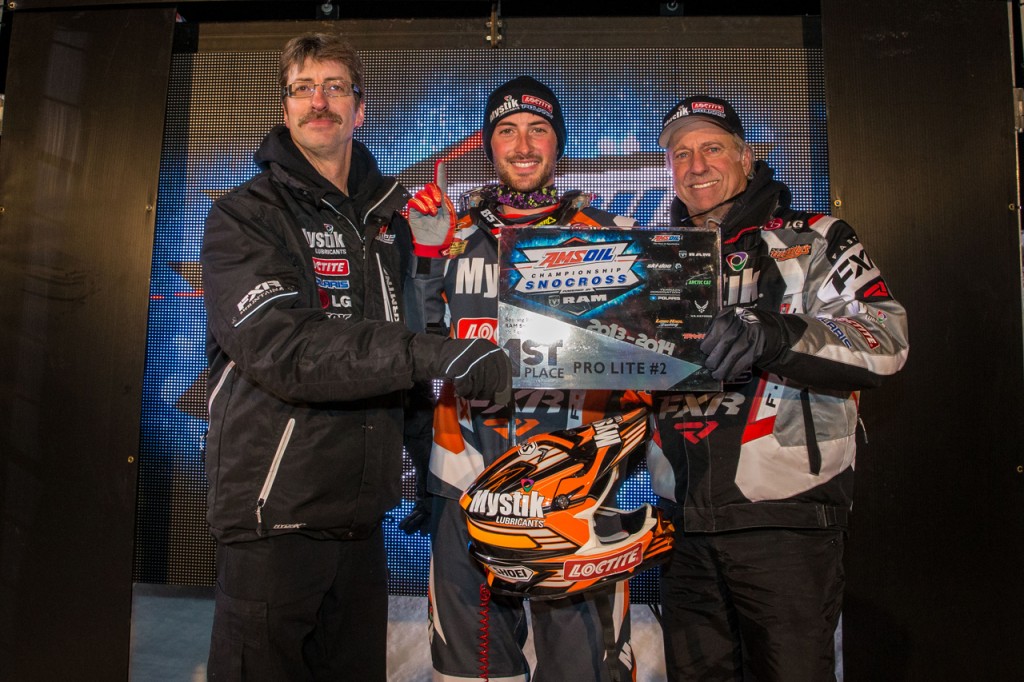 Longville, MN (February 25, 2014) – Soaring Eagle Casino and Resort in Mt. Pleasant, Michigan was the 6th stop on the ISOC Snocross Championship Series. A new location, brought on a new track. One of the biggest tracks we have seen this season, consisted of technical rhythm sections and two right-hand turns (which has become rare for the 2013-2014 season). With just shy of a minute lap-times, the riders were put to the test to see who would come out on top at Mt. Pleasant.
Coming into the two-day National, Team LaVallee had a full roster will all riders back on the track. Pro Rider, Jake Scott was cleared to go back to racing, after a couple weeks of not competing due to a lung infection. In the Pro class, Pallin and Scott were able to make it into the front row of the Round 11 final with good qualifying rounds. LaVallee took a tough crash in Round 2 and suffered a hard blow to his left lat muscle (the muscle that had surgery on a year prior) and decided to only do starts for the remainder of the 2-Day National. In the Pro Open Final Round 11, Pallin came out towards the front of the pack and mid way through the final, Pallin had an unfortunate off, causing him to lose his position and finish in 14th. Scott's first final back since Canterbury was great! Scott rode strong, found smooth lines and finished a notable 11th. On Saturday, Pallin and Scott were able to make it to the Pro Open Round 12 Final with Pallin in the front row and Scott in the back row. Coming off of the line in the final, Pallin was looking strong and came out towards the top. As Pallin continued to charge for a podium spot, Pallin had another unfortunate off, causing him to fall back to last position. With much determination, Pallin was able to pass multiple riders and finish an awesome 9th place. Scott rounded out the weekend, just behind Pallin in the 10th position.
Pro Lite Rider, Andy Lieders started off his weekend qualifying into the Friday night final via the LCQ. From the back row, Lieders was passing riders and making his way towards the front – after an unfortunate off, Lieders did not look fully behind him before entering the track and was then disqualified for an improper entrance. Coming into Saturday's racing, Lieders was ready for redemption and he did just that. Lieders went 1-1 in his qualifying rounds and in the Pro Lite final, Lieders came off of the line first and was able to hold that position taking home 1st place! Team LaVallee has a weekend off and will return for Rounds 13 and 14 at BRRP (Buffalo River Race Park) for the Fargo National, March 7th and 8th.
"Mt. Pleasant had its high and lows for Team LaVallee. In the Pro class, there is a lot we will take from this weekend and will work on to improve before Fargo. Andy was a great example of determination this past weekend, he had a rough day on Friday and came back swinging on Saturday, that drive is what racing is all about. I am very proud of him and his never-give-up attitude!" – Levi LaVallee (Co-Owner/Racer, Team LaVallee)
RACE RESULTS
Pro Round 11 & 12 (LaVallee)
Round 1: 7th Round 2: 7th LCQ: 4th Final: 14th
Round 1: 8th Round 2: 7th LCQ: 4th Final:14th
Pro Round 11 & 12 (Pallin)
Round 1: 4th Round 2: 3rd LCQ: — Final: 9th
Round 1: 3rd Round 2: 5th LCQ: — Final: 9th
Pro Round 11 & 12 (Scott)
Round 1: 6th Round 2: 5th LCQ: — Final: 11th
Round 1: 5th Round 2: 6th LCQ: 2nd Final: 10th
Pro Lite #1 & #2 (Lieders)
Round 1: 5th Round 2: 8th LCQ: 2nd Final: DQ
Round 1: 1st Round 2: 1st LCQ: — Final: 1st
RACE TV SCHEDULE
Episode 11: Soaring Eagle's Ram Snocross March 9, 2014 @ 10:30 AM ET / CBS Sports Network
Episode 12: Soaring Eagle's Ram Snocross March 16, 2014 @ 10:30 AM ET / CBS Sports Network