Scheuring Speed Sports' Tim Tremblay successfully defends his AMSOIL DOMINATOR® title in Duluth, Minn.
Tremblay wins the unique one-on-one bracket race format on Friday at Spirit Mountain, topping Ross Martin (2nd) and Cody Thomsen (3rd) in the main event
Contact: Pat Schutte
PR Director, ISOC Racing
patschutte@aysling.com
MINNEAPOLIS (Nov. 28, 2014) – Former AMSOIL Championship Snocross, powered by Ram, champion Tim Tremblay (AMSOIL/Scheuring/Rockstar/Ski-Doo) was unstoppable atop Duluth's (Minn.) Spirit Mountain tonight, defending his title in the one-on-one AMSOIL DOMINATOR® event to open the 2014-'15 AMSOIL Championship Snocross season.
Cruising through the DOMINATOR's bracket-style format with wins over Arctic Cat's Logan Christian (Rd. 1), Hentges Racing/Polaris' Kody Kamm (Rd. 2) and Mystic/Loctite/Polaris' Jake Scott (Rd. 3), Tremblay would tow Cody Thomsen (Arctic Cat) and Ross Martin (Judnick/Polaris) up the start hill in the final race and power home to a convincing win in the three-lap main event.
"This means a lot for me," said Tremblay, accepting a giant check for $10,000 from AMSOIL Race Program Manager Jeremy Meyer, along with a custom DOMINATOR trophy. "I was hurt last year and I couldn't wait to get back. So this is a great way to start the season."
Making the finals against the Canadian Tremblay were Cody Thomsen (Arctic Cat), who got by Mike Bauer (Haala Racing/Arctic Cat) in Rd. 1, Corin Todd (Leighton/Polaris) in Rd. 2 and Martin in Rd. 3. Martin would fight his way back through the Last Chance Qualifier with a win over Scott, and started in the second row behind Tremblay and Thomsen in the main event.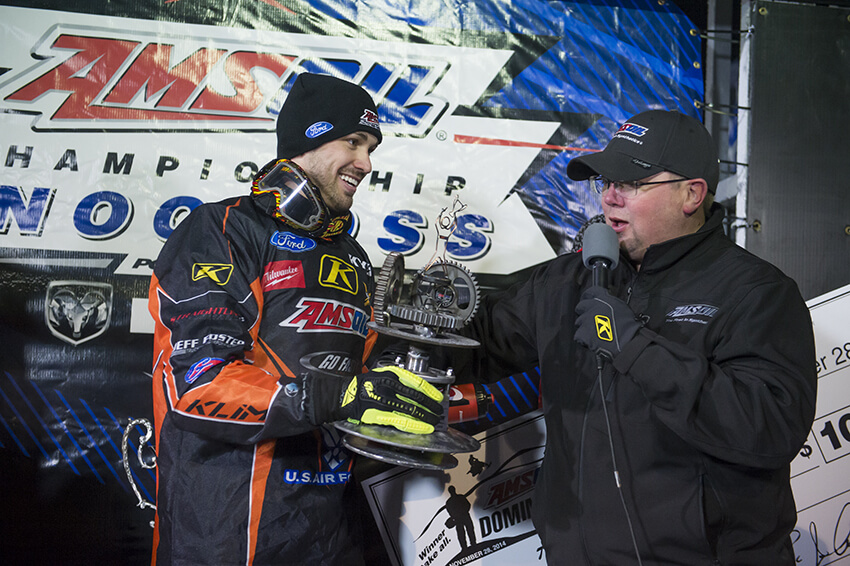 Round Three Highlights
Thomsen pulled a monster holeshot off the start and led Martin up the hill and into the first turn. Charging hard to catch Thomsen, Martin fell off his sled on the last lap and was relegated to the LCQ
Tremblay went outside/inside on the first turn and got past Scott, opening up a gap that Scott couldn't close after the opening lap (of three).
Round Two Highlights
Rd. 2's best race was between Sweden's Adam Renheim (Boss Racing/Ski Doo) and Scott. The former Pro Lite champ Scott would get off the start first and took the lead after the opening lap, only to be caught in the bottom corner by Renheim – the only pass made on that section of the track all night. Scott would then take advantage of a slight Renheim mistake on the uphill, re-passing the Swede and rocketing into the semis.
In the most anticipated matchup of Rd. 2, Tremblay met Hentges/Polaris racer Kody Kamm. Tremblay used a strong shoulder-to-shoulder move to stop Kamm's initial pass attempt on top of Spirit Mountain, then held off an insane jump attempt by Kamm that resulted in the night's closest finish – 33/100ths of a second at the checkers.
Todd would lead Thomsen off the start, but cased a jump in the rhythm section, momentarily checking up. This would be all Thomsen would need to take the lead and the eventual win.
Round One Highlights
After taking last year off to free ride and film, McGuire Racing/Arctic Cat's Brett Turcotte pulled the upset of the night when he topped defending ACS champ Tucker Hibbert (Monster/Arctic Cat/Ram) in the first race of the DOMINATOR. Hibbert was actually DQ'd for nudging Turcotte off the track on the first turn.
"I heard a sled held wide open and he (Hibbert) bucked me off my sled," said Turcotte.
Martin nailed one of the best passes of the night when he went high, then dove down on Lincoln Lemieux (AMSOIL/Scheuring/Rockstar/Ski-Doo) on top of the hill for the lead and eventual win.
The closest race of round one was Justin Broberg (Hentges/Polaris) versus Renheim, with Renheim holding off a charging Broberg at the tape for the win.
Other round one winners included: Scott over teammate Kyle Pallin (Mystic/Loctite/Polaris); Defending DOMINATOR champ Tremblay over Christian; Kamm over Andrew Lieders (Mystic/Loctite/Polaris); Pro Open rookie Todd over David Joanis (Royal Distributing/Arctic Cat); Thomsen over Bauer.
About the AMSOIL DOMINATOR: The unique event pits 16 of the world's top Pro Open-class racers against each other in a one-on-one, bracket-race format. The top dogs from Friday's Pro Open qualifying session move on in this winner-take-all contest for a chance at winning a cool $10,000, along with the custom AMSOIL DOMINATOR trophy designed and constructed by AMSOIL.
Action at Spirit Mountain continues on Saturday with the opening round of the 2014-'15 AMSOIL Championship Snocross, powered by Ram, series.
Beginning with AMSOIL Championship Snocross' season-opening round in Duluth, Minn. and running through the season finale in Lake Geneva, Wis., CBS Sports Network will air 17 one-hour programs of the ACS races.
2014-15 AMSOIL Championship Snocross, powered by Ram, season schedule:
Duluth, Minn.: Nov. 28-30
Fargo, N.D.: Dec. 12-13
Shakopee, Minn.: Jan. 9-10
Deadwood, S.D.: Jan. 30-31
Salamanca, N.Y.: Feb. 6-7
Chicago, Ill.: Feb. 20-21
Mount Pleasant, Mich.: Feb. 27-28
Lake Geneva, Wis.: March 13-15
Photos courtesy of Lissa Marsolek/ISOC

About ISOC Racing
The International Series of Champions (ISOC) is the premier snowmobile race sanctioning organization in North America and sanctions national AMSOIL Championship Snocross, in addition to affiliating with nine regional circuits. Visit www.isocracing.com for more information, fan and racer memberships, schedule details and more.