Hibbert sweeps his qualifiers, claims the Pro Open main at the Spirit Mt. AMSOIL Duluth National; 16-year-old Norwegian sensation Elias Ishoel wins Pro Lite
Contact: Pat Schutte
PR Director, ISOC Racing
patschutte@aysling.com
DULUTH, Minn. (Nov. 29, 2014) – Pro snocross' all-time winningest racer Tucker Hibbert (Monster/Arctic Cat/Ram) picked up right where he left off last season, winning the Saturday night AMSOIL Duluth National season opener of 2014-'15 AMSOIL Championship Snocross, powered by Ram, atop Spirt Mountain ski area.
And in the support Pro Lite class main event 16-year-old Norwegian snocross sensation Elias Ishoel captured this win in his first-ever AMSOIL Championship Snocross event in dominant fashion.
Pro Open
Hibbert, who won both of his qualifying races earlier in the evening to qualify in the No. 1 spot, got an admitted poor jump off the start in the main event and was pinched off down the straightaway and back into 6th place. Pulling the holeshot and leading was Hibbert's chief rival, No. 2 overall Pro Open finisher last year, Kody Kamm (Hentges Racing/Polaris).
With Kamm up front and Mystic/Loctite/Polaris' Kyle Pallin close behind in 2nd, the two took charge of the first half of the race. But Hibbert began to stalk the leaders, moving up to 5th place by lap three, then past Logan Christian (Christian Bros./Arctic Cat) in to 3rd place by lap six.
Kamm enjoyed a four second lead at lap six, but Hibbert kept on the gas and cut a second off Kamm's lead on each ensuing lap. Just after the halfway point (Lap 12 of 20) Kamm, Pallin and Hibbert were all within a sled length of each other in the corners. Hibbert first got past Pallin, then was up onto Kamm. The anticipated battle only lasted about a half a lap as Kamm, admittedly, suffered some arm pump and wasn't able to keep his speed up in the tricky uphill rhythm section.
"My arms started to get a little bit tired and I faded on the uphill – and that's where the guys got me," said Kamm.
Hibbert, who lapped the entire field at last year's Saturday AMSOIL Duluth National opener, put the hammer down and distanced himself from the rest of the pack – making up for his mid-pack start with a powerful charge to the front and equally strong finish.
"I was late on the start, got pinched right away, and had to back out and check-up," said Hibbert. "But that was one wild race. I gave it everything I had."
In their battle for 2nd and 3rd Pallin and Kamm would get together – mid-air – and land with their skis tangled. But the two (along with Hibbert) had such a lead over the rest of the field that it didn't matter as Kamm held onto 2nd and Pallin 3rd.
"It was a crazy race," said Pallin. "I went to make a move on Kody (Kamm) late and we collided in the air. I was like 'Oh no! There goes the race.' So I'm happy to be up here on the podium in 3rd."
Rounding out the top five in the Pro Open class were Tim Tremblay (AMSOIL/Scheuring/Ski-Doo) in 4th and Justin Broberg (Hentges Racing/Polaris) in 5th.
Duluth Saturday Pro Open Results
1 – Hibbert Tucker, Pelican Rapids, MN, Arctic Cat
2 – Kamm Kody, Kenosha, WI, Polaris
3 – Pallin Kyle, Ironwood, MI, Polaris
4 – Tremblay Tim, Ste Jeanne D'Arc, Quebec, Ski-Doo
5 – Christian Logan, Fertile, MN, Arctic Cat
6 – Broberg Justin, Mukwonago, WI, Polaris
7 – Lemieux Lincoln, St. Johnsbury, VT, Ski-Doo
8 – Joanis David, Cochrane, Ontario, Arctic Cat
9 – Thomsen Cody, Nisswa, MN, Arctic Cat
10 – Stenberg John, Lofsdalen Sweden, Ski-Doo
Pro Lite
Rocketing virtually out of nowhere to win the Pro Lites on Friday was Norwegian teenager Elias Ishoel. Running the Warnert Racing-tuned NSK/Makita Ski-Doo, Ishoel took the lead from Wisconsin's Travis Kern (KC Motorsports/Arctic Cat) on lap two, diving low when Kern went high on the course's bottom turn.
Ishoel kept it on the main jet, pulling the rest of the field through the rhythm section to the top of Spirit Mountain. He stayed on it through the 14 laps and was never challenged, impressive for a 16-year-old in is first-ever AMSOIL Championship Snocross Pro Lite main event.
"Thank you for everybody that helped me. Mom and dad, Warnert Racing – everybody," said Ishoel, doing his best on the podium with the English language. "It feels so great right now."
With Ishoel established up front, Kern and fellow Wisconsin native Jake Angove (Polaris) moved into 2nd and 3rd, well ahead of No. 1 Duluth Pro Lite qualifier Trevor Leighton (Leighton Motorsports/Polaris) and last year's Duluth Pro Lite winner James Johnstad (Judnick Motorsports/Polaris).
As the rookies battled up front at the midway point, Johnstad was charging hard and moved past Angove on lap eight. Going all out to catch the frontrunners, Johnstad would go down and Angove moved back into podium position (3rd). Privateer Arctic Cat racer Corey Watkinson would also make a move on the podium, but went down as well.
When the fire pots lit, signaling the first racer across the finish line (Ishoel), Angove had 2nd place and Kern grabbed 3rd. Rounding out the top five were Andrew Carlson (Carlson Motorsports/Polaris) in 4th and Travis Muller (Cottew Motorsports/Polaris).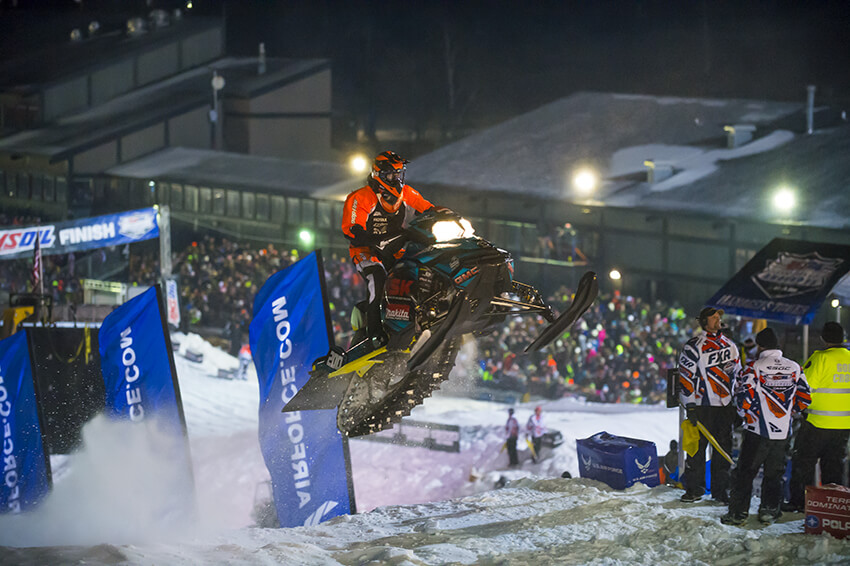 Duluth Saturday Pro Lite Results
1 – Ishoel Elias, Oppdal Sør Trøndelag, Norway, Ski-Doo
2 – Angove Jake, Oconomowoc, WI, Polaris
3 – Kern Travis, Palisade MN, Arctic Cat
4 – Carlson Andrew, Big Lake, MN, Polaris
5 – Muller Travis, Windom, MN, Polaris
6 – Mason Zak, Gaylord, MI, Polaris
7 – Moland Martin, Alta, Norway, Arctic Cat
8 – Wallenstein Kevin, Cadillac, MI, Ski-Doo
9 – Rosemeyer Chase, Chippewa Falls, WI, Ski-Doo
10 – Pattyn Nick, Ravenna, MI, Arctic Cat
Action at Spirit Mountain continues on Sunday with the round two of the 2014-'15 AMSOIL Championship Snocross, powered by Ram, series.
Beginning with AMSOIL Championship Snocross' season-opening round in Duluth, Minn. and running through the season finale in Lake Geneva, Wis., CBS Sports Network will air 17 one-hour programs of the ACS races.
2014-15 AMSOIL Championship Snocross, powered by Ram, season schedule:
Duluth, Minn.: Nov. 28-30
Fargo, N.D.: Dec. 12-13
Shakopee, Minn.: Jan. 9-10
Deadwood, S.D.: Jan. 30-31
Salamanca, N.Y.: Feb. 6-7
Chicago, Ill.: Feb. 20-21
Mount Pleasant, Mich.: Feb. 27-28
Lake Geneva, Wis.: March 13-15
Photos courtesy of Lissa Marsolek/ISOC
About ISOC Racing
The International Series of Champions (ISOC) is the premier snowmobile race sanctioning organization in North America and sanctions national AMSOIL Championship Snocross, in addition to affiliating with nine regional circuits. Visit www.isocracing.com for more information, fan and racer memberships, schedule details and more.