Glyndon, MN (December 12th – 14th, 2014) was host to the 2nd stop of the ISOC Championship Snocross Series.
Trent Wittwer added 4 more 1st place podium finishes to his season! It has been a very successful start to the season for Trent, as he has demonstrated his ability and consistency on his Arctic Cat ZR6000R Sno Pro.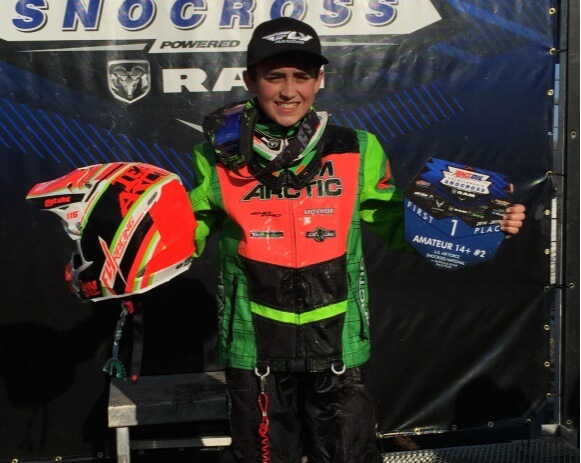 With spring like weather the track was wet and the snow was hard packed and sticky. Wittwer showcased his talent Friday in Amateur winning both heats and the final. He also took a 1st and a 2nd in his Sport heats qualify 3rd for the final. His front row start in the Sport final was a confidence boost and added to his momentum. Racing Amateur Saturday Trent went 3-1 in his heats and again won the final. In Sport Trent had an unfortunate off which kept him from making the final.
Sunday was a new day of Regional racing, the skies were overcast and pits were full of mud with freezing rain moving in. This did not slow down Wittwer on his Arctic Cat sweeping
Amateur in the morning. In the afternoon qualifying went to 1 round and a final format in which he
took the win in his Sport heat setting himself up with the #1 pick on the line for the final, where he took an early lead and took the checkers for his 4th podium finish of the weekend. It was a great weekend of racing, said Wittwer. My C&A Pro Skis and Studboy traction products handled the changing track conditions perfectly. Speedwerxs got me off the starting line great all weekend which was key to racing on such a short track especially with all the wet roost. The track was challenging, which made having to hit your marks dead on a must to be successful.
Up next is Regional Racing at ERX in Elk River, MN Jan 3rd – 4th, 2015.
On the Web: ? www.facebook.com/tw115
www.twitter.com/wittwer115
www.instagram.com/wittwer115