Michigan's Kyle Pallin wins his first ever Pro Open main @ Canterbury Racetrack's PIRTEK Snocross National
Polaris' Kyle Pallin leads it wire-to-wire at AMSOIL Championship Snocross, powered by Ram, Tyler Adams win his first Pro Lites main event as well
Contact: Pat Schutte
PR Director, ISOC Racing
patschutte@aysling.com
MINNEAPOLIS (Jan. 10, 2015) – Two first-time pro class winners highlighted Saturday's main event action at round six of AMSOIL Championship Snocross, powered by Ram's PIRTEK Snocross National, presented by Jimmy John's at Canterbury Racetrack.
Capturing the top spot in front of a packed house at Canterbury in the premier Pro Open class was Kyle Pallin (Mystic/Loctite/Polaris), while Tyler Adams (Christian Brothers/Arctic Cat) was tops in the Pro Lite main event.
Pro Open
One of the best starters in the business, Pallin parlayed the Stud Boy Holeshot into the early race lead – much as he's done in numerous main events the past two seasons. But this time Pallin had it in his head that tonight's Pro Open main event would be his race, his to win – and he did just that, leading the event from start to finish in scoring his first-ever Pro Open class victory.
"Oh my gosh – I could not be more pumped," beamed Pallin from the podium, flanked by his father, Steve, and Mystic/Loctite/Polaris team owner Levi LaVallee. "I got the holeshot and got out in front and just kept telling myself 'This is my night and nobody's going to take this lead from me.' So the holeshot was huge and this was a great win for the Mystic/Loctite/Polaris team!"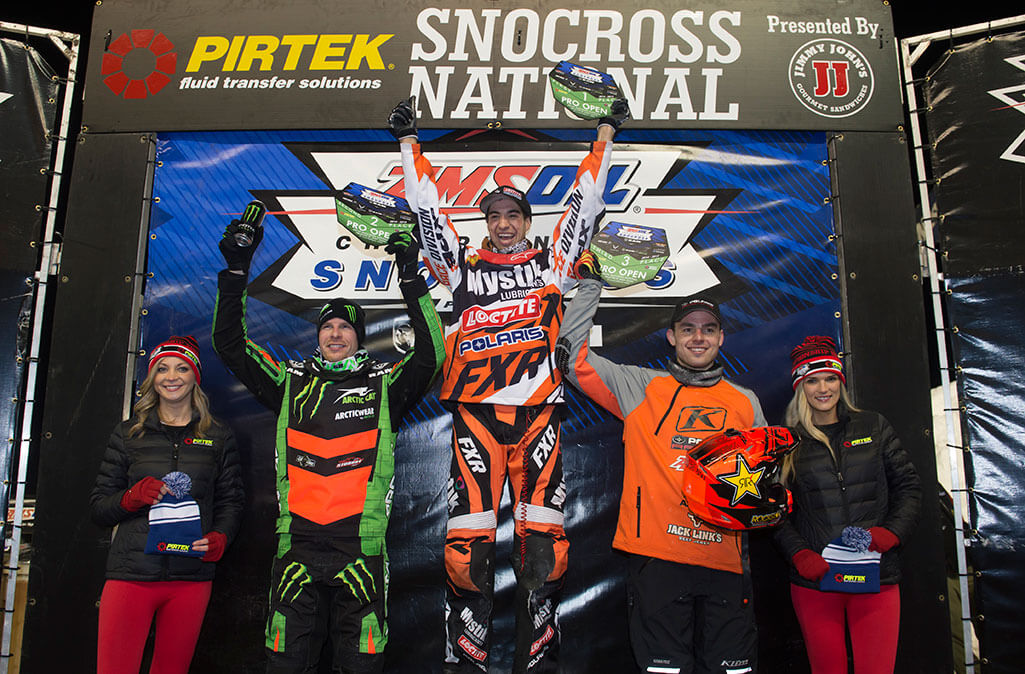 Rocketing out of the start alongside Pallin was Friday's Pro Open class winner Ross Martin (Judnick Motorsports/Polaris). Martin would show a ski to Pallin a couple times on the first lap, while also playing a bit of a cat and mouse game with line selection. But by lap two Pallin had opened up a 1.2 second lead on Martin, and would continue to build on that throughout the course of the contest.
Joining Pallin and Martin up front early on was Friday podium finisher Tim Tremblay (AMSOIL/Scheuring/Ski-Doo). The three would separate from the rest of the pack, clicking off fast lap after fast lap – all at pretty much identical times.
Stuck back in the pack after a self-described "terrible" start was Pro Open defending champ and overall point leader Tucker Hibbert (Monster Energy/Arctic Cat/Ram). Again the No. 1 qualifier, Hibbert was looking for his 100th pro win. But running in 7th place as the race neared its midway point, it certainly looked on paper like Hibbert would not have enough time to catch Pallin.
But damned if he didn't try.
Moving up to 5th place by the end of lap eight, Hibbert was 9.5 seconds back of Pallin. By lap nine he'd made it up to 4th, getting past Hentges Racing/Polaris' Kody Kamm. But that effort alone would take two laps, and it wouldn't be until lap 12 where Hibbert would catch up to Tremblay – and make a pass for the podium.
"I rode really bad for the first five or six laps," admitted Hibbert. "I gave it everything I had, but Kyle and Ross rode really well tonight."
With Pallin's pending victory never really much in doubt, Hibbert would catch – and pass – Martin on the white flag lap, but just flat ran out of time in his pursuit of Pallin. Rounding out the top five tonight were Tremblay in 4th and Kamm in 5th.
Canterbury Saturday Pro Open Results
1 – Kyle Pallin, Ironwood, MI, Polaris
2 – Tucker Hibbert, Pelican Rapids, MN, Arctic Cat
3 – Ross Martin, Burlington, WI, Polaris
4 – Tim Tremblay, Ste Jeanne D'Arc, Quebec, Ski-Doo
5 – Kody Kamm, Kenosha, WI, Polaris
6 – Adam Renheim, Sweden, Ski-Doo
7 – Corin Todd, Otego, NY, Polaris
8 – Justin Broberg, Mukwonago, WI, Polaris
9 – Jon Stenberg, Sweden, Ski-Doo
10 – Logan Christian, Fertile, MN, Arctic Cat
Overall Pro Open Points (6 of 16 rounds)
1 – Tucker Hibbert, 253
2 – Kyle Pallin, 213
3 – Tim Tremblay, 209
4 – Kody Kamm, 186
5 – Logan Christian, 156
Pro Lite
Parity abounds in AMSOIL Championship Snocross' Pro Lite class as last night's winner, Corey Watkinson, didn't even make tonight's PIRTEK National main, while a rookie racer (12th in points) was able to grab his first Pro class victory.
"This is my first year racing Pro Lite and I never thought I'd win one," said an elated Adams from the podium. "I haven't been on the podium since last year in Sport (class). But I was getting holeshots all day, just ripping it. Amazing. Just a great ride for all of us."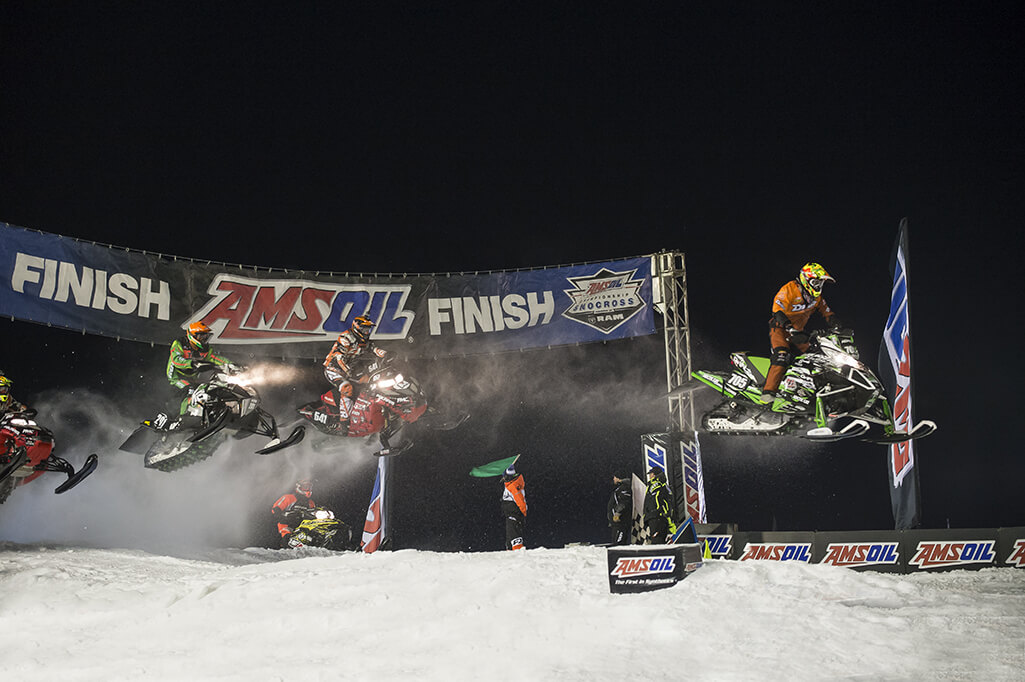 Like he said, Adams grabbed the Stud Boy Holeshot in the main, but was quickly caught by last night's Pro Lite runner-up Ryan Springer (Carlson Motorsports/Polaris). Springer used an inside/outside move to take the lead, but out of nowhere came Max Taillefer (Taillefer Motorsports/Ski-Doo) to lead for a moment before Adams once again regained the top spot.
On lap three Springer's teammate Andrew Carlson got into the mix, passing Springer and setting his site on Taillefer. Back in 4th and 5th were Trevor Leighton (Leighton Motorsports/Polaris) and the overall Pro Lite point leader Elias Ishoel (Warnert Racing/Ski-Doo). And it would be Leighton winning that battle, getting ahead of Ishoel – and eventually to the podium – while also wrestling the point lead from the 16-year-old Norwegian, 211-204 after six rounds of racing.
Back up front Adams was clicking off consistent laps while all the passing was going on behind him. By lap eight Leighton got past Carlson and railed his sled to one of the night's fastest laps in pursuing Adams. The two would start the final lap with Adams holding a 2.4 second lead, which Leighton erased and put his sled onto the hip of Adams. But Adams was able to answer the challenge, holding off Leighton on the final turn and taking his first-ever Pro Lite win. Taillefer would onto the 3rd and final podium spot with Carlson and Ishoel placing 4th and 5th, respectively.
Canterbury Saturday Pro Lite Results
1 – Tyler Adams, Elk River, MN, Arctic Cat
2 – Trevor Leighton, Eagle, ID, Polaris
3 – Max Taillefer, Quebec, Ski-Doo
4 – Andrew Carlson, Big Lake, MN, Polaris
5 – Elias Ishoel, Norway, Ski-Doo
6 – Ryan Springer, St. Francis, MN, Polaris
7 – Kevin Wallenstein, Cadillac, MI, Ski-Doo
8 – Travis Muller, Windom, MN, Polaris
9 – Travis Kern, Palisade, MN, Arctic Cat
10 – James Johnstad, Beltrami, MN, Polaris
Overall Pro Lite Points (6 of 16 rounds)
1 – Trevor Leighton, 211
2 – Elias Ishoel, 204
3 – Andrew Carlson, 195
4 – James Johnstad, 188
5 – Ryan Springer, 186
AMSOIL Championship Snocross, powered by Ram, returns to Deadwood, S.D.'s Days of '76 Rodeo Grounds for rounds 7 & 8 of AMSOIL Championship Snocross, powered by Ram, Jan. 30-31 for the Deadwood Snocross Shootout, presented by Four Seasons Motorsports & Marine.
Beginning with AMSOIL Championship Snocross' season-opening round in Duluth, Minn. and running through the season finale in Lake Geneva, Wis., CBS Sports Network will air 17 one-hour programs of the ACS races.
2014-15 AMSOIL Championship Snocross, powered by Ram, season schedule:
Duluth, Minn.: Nov. 28-30
Fargo, N.D.: Dec. 12-13
Shakopee, Minn.: Jan. 9-10
Deadwood, S.D.: Jan. 30-31
Salamanca, N.Y.: Feb. 6-7
Chicago, Ill.: Feb. 20-21
Mount Pleasant, Mich.: Feb. 27-28
Lake Geneva, Wis.: March 13-15
Photos courtesy of Lissa Marsolek/ISOC
About ISOC Racing
The International Series of Champions (ISOC) is the premier snowmobile race sanctioning organization in North America and sanctions national AMSOIL Championship Snocross, in addition to affiliating with nine regional circuits. Visit www.isocracing.com for more information, fan and racer memberships, schedule details and more.