The inaugural Hollywood Casino Snocross National, presented by Hayes Brake, gets ready-to-rip this weekend at Chicago's Route 66 Raceway
Contact: Pat Schutte
PR Director, ISOC Racing
patschutte@aysling.com
MINNEAPOLIS (Feb. 16, 2015) – Officials with ISOC, the producers and promoters of AMSOIL Championship Snocross, powered by Ram, are pleased to announce that industry leader Hayes Brake has been named as the presenting sponsor of the inaugural Feb. 20-21 Hollywood Casino National Snocross at Chicago's Route 66 Raceway.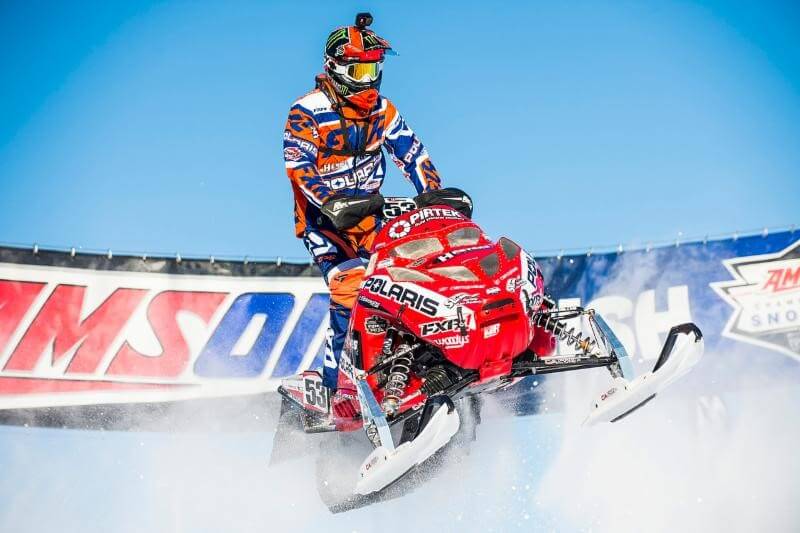 Polaris' Kody Kamm & Hentges Racing utilize Hayes Brake technology.
A 'coming out party' of sorts for Hayes Performance Systems, the longtime snowmobile industry brake manufacturer, Hayes is looking to expand its brand awareness within the snowmobile industry and chose ISOC and AMSOIL Championship Snocross as the venue to introduce and, in many cases, reintroduce its product and name to the legions of snowmobile owners that follow the ACS series.
"Many people associate Hayes as a brake manufacturer for mountain bikes. What many don't realize is we've been a major supplier of braking and control systems for the motorsports and powersports industry for years. We felt that aligning ourselves with ISOC and AMSOIL Championship Snocross would be the most opportune way of putting brand in front of our current and future customers, so that they understand the added performance value of our high performance control and braking systems." said Scott Struve, Global Marketing Director for Hayes. "Our company's built on guys that head to snow country on the weekends and ride sleds, both for passion and real time testing of our products. And they all closely follow AMSOIL Championship Snocross. So we felt it was a solid choice to partner with ISOC and the snowmobiling's most visible competition series."
Founded in 1946, Hayes Brake has a long-standing relationship with both Polaris and Arctic Cat, and with that relationships with a number of the top racers in both the Pro Lite Pro Open classes. Hayes Brake's product line includes the brakes used across the full line of Polaris sleds (the Phantom caliper, Composite Handlebar Master Cylinder (CHBMC), a Radial Handlebar master cylinder on the new Axys chassis, and all rotors), the full line of Arctic Cat sleds (the Avalanche caliper, the Blizzard master cylinder and the Radial Handlebar master cylinder, as well as high performance radial calipers on all top shelf Arctic Cat race machines). In addition, the Yamaha SR Viper models use the same Avalanche caliper and Radial Handlebar master cylinder.
Hayes has also developed an industry first controlled braking system available on select models (TrailTrac 1.0) that provides 40%+ more braking and antilock brake performance. This technology, while available in the aftermarket, is ready for original equipment adoption.
"Engines, horsepower, ¼ mile times and top end speed grab everyone's attention, but in order to use that power you've got to be able to control it," added Struve. "And that's where Hayes can differentiate – in the control systems that allow you to best harness that power, controlling ski pressure and controllability in a turn. Confidence and predictability are significantly improved."
For more on TrailTrac visit www.hayestrailtrak.com.
This just in! Route 66 Raceway will offer indoor seating options along with $10 kids' tickets for the Feb. 20-21 event, delivering an entire family entertainment value package that's second-to-none for a winter motorsports event in the Chicagoland area!
Who: World's top snowmobile racers
What: Hollywood Casino Snocross National, presented by Hayes Brake, Round Six/Races 11 & 12 of 2014-'15 AMSOIL Championship Snocross, powered by Ram
Where: Route 66 Raceway, Joliet, Ill.
When: Feb. 20-21
Times: Gates open at noon on Friday, 8 a.m. on Saturday
Tickets: Advance pricing for general admission tickets start at $25 with indoor seating available for $50. Kids' tickets are only $10!
More Information/Purchase Tickets: www.route66raceway.com
Beginning with AMSOIL Championship Snocross' season-opening round in Duluth, Minn. and running through the season finale in Lake Geneva, Wis., CBS Sports Network will air 17 one-hour programs of the ACS races.
Round / Date City / State
1 – Nov. 28-30 Duluth, Minnesota
2 – Dec. 12-13 Fargo, North Dakota
3 – Jan. 9-10 Shakopee, Minnesota
4 – Jan. 30-31 Deadwood, South Dakota
5 – Feb. 6-7 Salamanca, New York
6 – Feb. 20-21 Chicago, Illinois
7 – Feb. 27-28 Mt. Pleasant, Michigan
8 – March 13-15 Lake Geneva, Wisconsin
Photos courtesy of Lissa Marsolek/ISOC
About ISOC Racing
The International Series of Champions (ISOC) is the premier snowmobile race sanctioning organization in North America and sanctions national AMSOIL Championship Snocross, in addition to affiliating with nine regional circuits. Visitwww.isocracing.com for more information, fan and racer memberships, schedule details and more.