Tucker Hibbert completes sweep of AMSOIL Championship Snocross Pro Open mains @ Chicago's Route 66 Raceway!
Hibbert's perfect on the weekend, winning all his heats & two Pro Open main events; Travis Muller steps up to take the Pro Lite main event win
Contact: Pat Schutte
PR Director, ISOC Racing
patschutte@aysling.com
JOLIET, Ill. (Feb. 21, 2015) – The "Fastest Show on Snow" – AMSOIL Championship Snocross, powered by Ram – concluded its two nights of racing action on Saturday at Chicago's Route 66 Raceway's Hollywood Casino Snocross National, presented by Hayes Brakes. And it was Pro Open class star Tucker Hibbert (Monster/Arctic Cat/Ram) completing his 1st/1st sweep of the historic event on Route 66's drag strip, while Travis Muller (Cottew Racing/Polaris) would capture the Pro Lite final.
Pro Open
Blasting off the starting line to pull the Stud Boy Holeshot was Ross Martin (Judnick Motorsports/Polaris), only to have Hibbert somehow defy logic by evading being pinched in the first turn from his inside No. 1 gate pick and running up into a close 2nd place behind Martin. And before you could say "end of the first lap" Hibbert was past Martin and into the lead – a lead he'd extend to multiple digits in the seconds dept. at race's end.
Dominant was an understatement for Hibbert at Route 66 Raceway this weekend. He just flat out crushed it.
"This whole weekend's been great for us," said Hibbert, who logged his 104th career win tonight. "We won all of our qualifiers and both main events."
The technical Carl Schubitzke designed & built Route 66 track won praise from Hibbert and the other racers all weekend long. Its supercross-style layout would suite Hibbert best, no doubt part in due to Hibbert's extensive supercross racing background.
With Hibbert checked out early and Martin holding strong in 2nd place, a great battle would brew between Kyle Pallin (LaVallee Racing/Polaris) and Logan Christian (Christian Brothers/Arctic Cat) for the third and final podium position. And while those two were going at it Martin would blow off the track, allowing both Pallin and Christian to move up on to the box.
But Tim Tremblay (AMSOIL/Scheuring/Ski-Doo) was having nothing to do with that.
The former champ came rocketing back from a mediocre start to challenge and pass Pallin on lap four (just prior to Martin's off), inherited 3rd with the Martin wreck, then moved up on to Christian and started what became the best battle of the weekend in the Pro Open class for several laps.
As Hibbert navigated the lapped traffic with seemingly no problems Christian put it on the edge to hold off former Pro Open champ Tremblay. And just when it seemed like Tremblay'd got the upper hand, momentarily passing Christian at the beginning of the back stretch, Tremblay would suffer a sizable get-off, pulling his safety tether from the sled as he dismounted and tumbled after casing the landing on a double jump.
Gathering his sled up quickly, Tremblay was able to remount – but not before Pallin came ripping by to take the third and final podium spot. Tremblay would hold on for 4th, with Adam Renheim (Boss Racing/Ski-Doo) placing 5th.
Chicago Saturday Pro Open Results
1 – Tucker Hibbert, Pelican Rapids, MN, Arctic Cat
2 – Logan Christian, Fertile, MN, Arctic Cat
3 – Kyle Pallin, Ironwood, MI, Polaris
4 – Tim Tremblay, Ste Jeanne D'Arc, Quebec, Ski-Doo
5 – Adam Renheim, Sweden, Ski-Doo
6 – Andrew Lieders, Colby, WI, Polaris
7 – Jake Scott, Port Jefferson Station, NY, Polaris
8 – David Joanis, Canada, Arctic Cat
9 – Darrin Mees, Stanchfield, MN, Ski-Doo
10 – Zach Pattyn, Ravenna, MI, Arctic Cat
Overall Pro Open Points (12 of 17 rounds)
1 – Tucker Hibbert, 516
2 – Tim Tremblay, 419
3 – Kyle Pallin, 402
4 – Ross Martin, 387
5 – Logan Christian, 385
Pro Lite
Just a wild night at Route 66 Raceway in the Pro Lite class as racers made top five positions from all points of the starting line – including the back row!
But from the onset it was Travis Muller that took charge from the opening straightaway, passing Stud Boy Holeshot winner Andrew Carlson (Carlson Motorsports/Polaris) for the lead on lap one and running it though the checkers with uncanny ease.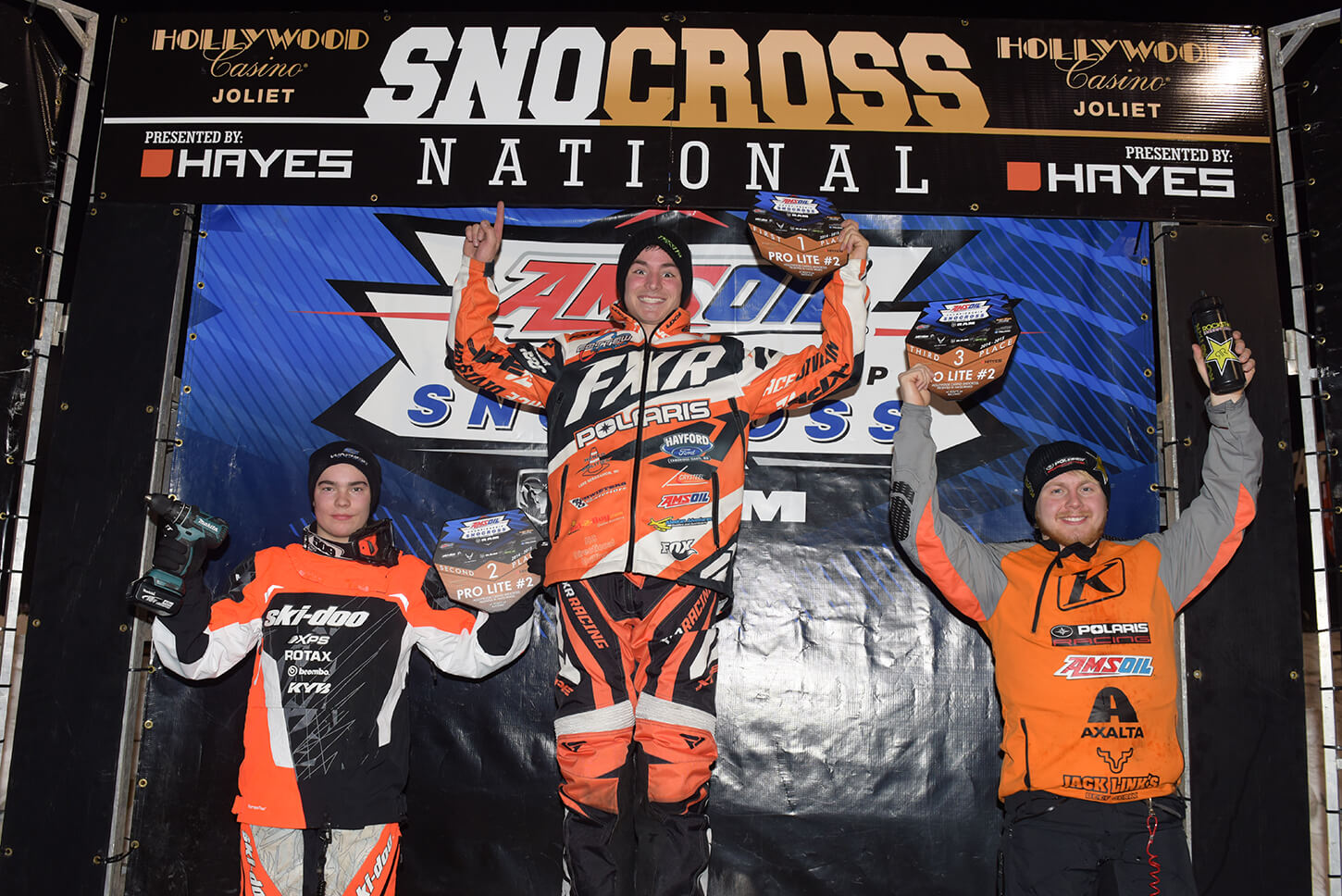 "It's awesome to be up here," said Muller. "The whole team just had an awesome day. Had two teammates do really well in the amateur and sport classes, then for me to get up here is just great."
All kinds of heck broke loose behind Muller throughout the remainder of the contest, highlighted by a back row run to the No. 2 position by 16-year-old Pro Lite rookie Elias Ishoel (Warnert Racing/Ski-Doo). Adding to that having to transfer through to the main via the Last Chance Qualifier (which he won), it was another big night for the Norwegian speedster.
"I tried to find some good lines and I ran good. Thanks to everybody," said Ishoel as he continues to improve on the English language from the AMSOIL Championship Snocross podium.
Noticeably missing from Saturday's Pro Lite podium at Route 66 was overall Pro Lite point leader Ryan Springer (Carlson Motorsports/Polaris). Springer, who had won four-straight main events – including last night's inaugural Pro Lite contest at Route 66 – got out of the start in 7th place and wasn't a factor until the end when he made a key pass late in the race on 2nd overall point racer Trevor Leighton (Leighton Motorsports/Polaris) and took 4th (to Leighton's 5th).
Ishoel would clock the fastest lap at 47.419 on the night, until James Johnstad (Judnick Motorsports/Polaris) came blazing out of nowhere late in the race, laid down a race-best 46.797 lap, and got by Arctic Cat-mounted Corey Watkinson, Leighton and Springer and into 3rd place with two laps remaining. Johnstad would hold the third and final podium finish through the checkers.
So through 11 of 16 rounds Springer holds a 12-point lead over Leighton, 417-405. Muller jumped into a 3rd place tie with Carlson at 402 points, with Ishoel rounding out the top five at 386 points.
Chicago Saturday Pro Lite Results
1 – Travis Muller, Windom, MN, Polaris
2 – Elias Ishoel, Norway, Ski-Doo
3 – James Johnstad, Beltrami, MN, Polaris
4 – Ryan Springer, St. Francis, MN, Polaris
5 – Trevor Leighton, Eagle, ID, Polaris
6 – Andrew Carlson, Big Lake, MN, Polaris
7 – Kevin Wallenstein, Cadillac, MI, Ski-Doo
8 – Nick Pattyn, Ravenna, MI, Arctic Cat
9 – Shane Sewell, Westville, IN, Ski-Doo
10 – Maxime Taillefer, Canada, Ski-Doo
Overall Pro Lite Points (12 of 17 rounds)
1 – Ryan Springer, 417
2 – Trevor Leighton, 405
3 – Travis Muller, 402
4 – Andrew Carlson, 402
5 – Elias Ishoel, 355
The AMSOIL Championship Snocross, powered by Ram, tour moves to Mt. Pleasant, Mich., for Soaring Eagle's Ram Trucks National at Soaring Eagle Resort & Casino, Feb. 27-28.
Beginning with AMSOIL Championship Snocross' season-opening round in Duluth, Minn. and running through the season finale in Lake Geneva, Wis., CBS Sports Network will air 17 one-hour programs of the ACS races.
2014-15 AMSOIL Championship Snocross, powered by Ram, season schedule:
Duluth, Minn.: Nov. 28-30
Fargo, N.D.: Dec. 12-13
Shakopee, Minn.: Jan. 9-10
Deadwood, S.D.: Jan. 30-31
Salamanca, N.Y.: Feb. 6-7
Chicago, Ill.: Feb. 20-21
Mount Pleasant, Mich.: Feb. 27-28
Lake Geneva, Wis.: March 13-15
Photos courtesy of Lissa Marsolek/ISOC
About ISOC Racing
The International Series of Champions (ISOC) is the premier snowmobile race sanctioning organization in North America and sanctions national AMSOIL Championship Snocross, in addition to affiliating with nine regional circuits. Visit www.isocracing.com for more information, fan and racer memberships, schedule details and more.