Stars of AMSOIL Championship Snocross battle on the grounds of Michigan's Soaring Eagle Resort & Casino
Tucker Hibbert puts on racing clinic in the main event, wins going away again; High drama in the Pro Lite class with a big wreck at the start, Ryan Springer wins.
Contact: Pat Schutte
PR Director, ISOC Racing
patschutte@aysling.com
MT. PLEASANT, Mich. (Feb. 27, 2015) – With mountains of snow and Michigan's No. 1 resort and casino – Soaring Eagle – in the background, a perfect stage was set on Friday for the stars of AMSOIL Championship Snocross, powered by Ram, to show off their talents to the core motorsports fans in and around the Winter Wonderland state. And once again the racing action was stellar as Tucker Hibbert (Monster/Arctic Cat/Ram) and Ryan Springer (Carlson Motorsports/Polaris) came away victorious in the Pro classes of Soaring Eagle's Ram Trucks Snocross National.
Pro Open
Qualifying in the No. 1 position (1st/1st heat races), Tucker Hibbert took the inside gate pick and ran elbow-to-elbow down the start straight with Kyle Pallin (Mystic/Loctite/Polaris) in the Pro Open main event – with Pallin taking the holeshot by the thickness of the Polaris decal on the front of his sled. But Hibbert would grab the lead on the ensuing turn and never looked back, winning again by double digits and increasing his Pro Open point lead to 100 points over the second place overall racer.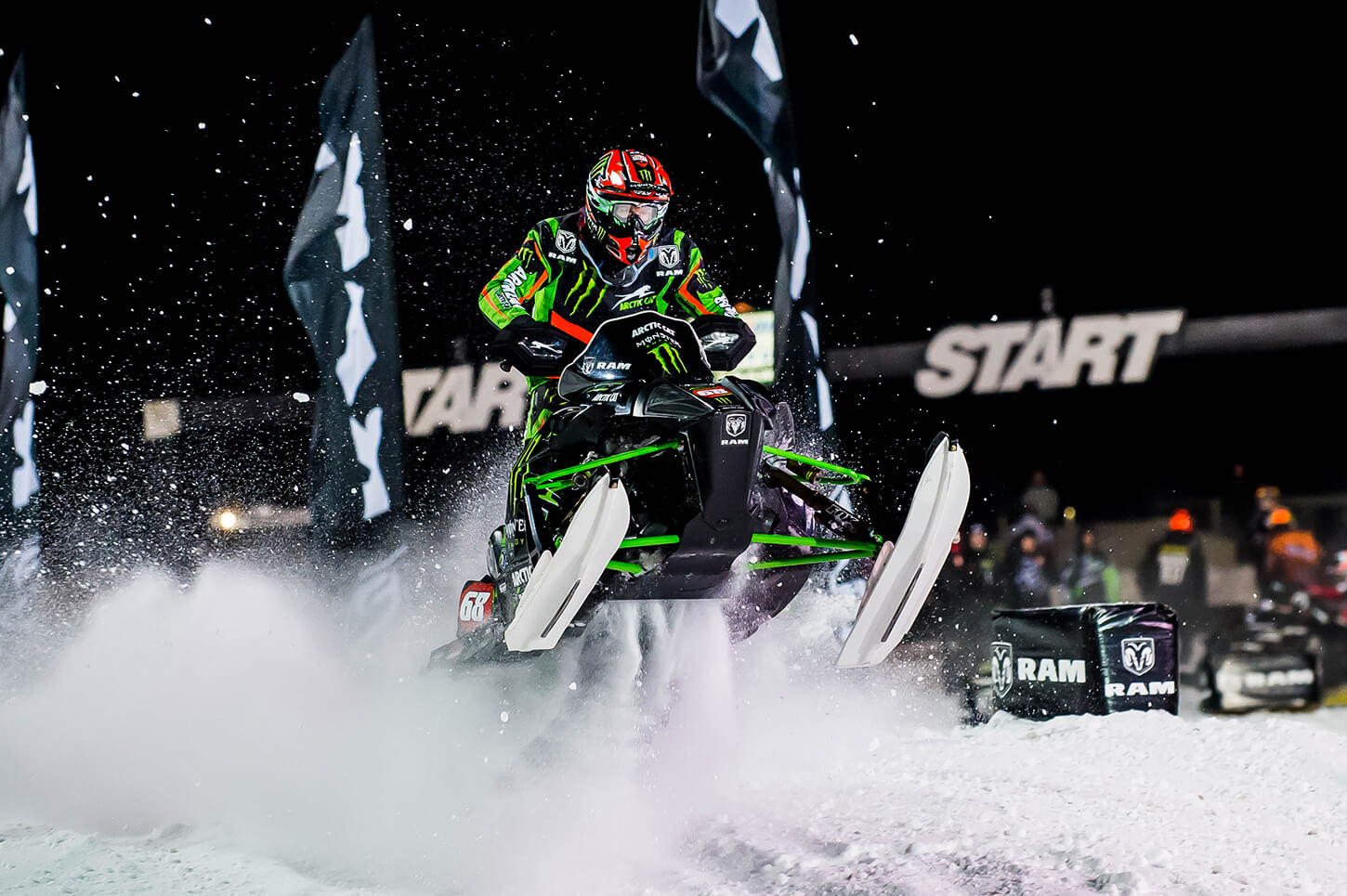 "I'm feeling really good right now," said Hibbert from atop the Soaring Eagle podium, a slew of Ram Truck VIPs up from Auburn Hills, Mich. cheering him on. "Everything's clicking for us as a team, the sled's running excellent and this was an awesome track tonight. Long, technical straights – I had a lot of fun out there."
Ripping through the downhill section and into 3rd place through the 180-degree bowl turn at the base of the back hill on lap one was Ross Martin (Judnick Motorsports/Polaris), which moved Tim Tremblay (AMSOIL/Scheuring/Ski-Doo) to 4th. But the former Pro Open champ Tremblay was having nothing of Martin's pass and got him back on the ensuing U.S. Air Force Flyaway section.
Martin would stay all over Tremblay, even tapping Tremblay's track with his front ski midway through lap three. But a couple laps later in the 14-lap contest a mental error would cost Martin as he was black-flagged for jumping on a yellow flag. So with Martin out of the way, Tremblay set his site on 2nd place Pallin.
As Hibbert ran up front comfortably, Tremblay began to methodically stalk 2nd place Pallin, passing him midway through lap eight. Pallin would answer once, gaining the lead back briefly, but Tremblay would put the hammer down and take control of 2nd.
Battling for 4th and 5th at this point in the contest were Arctic Cat-mounted Cody Thomsen and Adam Renheim (Boss Racing/Ski-Doo), with Logan Christian (Christian Brothers/Arctic Cat) moving on rapidly after a poor start, as was David Joanis (Royal Distributing/Arctic Cat).
As the laps clicked off Hibbert put more and more distance between himself and Tremblay and Pallin, despite the fast-paced battle for the 2nd and 3rd positions. Tremblay would take charge of 2nd place with a couple laps remaining, with Pallin holding off a furious charge from Renheim for 3rd and Joanis out-running Christian late in the contest to round out the top five.
Mt. Pleasant Friday Pro Open Results
1 – Tucker Hibbert, Pelican Rapids, MN, Arctic Cat
2 – Tim Tremblay, Ste Jeanne D'Arc, Quebec, Ski-Doo
3 – Kyle Pallin, Ironwood, MI, Polaris
4 – Adam Renheim, Sweden, Ski-Doo
5 – David Joanis, Canada, Arctic Cat
6 – Logan Christian, Fertile, MN, Arctic Cat
7 – Cody Thomsen, Nisswa, MN, Arctic Cat
8 – Justin Broberg, Mukwonago, WI, Polaris
9 – Mike Bauer, Medford, WI, Arctic Cat
10 – Jake Scott, Port Jefferson Station, NY, Polaris
Overall Pro Open Points (13 of 17 rounds)
1 – Tucker Hibbert, 561
2 – Tim Tremblay, 461
3 – Kyle Pallin, 440
4 – Logan Christian, 416
5 – Ross Martin, 403
Pro Lite
While a massive pile up at the start of Friday's Pro Lite main event at Soaring Eagle disrupted nearly half of the entire field, Pro Lite point leader rookie Ryan Springer got out of the gate fast and in front of the carnage, through No. 2 point sitter Trevor Leighton (Leighton Motorsports/Polaris) wasn't as fortunate.
Springer's wire-to-wire win, coupled with Leighton's 12th place finish, opened up a sizable gap up top in the Pro Lite points with just one race remaining (Lake Geneva, Wis.) after this weekend in Michigan.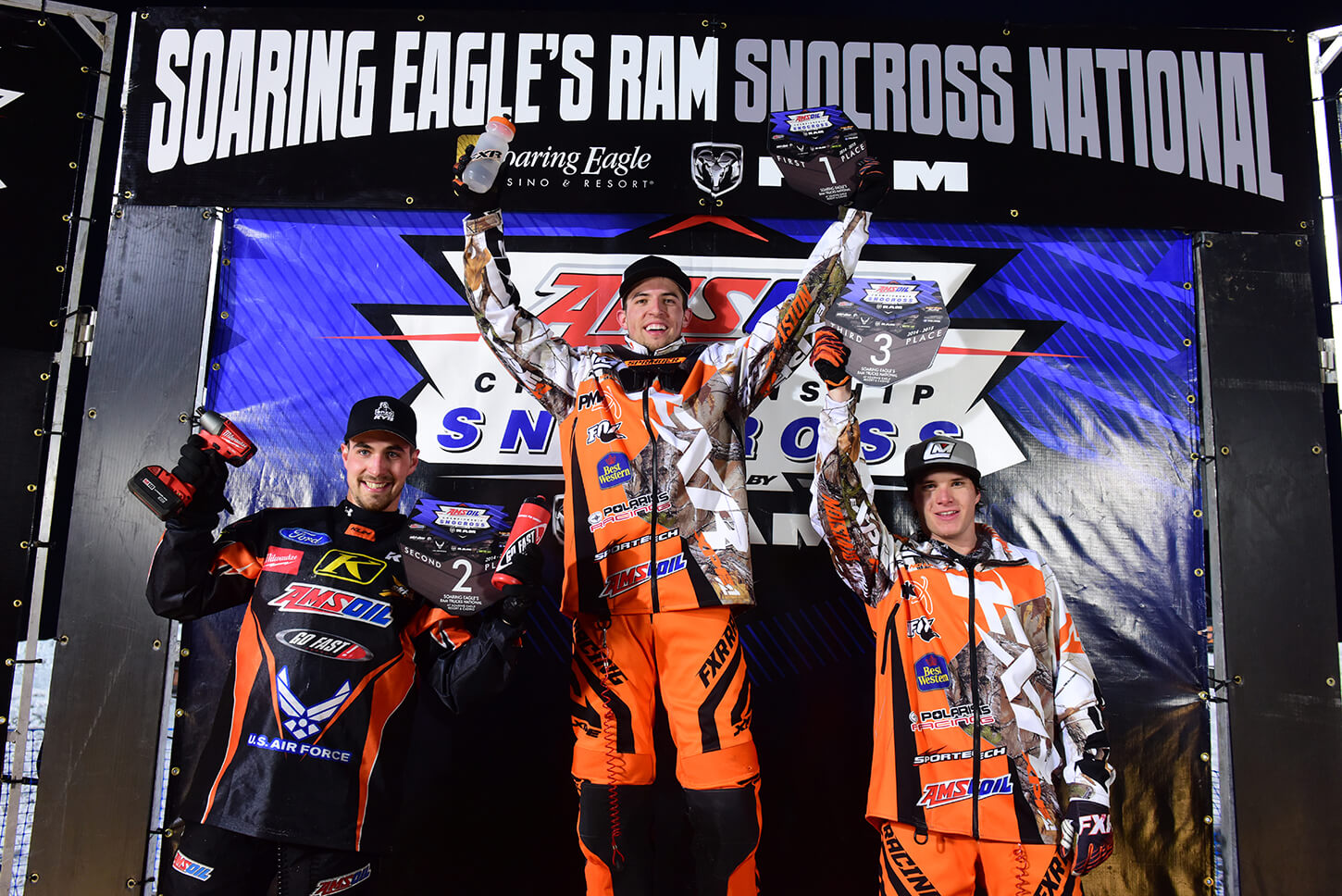 Overcoming a mechanical issue in his second heat race, Springer sang the praises of his Polaris sled – especially its rocket ship starts on the Soaring Eagle course.
"Got the holeshot and rode away," said Springer of his win. "These points were really important, so I tried to ride smart when I got out front."
Making a rush at the lead was another Pro Lite class rookie, Elias Ishoel (Warnert Racing/Ski-Doo), who actually had his sled up front momentarily on the opening lap – only to crash in the 180-degree bowl turn at the base of the hill. Springer would hold the lead, with Canada's Maxime Taillefer (Ski-Doo) in 2nd and Friday's Pro Lite No. 1 qualifier Andrew Carlson (Carlson Motorsports/Polaris) in 3rd.
Running in 4th and 5th were Arctic Cat-mounted Corey Watkinson and Tyler Adams, who would challenge for the podium midway through the race, but weren't able to close the deal when it counted late in the contest.
Springer continued to run fast through the lapped traffic – including past Leighton (12th) – to score the win. Taillefer and Carlson would hold their position, rounding out the podium in 2nd and 3rd, respectively, with Watkinson (4th) and Adams (5th) rounding out the top five.
Mt. Pleasant Friday Pro Lite Results
1 – Ryan Springer, St. Francis, MN, Polaris
2 – Maxime Taillefer, Canada, Ski-Doo
3 – Andrew Carlson, Big Lake, MN, Polaris
4 – Corey Watkinson, Canada, Arctic Cat
5 – Tyler Adams, Elk River, MN, Arctic Cat
6 – Nick Pattyn, Ravenna, MI, Arctic Cat
7 – Kevin Wallenstein, Cadillac, MI, Ski-Doo
8 – Travis Muller, Windom, MN, Polaris
9 – James Johnstad, Beltrami, MN, Polaris
10 – Elias Ishoel, Norway, Ski-Doo
Overall Pro Lite Points (13 of 17 rounds)
1 – Ryan Springer, 459
2 – Andrew Carlson, 441
3 – Travis Muller, 431
4 – Trevor Leighton, 430
5 – Elias Ishoel, 415
The AMSOIL Championship Snocross, powered by Ram, tour in Mt. Pleasant, Mich. continues on Sat., Feb. 28, with the Soaring Eagle's Ram Trucks National at Soaring Eagle Resort & Casino.
Beginning with AMSOIL Championship Snocross' season-opening round in Duluth, Minn. and running through the season finale in Lake Geneva, Wis., CBS Sports Network will air 17 one-hour programs of the ACS races.
2014-15 AMSOIL Championship Snocross, powered by Ram, season schedule:
Duluth, Minn.: Nov. 28-30
Fargo, N.D.: Dec. 12-13
Shakopee, Minn.: Jan. 9-10
Deadwood, S.D.: Jan. 30-31
Salamanca, N.Y.: Feb. 6-7
Chicago, Ill.: Feb. 20-21
Mount Pleasant, Mich.: Feb. 27-28
Lake Geneva, Wis.: March 13-15
Photos courtesy of Lissa Marsolek/ISOC
About ISOC Racing
The International Series of Champions (ISOC) is the premier snowmobile race sanctioning organization in North America and sanctions national AMSOIL Championship Snocross, in addition to affiliating with nine regional circuits. Visit www.isocracing.com for more information, fan and racer memberships, schedule details and more.