Tremblay inherits 1st after leader Tucker Hibbert crashes; Ryan Springer is again tops in Pro Lite class, completes sweep and takes a commanding o/a point lead.
Contact: Pat Schutte
PR Director, ISOC Racing
patschutte@aysling.com
MT. PLEASANT, Mich. (Feb. 28, 2015) – A packed house at Michigan's No. 1 resort and casino – Soaring Eagle – was treated to two thrilling Pro class main events for Saturday's Soaring Eagle's Ram Trucks Snocross National. Tim Tremblay (AMSOIL/Scheuring/Ski-Doo) would race consistent, smart and fast to win a wild Pro Open main event, while Ryan Springer (Carlson Motorsports/Polaris) completed the support Pro Lite class sweep with his second main event win of the weekend.
Pro Open
Saturday's Stud Boy Holeshot at Soaring Eagle would go to Tucker Hibbert (Monster/Ram/Arctic Cat) as the No. 1 qualifier won the battle to the first turn ahead of Corin Todd (Leighton Motorsports/Polaris) and Kyle Pallin (Mystic/Loctite/Polaris).
Pallin would then make quick work of Pro Open rookie Todd, moving up to 2nd place midway through the opening lap. But, as it would on numerous occasions in Saturday's Pro Open main, disaster would strike as Pallin shot off the track on the start straight – collecting a massive Soaring Eagle feather banner in the process.
Pallin's mistake would be Ross Martin's (Judnick Motorsports/Polaris) and Tremblay's gain as they immediately moved up into 2nd and 3rd behind Hibbert. Treating fans at Soaring Eagle to another bar-to-bar battle – as they had on Friday night – Martin and Tremblay diced back and forth before the former Pro Open champ, Tremblay, shot out past Martin and into 2nd place at the end of lap three.
With Hibbert up four seconds after four laps, all signs pointed to a sweep of the Michigan round, much like Hibbert swept the previous weekend's AMSOIL Championship Snocross Pro Open races in Chicago. Hibbert was running two seconds faster, per lap, than the rest of the competition – Tremblay and Martin included.
On lap five Boss Racing/Ski-Doo's Adam Renheim, who placed a solid 4th place on Friday, fired up from mid pack to catch and pass Martin on the opening corner to the massive uphill section – giving the Swedish racer 3rd place. But Martin was still in it, as less than four seconds separated the No. 2 through No. 5 positions behind Hibbert, including Pallin (in 5th) who had charged back from his early race departure from the track.
Lap nine would prove pivotal in Saturday's contest as seemingly out of nowhere Hibbert went down in a corner, his sled getting caught up in a myriad of sponsor signage and Tuff Block lane markers. Unable to free himself, Hibbert stood there helplessly at trackside – still tethered to his running sled. Tremblay would go by to take first, then Martin (who got back past Renheim), Renheim and Pallin. In fact, Tremblay would come past the stranded Hibbert AGAIN, putting the defending champ down two laps.
With four laps remaining in the contest Tremblay clicked off strong and consistent laps, earning himself the victory – his first of the season. "Tucker crashed and I passed him and was so happy," said Tremblay. "I didn't want to make any mistakes, so I took it easy and the win came to me. This feels awesome. I haven't been winning the last two years, so it feels great to get back up here."
Down 3.7 seconds to Tremblay to start lap 12, Martin pulled out all the stops to catch his Canadian rival – only to unload himself when he cross-rutted a landing in the trick downhill section. Pallin would move up into 2nd at this point, followed by a hard-charging Logan Christian (Christian Brothers Racing/Arctic Cat) into 3rd.
Tremblay would walk away with the win, Pallin and Christian holding onto their 2nd and 3rd place positions, respectively. Boss Racing/Ski-Doo's Colby Crapo would score his first top five finish of the year, coming in with an excellent 4th place run, followed by Cody Thomsen (Arctic Cat) in 5th. Noteworthy: Hibbert would eventually remount and place 9th and still holds a commanding 89-point lead over Tremblay in the Pro Open overall points, 593-504.
Mt. Pleasant Saturday Pro Open Results
1 – Tim Tremblay, Ste Jeanne D'Arc, Quebec, Ski-Doo
2 – Kyle Pallin, Ironwood, MI, Polaris
3 – Logan Christian, Fertile, MN, Arctic Cat
4 – Colby Crapo, St. Anthony, ID, Ski-Doo
5 – Cody Thomsen, Nisswa, MN, Arctic Cat
6 – Corin Todd, Otego, NY, Polaris
7 – Darren Mees, Stanchfield, NY, Ski-Doo
8 – Ross Martin, Burlington, WI, Polaris
9 – Tucker Hibbert, Pelican Rapids, MN, Arctic Cat
10 – John Stenberg, Sweden, Ski-Doo
Overall Pro Open Points (14 of 17 rounds)
1 – Tucker Hibbert, 593
2 – Tim Tremblay, 504
3 – Kyle Pallin, 478
4 – Logan Christian, 447
5 – Ross Martin, 43
Pro Lite
Ryan Springer blew the previously tight Pro Lite point chase out of the water this weekend at Soaring Eagle, winning again on Saturday to complete the class sweep and take a commanding 34-point lead into the final round of the season in two weeks at Wisconsin's Grand Geneva Resort.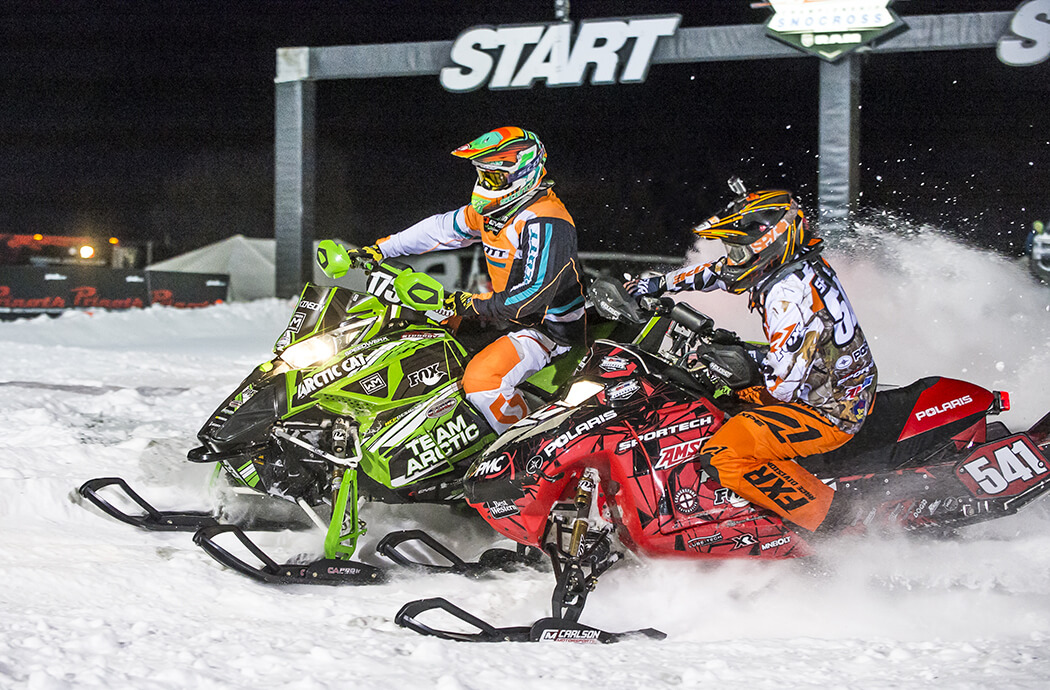 Springer, who qualified No. 1 for tonight's Pro Lite main, got a solid start and quickly moved up to 2nd place behind Corey Watkinson (Arctic Cat) early in the contest. Springer would bide his time, checking out some line options, before passing Watkinson for the race lead on lap four.
"I got off to a good start, but not the best," said Springer on his win and seventh podium finish of the year. "I was out in like 4th, the raced Watkinson there for a couple laps before I was able to get by him for the lead. Overall it was a great day, going 1-1 in my heats as well. And to sweep Michigan makes it so much better."
Lining up on the start with Springer was the No. 2 qualifier Trevor Leighton (Leighton Motorsports/Polaris). The Pro Lite point leader earlier in the season, Leighton struggled on Friday (12th) at Soaring Eagle and was looking for redemption in the form of returning to the podium on Saturday. Leighton started strong and was in 3rd place early after the Stud Boy holeshot from #179 Arctic Cat pilot Korbyn Anderson and Watkinson.
The pace quickly heated up once Springer shot up to 2nd place, with Watkinson up front in the lead. Then following Springer's pass for the lead on lap four, Watkinson dismounted from his sled on the following lap, handing over 2nd place to Leighton and 3rd to Elias Ishoel (Warnert Racing/Ski-Doo).
Springer had the Soaring Eagle track wired at this point and began putting seconds between himself and the 2nd and 3rd place sleds, up five seconds midway through the contest. And moving up from the back row and his 11th place qualifying position was Andrew Carlson (Carlson Motorsports/Polaris). Carlson, who was on Friday's Pro Lite podium (3rd), rocketed all the way up to the 4th position, one click ahead of Travis Muller (Cottew Motorsports/Polaris) in 5th.
On lap seven Ishoel would run up inside on Leighton, bumping plastic and foreshadowing a pass that would happen soon thereafter in the opening moments of the white flag lap.
From there Ishoel distanced himself from Leighton, with Carlson and Muller in quick pursuit. And when Springer cross the finish line in 1st place to set off the fire pots, the positions back of him remained the same; 2nd – Ishoel, 3rd – Leighton, 4th – Carlson and 5th – Muller. And in the overall points Leighton fired back up to 2nd place (after being bounced down to 4th after Friday), with Carlson, Muller and Ishoel rounding out the top five in that order.
Mt. Pleasant Saturday Pro Lite Results
1 – Ryan Springer, St. Francis, MN, Polaris
2 – Elias Ishoel, Norway, Ski-Doo
3 – Trevor Leighton, Eagle, ID, Polaris
4 – Andrew Carlson, Big Lake, MN, Polaris
5 – Travis Muller, Windom, MN, Polaris
6 – Tyler Adams, Elk River, MN, Arctic Cat
7 – Nick Pattyn, Ravenna, MI, Arctic Cat
8 – Shane Sewell, Westville, IN, Ski-Doo
9 – Chase Rosemeyer, Chippewa Falls, WI, Ski-Doo
10 – Kevin Wallenstein, Cadillac, MI, Ski-Doo
Overall Pro Lite Points (14 of 17 rounds)
1 – Ryan Springer, 504
2 – Trevor Leighton, 470
3 – Andrew Carlson, 466
4 – Travis Muller, 465
5 – Elias Ishoel, 452
Pro snowmobile racing's premier competition racing series, AMSOIL Championship Snocross, powered by Ram, announces three thrilling days of racing action in Lake Geneva, Wis., March 13-15, at the Grand Geneva Resort & Spa, owned and managed by Marcus Hotels & Resorts, for the Friday, Saturday & Sunday Nielsen Enterprises Grand Finale, presented by Dayco.
Beginning with AMSOIL Championship Snocross' season-opening round in Duluth, Minn. and running through the season finale in Lake Geneva, Wis., CBS Sports Network will air 17 one-hour programs of the ACS races.
2014-15 AMSOIL Championship Snocross, powered by Ram, season schedule:
Duluth, Minn.: Nov. 28-30
Fargo, N.D.: Dec. 12-13
Shakopee, Minn.: Jan. 9-10
Deadwood, S.D.: Jan. 30-31
Salamanca, N.Y.: Feb. 6-7
Chicago, Ill.: Feb. 20-21
Mount Pleasant, Mich.: Feb. 27-28
Lake Geneva, Wis.: March 13-15
Photos courtesy of Lissa Marsolek/ISOC
About ISOC Racing
The International Series of Champions (ISOC) is the premier snowmobile race sanctioning organization in North America and sanctions national AMSOIL Championship Snocross, in addition to affiliating with nine regional circuits.