AMSOIL Championship Snocross wraps up the 2014-'15 season "Live" on CBS Sports @ Lake Geneva, w/ Ryan Springer capturing the Pro Lite title.
In only his second year of pro racing Springer is the top Pro Lite racer in the world; Tucker Hibbert completes Pro Open sweep with convincing win Sunday!
Contact: Pat Schutte
PR Director, ISOC Racing
patschutte@aysling.com
LAKE GENEVA, Wis. (March 15, 2015) – Carlson Motorsports/Polaris' Ryan Springer, in only his second year racing pro snocross, wrapped up the Pro Lite title here today at Lake Geneva's Grand Geneva Resorts & Spa – the annual running of the Nielsen Enterprises Grand Finale, presented by Dayco Grand Finale. But it was Elias Ishoel (Warnert Racing/Ski-Doo) who won Sunday's Pro Lite main event, completing the weekend sweep in front of a massive live crowd and legions of motorsports fans watching "Live" on CBS Sports.
And in the premier Pro Open class it was again Tucker Hibbert (Monster/Ram/Arctic Cat) on top of the podium once again, completing his 1st/1st/1st weekend sweep of Lake Geneva and further solidifying his title as the best professional snowmobile racer on the planet.
Pro Open
Foreshadowing what looked to be a battle between the heir apparent to the Pro Open throne, Hentges Racing/Polaris' Kody Kamm, and the reigning king of snocross, Tucker Hibbert, wouldn't quite transpire like it did the previous two nights at Grand Geneva as Hibbert grabbed the Stud Boy Holeshot and, for all intents and purposes, was gone after lap one.
Kamm would deal Hibbert his only defeat of the weekend, albeit a minor one in the opening race of heat one. Hibbert got caught up and forced out of the fast line in the holeshot, with Kamm taking the lead and holding off a late-race Hibbert charge for the heat race win. But that would be Hibbert's only blemish on a near perfect weekend of racing for the overall Pro Open champ.
"It feels amazing," said Hibbert. "To solid weekend and come out with three wins is exactly what we wanted. It's been a long season and we've had a lot of success, but to finish it off this way is just icing on the cake for the whole team."
Hibbert pulled the Stud Boy Holeshot in the Pro Open main, rocketing to the lead up Grand Geneva's Mountain Top ski hill – with veteran rival Ross Martin (Judnick Motorsports/Polaris) close behind in 2nd place, followed by Warnert Racing/Ski-Doo's John Stenberg.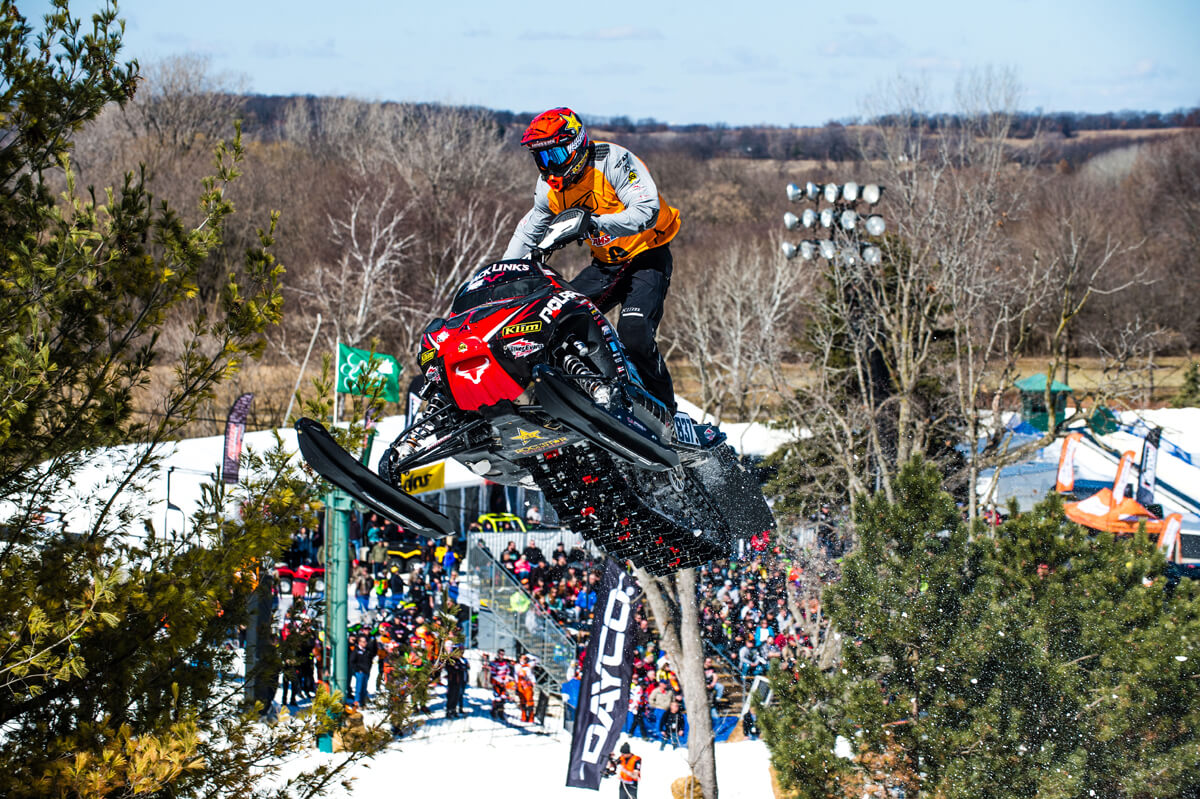 As the front runners separated from the rest of the pack, Kamm was back in 5th place behind
Mystic/Loctite/Polaris' Kyle Pallin. Hibbert would reel off a couple fast laps, putting seven seconds between himself and 2nd place Martin, while Kamm put on a charge of his own and moved into 3rd place by out-jumping Stenberg on the middle downhill section.
As Hibbert increased his lead, Martin rode solid in 2nd and was not going to be caught by Kamm (3rd). Stenberg would complete an excellent race in 4th, with Pallin holding strong in 5th.
Lake Geneva Sunday Pro Open Results
1 – Tucker Hibbert, Pelican Rapids, MN, Arctic Cat
2 – Ross Martin, Burlington, WI, Polaris
3 – Kody Kamm, Kenosha, WI, Polaris
4 – John Stenberg, Sweden, Ski-Doo
5 – Kyle Pallin, Ironwood, MI, Polaris
6 – Logan Christian, Fertile, MN, Arctic Cat
7 – Justin Broberg, Mukwonago, WI, Polaris
8 – David Joanis, Canada, Arctic Cat
9 – Cody Thomsen, Nisswa, MN, Arctic Cat
10 – Corin Todd, Otego, NY, Polaris
Overall Pro Open Points (17 of 17 rounds)
1 – Tucker Hibbert, 727
2 – Tim Tremblay, 578
3 – Kyle Pallin, 560
4 – Ross Martin, 533
5 – Logan Christian, 530
Pro Lite
While sixteen-year-old Norwegian Elias Ishoel dominated the slopes of Lake Geneva, it was Ryan Springer that wrapped up the season-long Pro Lite championship, laying claim to AMSOIL Championship Snocross' prestigious support class crown in only his second year of pro snocross racing.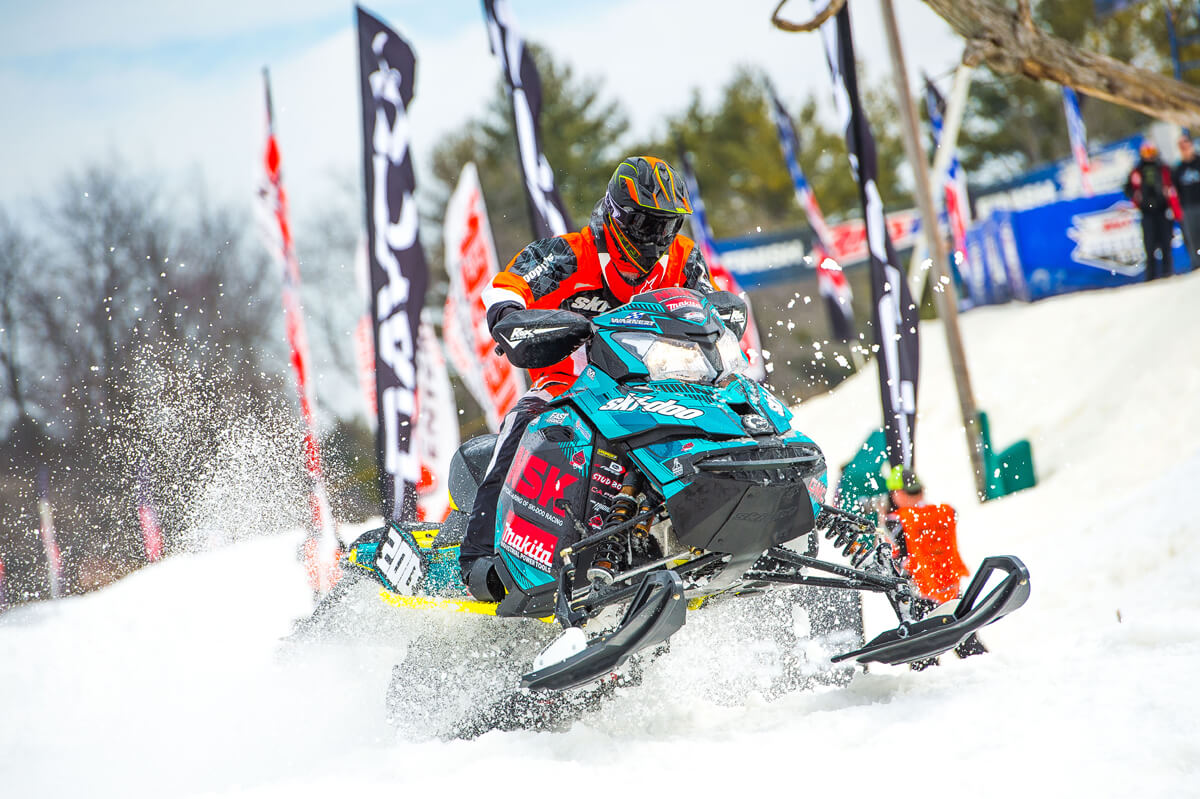 "I never thought I'd get this far so soon," said an elated Springer, who wrapped up the title during his heat races and raced the Pro Open class today at Lake Geneva, crashing out in the LCQ.
Quite literally unstoppable at Lake Geneva, Ishoel wowed the CBS Sports fans with a brazen look back pass – for the Pro Lite main event lead – on Andrew Carlson (Carlson Motorsports/Polaris). The lap four (of six) pass came on the main uphill section when Ishoel out-jumped Carlson into the corner, passed him, then held on as Carlson ran him (Ishoel) up high on the berm. Ishoel would send up a wall of roost, forcing Carlson to duck below his visor as he towed Carlson to the pinnacle of Mountain Top ski hill.
Out front for good, Ishoel put the hammer down and distanced himself from the rest of the field. Travis Muller (Cottew Racing/Polaris), who also challenged Carlson for the race lead early, would move up past Carlson (3rd) for 2nd place late in the contest. James Johnstad (Judnick Racing/Polaris) would put in another solid effort on the weekend, placing 4th, with Canada's Maxime Taillefer (AMSOIL/Scheuring/Ski-Doo) placing 5th.
Overall, Ishoel's 1st/1st effort at Lake Geneva propelled him all the way up to 2nd place in the Pro Lite standings behind Springer (tied with Carlson at 542 points, 2nd based on more wins). And with his 2nd place finish Muller moved up to 4th place in the standings (from 5th), one spot ahead of Trevor Leighton (Leighton Motorsports/Polaris).
Lake Geneva Sunday Pro Lite Results
1 – Elias Ishoel, Norway, Ski-Doo
2 – Travis Muller, Windom, MN, Polaris
3 – Andrew Carlson, Big Lake, MN, Polaris
4 – James Johnstad, Beltrami, MN, Polaris
5 – Maxime Taillefer, Canada, Ski-Doo
6 – Trevor Leighton, Eagle, ID, Polaris
7 – Korbyn Anderson, Allenton, MI, Ski-Doo
8 – Tyler Adams, Elk River, MN, Arctic Cat
9 – Shane Sewell, Westville, IN, Ski-Doo
10 – Kevin Wallenstein, Cadillac, MI, Ski-Doo
Overall Pro Lite Points (16 of 16 rounds)
1 – Ryan Springer, 558
2 – Elias Ishoel, 542
3 – Andrew Carlson, 542
4 – Travis Muller, 538
5 – Trevor Leighton, 537
2014-15 AMSOIL Championship Snocross, powered by Ram, season schedule:
Duluth, Minn.: Nov. 28-30
Fargo, N.D.: Dec. 12-13
Shakopee, Minn.: Jan. 9-10
Deadwood, S.D.: Jan. 30-31
Salamanca, N.Y.: Feb. 6-7
Chicago, Ill.: Feb. 20-21
Mount Pleasant, Mich.: Feb. 27-28
Lake Geneva, Wis.: March 13-15
Photos courtesy of Lissa Marsolek/ISOC
About Grand Geneva Resort & Spa
Grand Geneva Resort & Spa is an award-winning all-seasons resort set on 1,300 acres in the legendary southeastern Wisconsin community of Lake Geneva, just 90 minutes from Chicago and 50 minutes from Milwaukee. The property features 355 guest rooms; WELL Spa + Salon; two championship 18-hole golf courses; The Mountain Top, a three-chair/18-run ski and snowboard facility; 62,000 square feet of meeting and convention space and three restaurants. For more information, please visit www.grandgeneva.com and follow us on Facebook and Twitter.
About ISOC Racing
The International Series of Champions (ISOC) is the premier snowmobile race sanctioning organization in North America and sanctions national AMSOIL Championship Snocross, in addition to affiliating with nine regional circuits. Visit www.isocracing.com for more information, fan and racer memberships, schedule details and more.
About Marcus Hotels & Resorts
Marcus Hotels & Resorts is a division of The Marcus Corporation (NYSE: MCS). With the addition of The Hotel Zamora, the company owns and/or manages 20 hotels, resorts and other properties in 11 states. A force in the hospitality industry, Marcus Hotels & Resorts provides expertise in management, development and historic renovations. The company's portfolio includes a wide variety of properties including city-center meeting hotels, upscale resorts and branded first-class hotels. For more information on the latest news and updates, please visit: http://media.marcushotels.com and follow the company on Facebook and Twitter (@MarcusHotels).