September 10th, 2015 – Hubertus, Wisconsin
We are excited to announce the joining of two small family operations of Schmid/Wilbert and Kernz racing to form the new Evolution Racing. As separate teams we have been racing with and against each other for the past several years and are now combining our efforts for the 2015/2016 season. Evolution Racing will field 2016 Arctic Cat 600's for 5 riders including Merranda Schmid (#223), Colin Kernz (#810), Matt Wilbert (#123), Brayden Kernz (#811) and Ben Wilbert (#323).
Merranda Schmid started out on 120's more than 10 years ago and is now a 6th year veteran of the ACS Pro-Am Women class. In 2015 Merranda was 5th in points with 4 top 5's including a 3rd place podium at Chicago.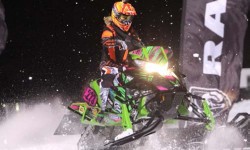 Colin Kernz has been racing snocross since he was 4 years old. Last year Colin competed in the Amateur class at the ACS National level with a 1st at Duluth and backed that up with another podium at Lake Geneva.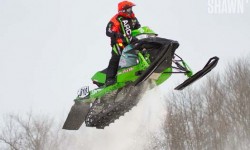 Colin was champion in both the GNSS WI Regional Pro-Lite, and Sport classes. For 15/16 Colin will be competing in the Sport class at ISOC Nationals and Pro-Lite at the regionals venues.
Coming off successful ACL surgery during the 2013-2014 season, Matt Wilbert was busy competing in the Jr. 14-15, Jr. 16-17 and select Amateur classes on the ISOC National tour. Matt made all the National finals with several top 10's. He also had several wins at the regional level and took the championship in the GNSS WI
Regional Jr.14-15 class. This year Matt will be competing in the Sport Lite and Jr. 16-17 classes at the National Level.
Brayden Kernz had an outstanding year running the Transition 8-12 class with 5 podiums, including a win at the Route 66 Speedway National. Brayden topped off the season with taking the championship in the GNSS WI Regional Transition class. In 2015-2016 Brayden will be piloting his 600 Arctic Cat in the Jr. 10-13 class.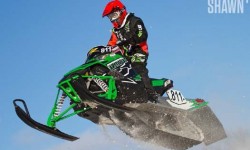 Brayden's biggest competitor and buddy, Ben Wilbert, will be joining him in the competitive Jr, 10-13 class. Ben was off to a great start last year at Duluth, qualifying 2nd out of 38 competitors in the Transition 8-12 class. He was back at it in Fargo putting down the fastest laps of the day and during the second heat landed hard off the table top causing a broken wrist. Ben was sidelined for 5 weeks but came back strong with fourth place finishes at Route 66 Speedway and the Grand Finale at Lake Geneva.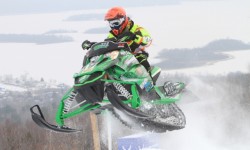 Ben topped off the comeback and season with a 9th place finish in his first Jr. Novice 10-13 final at Lake Geneva.
Sponsors: Arctic Cat, US Chrome, FXR Racing, Fly Racing, One3 Designs, Die Process Control Systems, Truck and Auto Elegance, Specialty Box and Crate, Schmid Custom Cleaning, Swendson Motorsports, Stud Boy, Bonafide Security Solutions, Roller Bites and Pro Motorsports.