FOR IMMEDIATE RELEASE
Plymouth, Minn. (November. 25, 2015) – Tucker Hibbert wins – a lot. In fact, with over 100 victories to his credit he's the winningest racer in Pro snocross history. During the 2015-2016 snocross racing season, fans can win too by signing up for the Tucker Hibbert Wins – You Win Giveaway.
Every time Hibbert wins a final during the 2015-2016 ISOC season and Winter X Games, five people will win a C-TEC2 prize pack which includes a pouch of Arctic Cat C-TEC2 Synthetic Oil and a Hat, both autographed by Tucker Hibbert. All you need to do is sign up once and you're good for the entire season – that means you get 90 possible chances to win with Tucker Hibbert!
Arctic Cat C-TEC2 Synthetic Oil was specifically-developed over a three-year period to meet the unique lubrication needs of the groundbreaking Arctic Cat 600 C-TEC2 engine. C-TEC2 Synthetic Oil has superior cold flow properties and offers the highest levels of engine protection for all Arctic Cat 2-stroke snowmobiles. It is the only oil used by the winningest racer in snocross, Tucker Hibbert.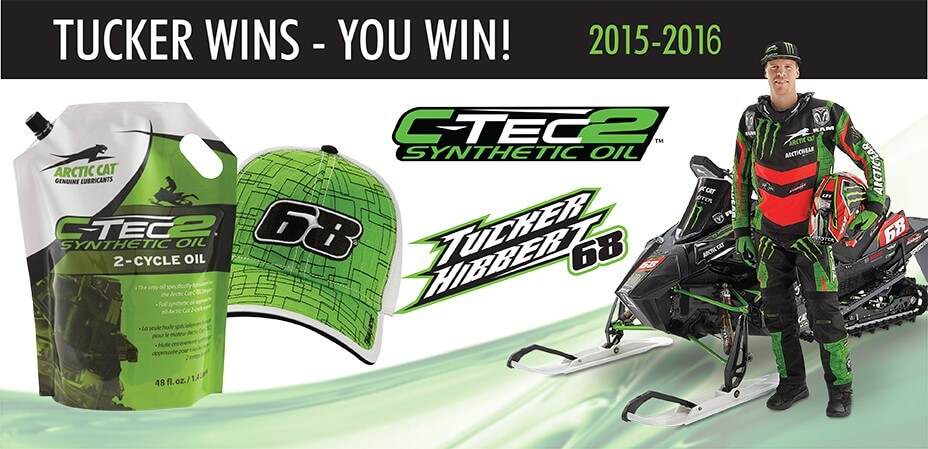 About Arctic Cat
The Arctic Cat brand is among the most widely recognized and respected in the recreational vehicle industry. The company designs, engineers, manufactures and markets all-terrain vehicles (ATVs), side-by-sides and snowmobiles, in addition to related parts, garments and accessories under the Arctic Cat® and Motorfist® brand names. Arctic Cat Inc.'s world headquarters is located in Minneapolis, Minnesota. Its common stock is traded on the NASDAQ Global Select Market under the ticker symbol "ACAT." More information about Arctic Cat and its products is available at www.arcticcat.com.