Fertile, MN (December 14, 2015) – With the warm temperatures blanketing the region putting a damper on snow making, the Christian Brothers Racing team arrived at the second stop on the Snocross National tour to find a small, tight track awaiting them at Buffalo River Race Park in Glyndon, Minnesota, site of the Fargo National. The small track made passing tough, and wet snow roost coated the goggles of anyone caught in the pack. Starts were key throughout the weekend!
Logan Christian (DOC360/Arcticwear/Arctic Cat) started his weekend off well with a win and a 4th place finish in heats Friday earning him a front row spot in the final.  Christian unfortunately fell victim to the tight first turn off the start when another sled hit him forcing him off the track and damaging his front suspension, Christian salvaged a 13th.  On Saturday he transferred through the LCQ and rode out the 20-lap final to a 6th place finish.
"Coming back from Duluth I felt great on the track in Fargo," said Christian. "My mechanics Betsy Haldorson, D.J. Ekre and Mike Carver had my sled really working good. We need a to figure out a few small things but we'll be ready for Shakopee."
Dave Joanis (Royal Distributing/Arctic Cat) had a similar weekend to Christian, transferring through the LCQ Friday but then struggling with an off in the in the final. Joanis sailed through qualifying Saturday finishing 3rd and 2nd in heats but had to fight heavy traffic on the tight track in the final where he finished 10th.
"After working through some crashes on Friday I came back and had a good day of qualifying on Saturday," said Joanis. "I was feeling good in the final but made some mistakes early in the race and ended up in 10th. Right now I'm looking forward to the break before the next race to work on things I need to do to get better."
Tyler Adams (Arctic Cat) had a good day of racing Friday, qualifying for the final with 6th place and 2nd place finishes in heat racing and battling traffic in the final to an 11th place slot. On Saturday Adams went out for the second round of heats, got a great start but had his weekend come to an early end when he he was hit in the air by another racer.
"I was in second going over the finish line jump and got landed on," said Adams. "Diagnosis is a fractured pelvis, so overall the weekend did not turn out well for me."
Normally the spearhead for CBR's cross-country efforts, Zach Herfindahl (Arcticwear/Arctic Cat) was racing in Fargo to get some track time before his season starts. Jumping into the ultra-competitive Pro Lite class is no picnic, but Herfindahl put in a good showing. After spending Friday finding the pace, he carved out 3rd place and 2nd place finishes in heats Saturday which earned him a spot in the final. Ultimately Herfindahl left Fargo with a 14th place finish on his rookie Pro Lite debut.
"My first time racing a snocross national, I got 4th pick for the main on Saturday," said Herfindahl. "I came out mid-pack and was running good but had an off about three-quarters of the way through. Friday I struggled with my starts but overall it was a fun weekend."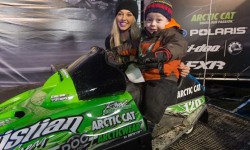 The second of eight Arctic Cat ZR 120 snowmobile giveaways took place at the Fargo National with young Logan Herfindahl walking away with a new sled. You'd be hard-pressed to find a happier kid after he claimed his prize. The next giveaway will take place at the Snocross National in Shakopee, Minnesota, January 8-9, 2016. Fans can get more information and sign up at the Christian Brothers Racing merchandise trailer.
Follow the team this season on Facebook, Twitter, YouTube and Instagram. For more information on Christian Brothers Racing visit www.christianbrosracing.com.
Click on the link below to watch the Fargo 2015 Recap Video
https://youtu.be/Ris6J72UWzI
CBS Sports Television Coverage
Episode #3 : Fargo National December 26, 2015 @ 10:00AM
Episode #4 : Fargo National January 2, 2016 @ 10:00AM
Media contact
Lissa Marsolek: lissa@christianbrosracing.com
Photos Lissa Marsolek