CANTERBURY PARK- SHAKOPEE, MN. (January 8, 2016) – After almost a four week break, the AMSOIL Championship Snocross Series is back on track and ready to fly high. Canterbury Park has played host to Snocross racing for many years, a pristine venue that's always a favorite on the schedule for both the riders and fans.  A tight points battle has shaped up in the Pro Open Class with Tucker Hibbert(68) and Kody Kamm(53) both tied at 176 points with Tim Tremblay(11) close behind at 154 points.
The Pro Lite division top in points rider Montana Jess has a twenty two point lead over Kevin Wallenstein(122) who is sitting in second with Maxime Taillefer(144) sitting at 120 points in third. The young rider Elias Ishoel(200) is set to race after some much needed healing time form his injury from Duluth, as we have seen before this gunner is a sure bet to mix things up in the final, it is either checkers or wreckers.
It is Night One of the Pirtek National Snocross at Canterbury Park, it is going be exciting!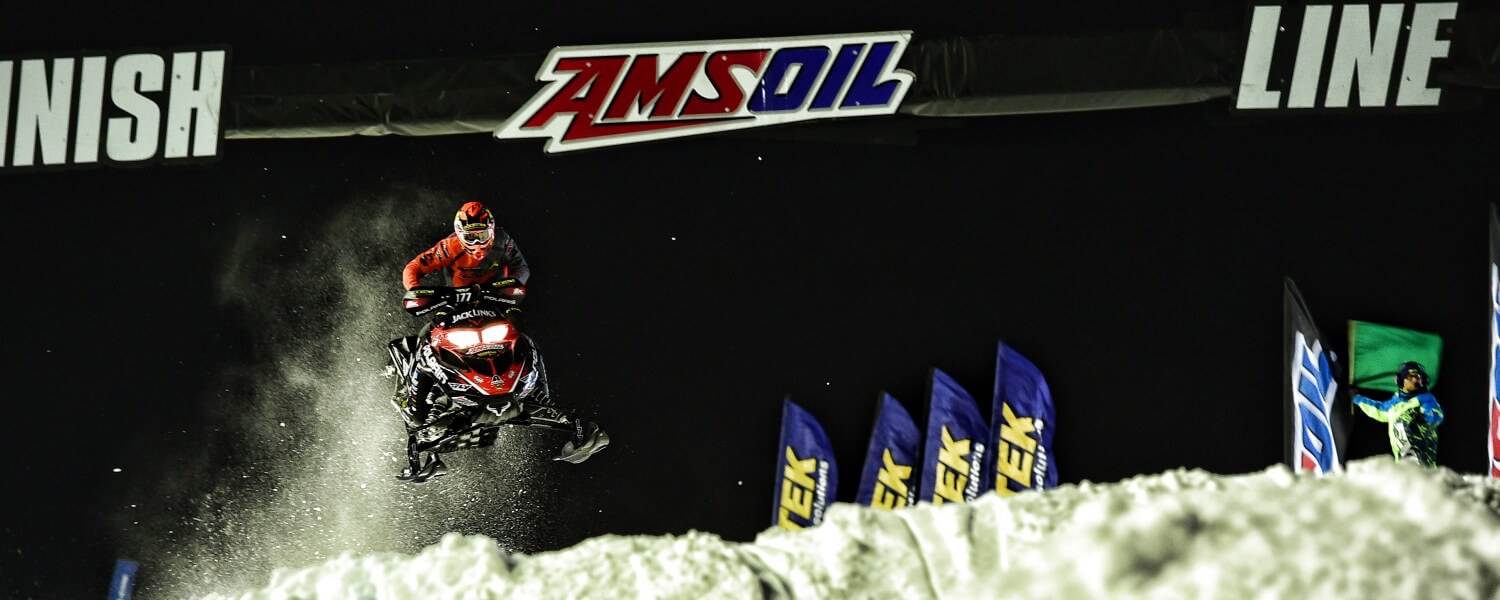 PRO LITE
As expected some great action was about to unfold at Canterbury Park for the Pirtek National Snocross Pro Lite Final. Taking the Stud Boy hole shot after a close battle out of the gate was the Jake Angove(177) who took a 2nd and a 5th in the heat races. Angove got out to an early lead followed by Elias Ishoel(200) and Travis Kern(201) falling into the third spot. While challenging for the lead on lap two Elias Ishoel(200) was running through the rhythm section closing in on Angove when his sled stopped dead on the top of a jump leaving him out of contention for the remainder of the race.
Travis Kern(201) would be there to collect the 2nd spot and start to chase down Angove who was pushing out almost a 3 second lead on the field. At the halfway point Kern would close the gap to less than 2 seconds and Kevin Wallenstein(122) was starting to make his move in on Kern for a great battle for 2nd.  As the laps came closer to the checkers, Angove would continue to hold the lead and go on for the his first ever Pro Lite win of the 2015-2016 Season followed by Kern and Wallenstein rounding up the top three on the box.
PRO LITE RESULTS –
1) Jake Angove(177)
2) Travis Kern(201)
3) Kevin Wallenstein(122)
4) Michael George(307)
5) Daniel Benham(221)
6) Korbyn Anderson(17)
7) James Johnstad(14)
8) Brady Love(444)
9) Brett Nastala(248)
10) Luke Wollenberg(23)
11) Tyler Adams(705)
12) Maxime Taillefer(144)
13) Montana Jess(765)
14) Jordan Kraus
15) Elias Ishoel(200)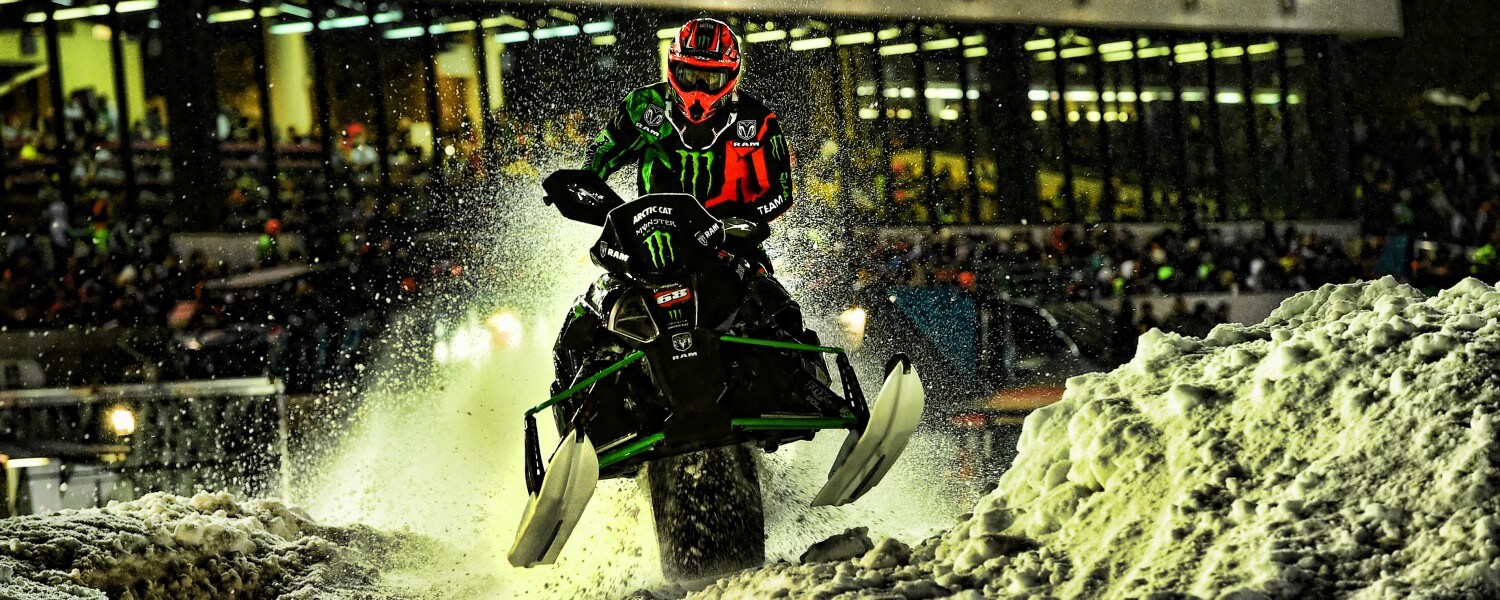 PRO OPEN
Four weeks between the last race gives the teams a tremendous opportunity to revaluate and regroup before their next race, and that is just what Tucker Hibbert(68) did coming into the weekends event.  Tucker made a clean sweep in the heat races with a top finish in both giving him the top qualifying spot. Kody Kamm(53) who is tied with Tucker in points also battled hard in the heats with a 1st and 2nd place finishes.
With the new ISOC inversion rule, the top qualifier gets the last pic on the starting line for the Final which forced Hibbert into a less than ideal starting position. Some may consider this to be a minor setback, but not for Hibbert and the 68 Arctic Cat sled as they rose to the occasion and slammed down the Stud Boy Hole Shot. Top runners throughout the season have been Kyle Pallin(324) and Kody Kamm(53), but not tonight as they neither would finish in the top ten. With a 14th place finish for Kamm, this gives Hibbert a nice point lead going into Saturday nights races.  Although Hibbert was awarded the Stud Boy Hole shot, Logan Christian(43) on the Christian Brothers sled when handlebar-to-handlebar down the front stretch and over the AMSOIL Finish Line jump, Christian would fall back after the FXR Turn where Hibbert grabbed a big lead over the field.
Petter Narsa(54) was in the battle early on for second, but Tim Tremblay(11) would overtake Narsa and begin to work on Logan Christian(43). Coming off the AMSOIL Finish Line jump Tremblay would go completely off the track giving the third spot back to Narsa. After re-entry onto the track, Tremblay would get collected with David Joanis(115) who was doubling the rhythm section, who got into Tremblay and went for a ride. Joanis ended the night with a 15th place finish while Tremblay was able to regroup and finish the night in 5th.  While the laps continue to countdown, Hibbert is on a Sunday cruise with a sizeable lead over the field who rode a flawless uncontested race.
Through all the action in the middle of the pack, Adam Renheim(311) was there to continue to move forward and take advantage, halfway through the race, Renheim was in contention with Narsa for third place. Renheim would make his move on Lap 10 in a great pass for 3rd.  Logan Christian(43) sitting comfortably in 2nd finds himself off the sled after landing on downside of the AMSOIL Finish Line jump, it would be Adam Renheim(311) who would be there to move into the 2nd spot where he would finish followed by Narsa in 3rd and taking top honors would be Tucker Hibbert(68) who rode flag-to-flag in the lead, "I was very happy with my riding tonight." said Hibbert, "We regrouped after the first two rounds of racing and made the changes we needed to make coming into tonight." explained Tucker.
PRO OPEN RESULTS –
1) Tucker Hibbert(68)
2) Adam Renheim(311)
3) Petter Narsa(54)
4) Logan Christian(43)
5) Tim Tremblay(11)
6) Lincoln Lemieux(13)
7) Corin Todd(36)
8) John Stenberg(259)
9) Ryan Springer(541)
10) Justin Broberg(168)
11) Andrew Carlson(151)
12) Danny Poirier(312)
13) Kyle Pallin(324)
14) Kody Kamm(53)
15) David Joanis(115)