Fertile, MN (February 9, 2016) – Fresh off the Winter X Games, Christian Brothers Racing made the cross-country trek from Aspen, Colorado, to Salamanca, New York, to compete in the U.S. Air Force Snocross National. Logan Christian, Dave Joanis and Tyler Adams entered the second half of the season with solid performances and a podium finish.
After going 4 & 1 in qualifying on Friday, Christian (DOC 360/Arcticwear/Arctic Cat) slotted into the 8th position in the order off the start in the final. But he immediately began picking off riders, charging through traffic and utilizing every inch of the track until the checkers flew and he had worked himself into 3rd place. The 3rd place finish marks Christian's first podium on the national series this season.  Christian came out hot again on Saturday winning his first round of the day, however in round 2 while making a run at 1st place he hit a kicker and was ejected from his sled scoring a 7th place.  In the final Christian came out swinging, battling until the very end and taking home a 4th place finish.
"I can't thank my team enough, my Arctic Cat sled was ripping all weekend," said Christian. "I got a bad start Friday but worked up to 3rd, and then Saturday I had a pretty bad off and was in some pain headed into the final. It didn't affect my riding and I finished 4th which I was pretty happy with. I'm going to use this two-week break to heal up and work on some things for future races."
Joanis (Royal Distributing/Arctic Cat) transferred to the final Friday night from the LCQ. A back row start is tough any time, but Joanis made the best of it moving up to 9th place in the order by the time the checkers flew. However, he also sustained an injury on Friday and despite solid attempts in qualifying on Saturday he was  forced to withdraw from racing Saturday night.
"I hurt my leg Friday night and struggled with it all Saturday," said Joanis. "After the second qualifier I decided I couldn't keep going.  I'm going to take this time off to get things checked out and prepare for the rest of the season."
Adams (Arctic Cat) nearly matched Christian's 3rd place podium finish in the Pro Lite class, landing a 4th place spot Friday night. He came back Saturday and bettered his heat finishes on his way to the final where he recorded a 10th place finish.
"Friday went well, I ended up with a 4th place finish," said Adams. "Saturday I had trouble finding my rhythm and that made it tough. I have to find it again at the next race in Michigan and get that podium spot!"
New York was also the scene of the fifth of eight Arctic Cat ZR 120 snowmobile giveaways sponsored by Christian Brothers Racing and Arctic Cat. Young Braden came all the way from Buffalo with his family to win the sled and kickstart his snowmobile experience. The next giveaway will take place February February 26-27 at the Ram Trucks Snocross National in Mt. Pleasant, Michigan. Fans can get more information and sign up at the Christian Brothers Racing merchandise trailer.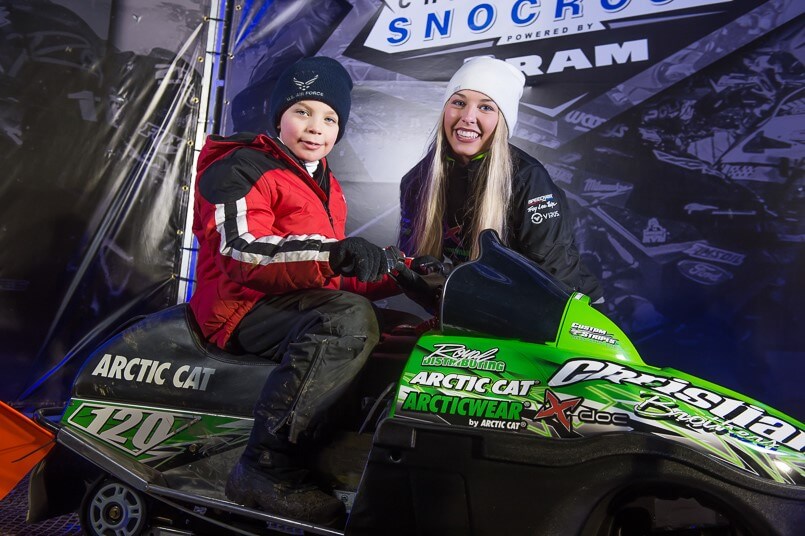 Next up for the Christian Brothers Racing snocross riders is the Ram Trucks Snocross National in Mt. Pleasant, Michigan, February 26-27.
–VIDEO ALERT– Click Play on the link below to watch the New York Video Recap
https://www.youtube.com/watch?v=m1N4ZyRWAc8&feature=youtu.be
CBS Sports Television Coverage
Episode #8 : US Air Force Snocross National February 14, 2016 at 10:00AM
Episode #9 : US Air Force Snocross National February 21, 2016 at 10:00AM
Past Episodes
https://snocross.com/on-demand/
Follow Christian Brothers Racing this season on Facebook, Twitter, YouTube and Instagram. For more information on Christian Brothers Racing visit www.christianbrosracing.com.
Media contact
Lissa Marsolek: lissa@christianbrosracing.com
Photos : Lissa Marsolek