SOARING EAGLE CASINO AND RESORT, MT. PLEASANT, MI. (February 27, 2016),
AMSOIL Championship Snocross fans were treated to a picture perfect day in Mt. Pleasant at the beautiful Soaring Eagle Casino and Resort with blue skies painted across the Michigan horizon. As the sun settled gently in the west, the crowds began to fill the hillside with anxious anticipation for the Pro's to put on a show. Intense action and great battles were the name of the game in Round 11, and we expect all the same in the final round of the RAM Trucks Snocross National.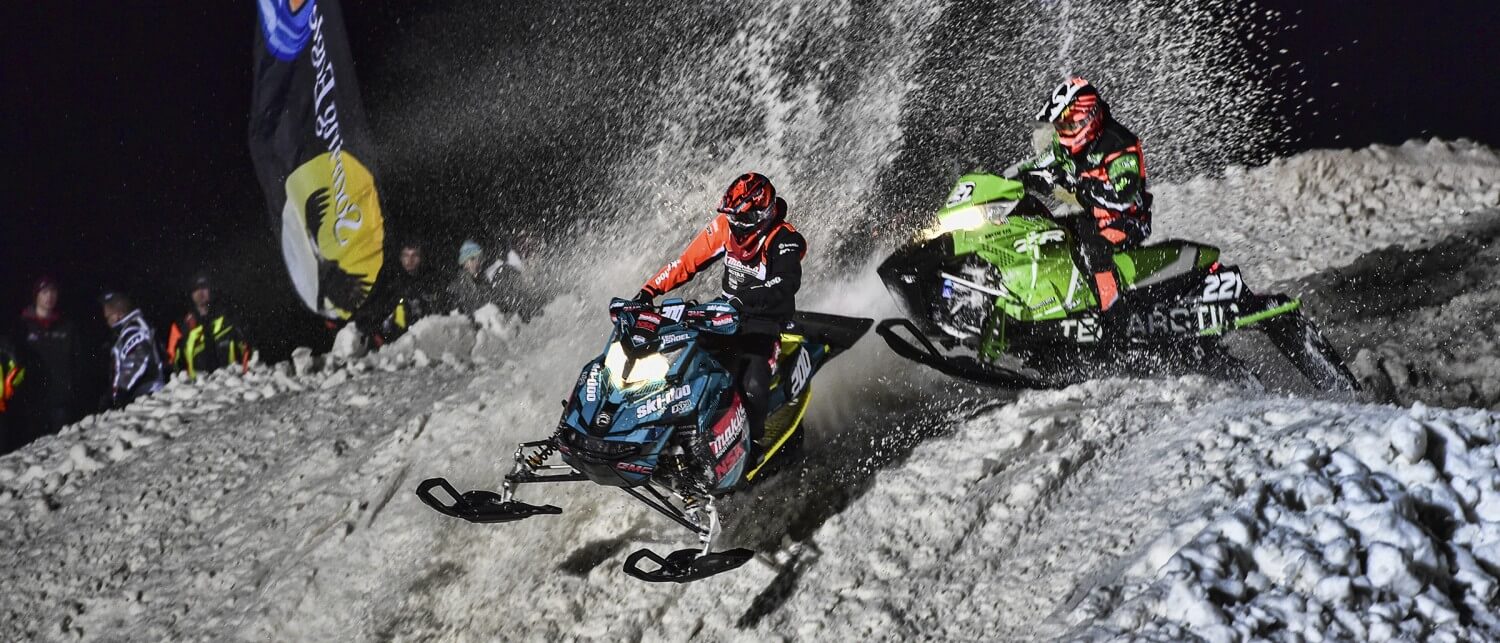 PRO LITE –
Championships can often be won with consistency, it is not necessary to mark a W in every race. Montana Jess(765) hasn't been able to snag that top spot on the box yet, but he has made his mark on the podium nearly every race this season, after a great start and taking the lead early on from Daniel Benham(221) who got the Stud Boy Hole Shot. Jess held off hard charger Elias Ishoel(200) as long as possible, but Ishoel came on strong and made the picture perfect pass on lap four for the lead and would go onto to the checkers for back-to-back wins in Michigan.
Montana Jess(765) would hold onto second followed by Daniel Benham(221) taking the final podium spot in third. A six place by Jake Angove(177) gives Montana Jess some breathing room in the points chase, while Elias Ishoel(200) has now gained two more spots with the win putting him 4th in points.
PRO LITE RESUTLS –
1. Elias Ishoel (200) – Warnert Racing
2. Montana Jess (765) – Jess Racing
3. Daniel Benham (221) – Factory Arctic Cat
4. Michael George (307) – Woodies Racing
5. Korbyn Anderson (17) – Anderson Racing
6. Jake Angove (177) – Judnick Motorsports
7. Tyler Adams (705) – Christian Brothers Racing
8. Brett Nastala (248) – N2 Racing
9. Maxime Taillefer (144) – Amsoil/Air Force/Ford
10. Travis Muller (436) – Cottew Motorsports
11. Jacob Blanshan (132) – Blanshan Racing
12. Nick Pattyn (98) – Stud Boy Racing
13. Brady Love (444) – 444 Motorsports
14. Kyle Rau (25) – Rau Racing
15. Cole Cottew (21) – Cottew Motorsports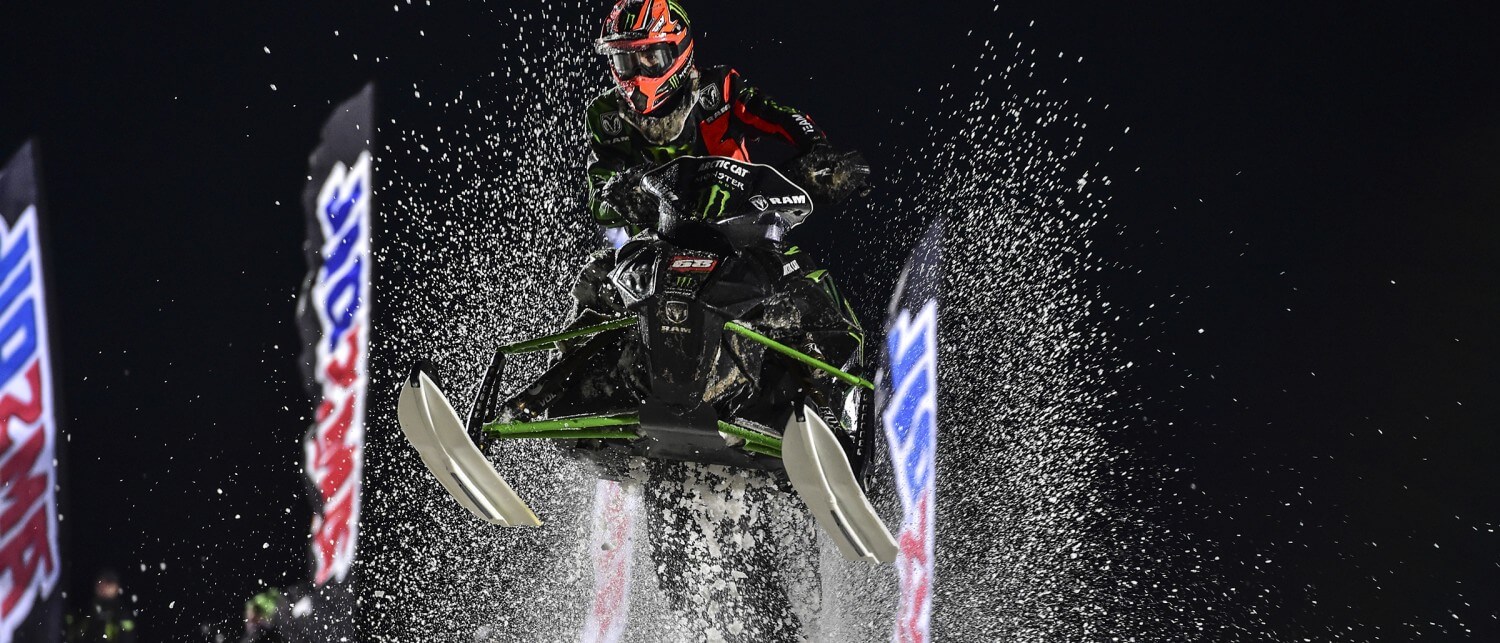 PRO OPEN –
Coming off the win in Round 11, Tucker Hubbert(68) was unable to put together top qualifying runs with two fourth place finishes while Kyle Palin(324) put together a solid qualifying effort with a first and second place finish. With the final on the line the green flag drops it is Peter Nasr(54) (who came from the LCQ) with the Stud Boy Holeshot, followed by Tucker Hubbert(68) and Lincoln Lemieux(13) also in the mix. Narsa who has been riding injured is on point and riding on a rail holding off Hubbert, but Tucker would capitalize on lap 5 who made quick work for the pass through the Polaris Corner and never look back with another dominating performance.
Lincoln Lemieux(13) aboard the AMSOIL/Air Force/Rockstar sled was working hard to reel in Narsa for the battle for second,  which continues lap-after-lap, Lemieux is finally able to make a clean inside pass for second. Tucker now checked out and onto the checkered flag, Lemieux will hold onto second and Narsa grabs a podium finish in third.
PRO OPEN RESULTS –
1. Tucker Hibbert (68) – Monster Energy / Arctic Cat / Ram Trucks
2. Lincoln Lemieux (13) – Amsoil/Air Force/Rockstar
3. Petter Narsa (54) – Hentges Racing
4. Ryan Springer (541) – Carlson Motorsports
5. Tim Tremblay (11) – Amsoil/Air Force/Ford
6. Corey Watkinson (173) – Watkinson Motorsports, Arctic Cat
7. Ross Martin (837) – Judnick Motorsports
8. Kyle Pallin (324) – Mystik, Loctite, Polaris, Red Bull
9. Zach Pattyn (99) – Stud Boy Racing
10. John Stenberg (259) – Warnert Racing
11. Corin Todd (36) – Leighton Motorsports
12. Jake Scott (42) – Jess Racing
13. Andrew Carlson(151) – CARLSON MOTORSPORTS
14. Matt Piche (51) – ROYAL DISTRIBUTING/Arctic Cat/Arctic Wear
15. Adam Renheim (311) – Boss Racing