SOARING EAGLE CASINO AND RESORT, MT. PLEASANT, MI. (February 26, 2016),  Sometimes things have a funny way of working themselves out. Throughout the 2015-2016 season, the ISOC crew has been challenged with warm temps and lack of snow fall making it increasingly difficult to let the green flags fly and the big dogs eat. When there is no snow, there is no race, three days ago there was no snow and it looked as if the RAM Trucks Snocross National would have to be canceled, but Mother Nature has blessed us with a beautiful white blanket of snow as a storm made it's way through the area dumping several inches of snow. Thank you Mother Nature, we do appreciate it.
Three events left on the roster and the battle in the Pro Lite division looks to go down to the wire with Montana Jess(765) holding onto the points lead and Jake Angove(177) inching ever closer. The Pro Open field continues to be plagued with injuries, however Tucker Hibbert(68) continues to extend his points lead with each checkered flag.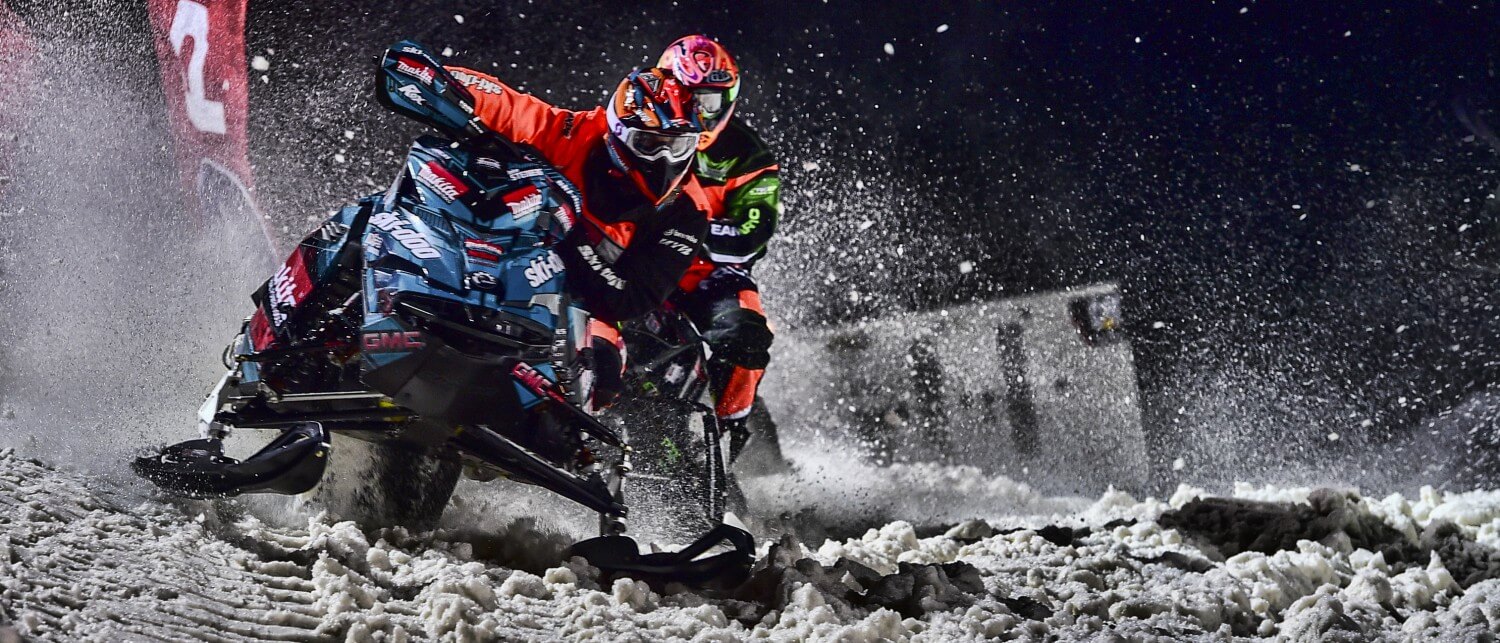 PRO LITE –
While the points race is starting to tighten up between Montana Jess(765) and Jake Angove(177) the hot shoe Elias Ishoel(200) is starting to come into his own and finding the formula needed to put together an entire race from start to finish leading to the win for some much needed points. Elias Ishoel(200) aboard the Makita Ski-Doo nailed a near perfect day bringing home another win and inching closer to a points challenge for the Championship.  As the season begins to edge closer to the end,  Montana Jess(765) is keeping the Championship in sight as he landed a third place podium finish while Maxime Taillefer(144) grabbed the second spot on the box to round of the top three.
PRO LITE RESULTS –
1. Elias Ishoel (200) – Warnert Racing
2. Maxime Taillefer (144) – Amsoil/Air Force/Ford
3. Montana Jess (765) – Jess Racing
4. Jake Angove (177) – Judnick Motorsports
5. Daniel Benham (221) – Factory Arctic Cat
6. Cole Cottew (21) – Cottew Motorsports
7. Tyler Adams (705) – Christian Brothers Racing
8. Korbyn Anderson (17) – Anderson Racing
9. Travis Muller (436) – Cottew Motorsports
10. Michael George (307) – Woodies Racing
11. Kevin Wallenstein (122) – KW RACING
12. Jacob Blanshan (132) – Blanshan Racing
13. Kyle Rau (25) – Rau Racing
14. Brett Nastala (248) – N2 Racing
15. Shane Sewell (219) -Team Bauerly Racing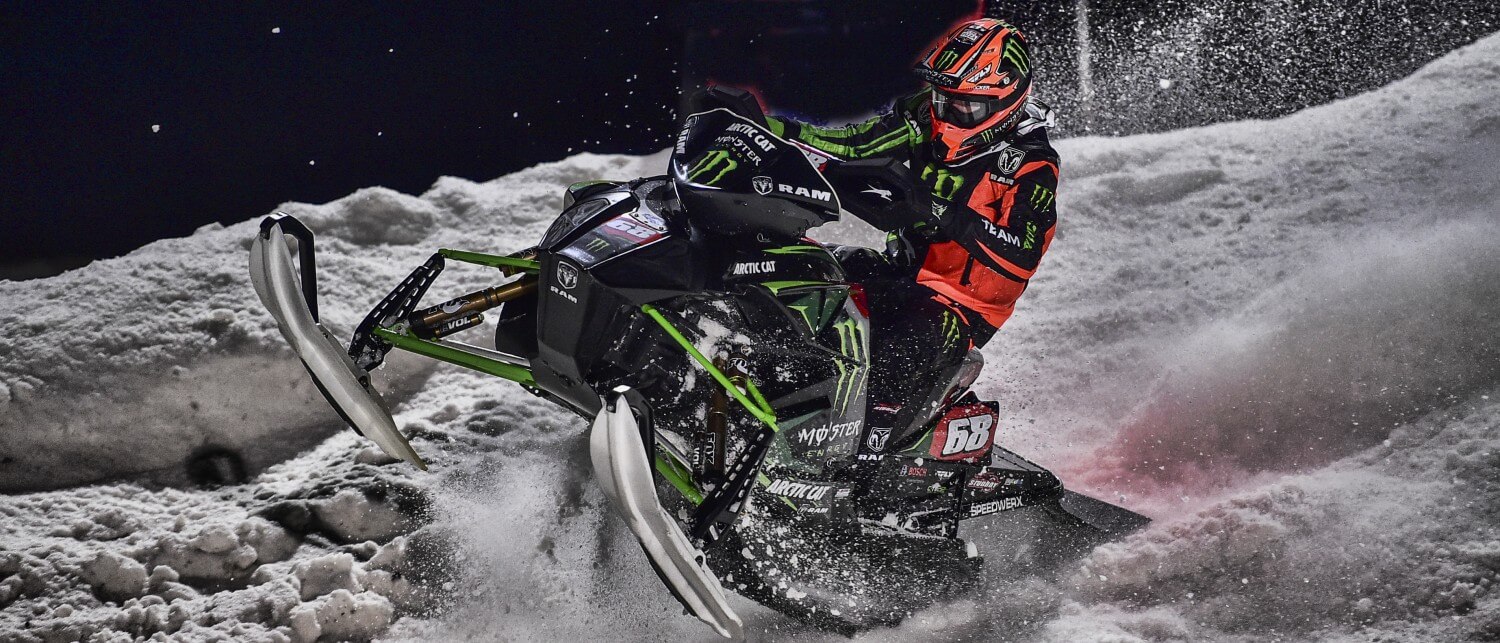 PRO OPEN – FINAL
Moving into Round 11 after a two week break gives the teams some time to regroup and get some much needed rest before the final three races of the season. After a podium finish in Salamanca, Logan Christian(43) was running very strong on the Christian Brothers racing Arctic Cat and looked to finish off the season very well, but an unfortunate incident in the qualifying rounds at Mt. Pleasant resulted in an injury that will end the season for Logan.
The Monster Energy Team continues to lay down the law and bring home the victories with Tucker Hibbert(68) grabbing another first place podium finish with Adam Renheim(311) running a impressive race and Tim Tremblay(11) bringing home a podium finish for the AMSOIL/Air Force/Ford Ski Doo Team, Tremblay finds his way to the box in the number three spot.
1. Tucker Hibbert (68) – Monster Energy / Arctic Cat / Ram Trucks
2. Adam Renheim (311) – Boss Racing
3. Tim Tremblay (11) – Amsoil/Air Force/Ford
4. Kyle Pallin (324) – Mystik, Loctite, Polaris, Red Bull
5. John Stenberg (259) – Warnert Racing
6. Lincoln Lemieux (13) – Amsoil/Air Force/Rockstar
7. Petter Narsa (54) – Hentges Racing
8. Jake Scott (42) – Jess Racing
9. Corey Watkinson (173) – Watkinson Motorsports, Arctic Cat
10. Corin Todd (36) – Leighton Motorsports
11. Andrew Carlson Andrew Carlson(151) – CARLSON MOTORSPORTS
12. Zach Pattyn (99) – Stud Boy Racing
13. Matt Piche (51) – ROYAL DISTRIBUTING/Arctic Cat/Arctic Wear
14. Ryan Springer (541) – Carlson Motorsports
15. Ross Martin (837) – Judnick Motorsports