NIELSEN'S SNOCROSS GRAND FINALE – LAKE GENEVA, WI. (March 18, 2016) – A few shorts months ago, the rocket fast Pro Open riders lined up for the first race of the 2015-2016 season which seems like it was only last weekend. One word can describe this years AMSOIL Championship Snocross Series, EPIC!
Coming into the weekend, Tucker Hibbert(68) is on-point to ink his 10th Championship which is nothing less than an epic achievement that will likely never be challenged and be marked in record books for many years to come. In the Pro Lite division, the hot shoe Elias Ishoel(200) continues to amaze and dazzle the crowd from the drop of the green flag while Montana Jess(765) has continued to maintain the points lead without top podium finish. It has been a season nothing short spectacular, and what better place to bring it to a close than in the hills of Wisconsin at the beautiful Grand Geneva Resort & Spa.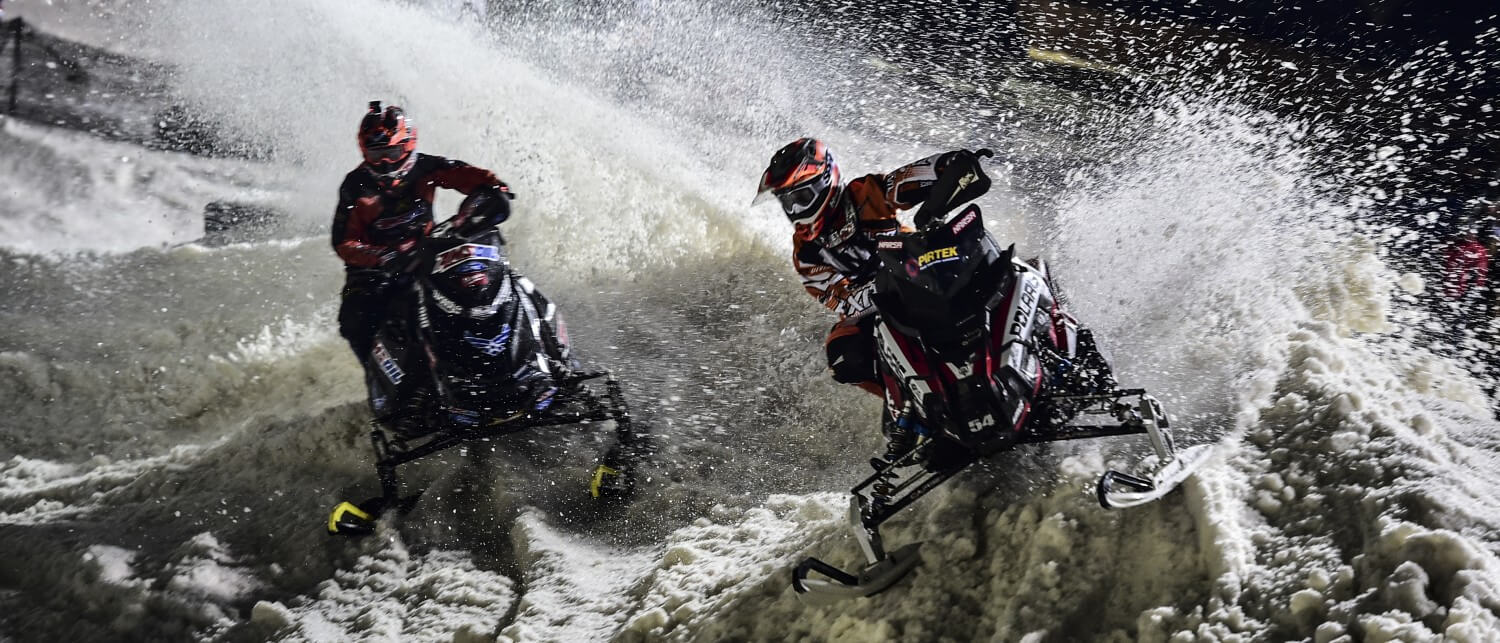 PRO OPEN
With the points championship nearly wrapped up for Tucker Hibbert(68), he will only need to finish in front of Tim Tremblay(11) in the final to get the championship. Hibbert was the top qualifier for Round 15, but it was Petter Narsa(54) who captured the Stud Boy Holeshot. Stacked bar-to-bar in a battle for second is Ross Martin(837) and Lincoln Lemieux(13) followed by Tucker Hibbert(68) and Adam Renheim(311) in fifth. To add a little twist to the competition, the ISOC Officials added the Pirtek Fastline which is an optional section of the track that riders can use only once shaving of several seconds of the overall lap time.
After a 2.5 second lead on the field, Narsa is suddenly challenged by Lincoln Lemieux(13) at the mid-point in the race, knocking on the door lap-after-lap, Lemieux tries to grab the top podium spot on the inside, on the outside, any line he can find, but Narsa is on fire and takes it all the way to the checkers for the win from start to finish. Lincoln Lemieux(13) brings home the second place podium finish followed by Tucker Hibbert(68) landing in third giving a podium finish, but also clinches his 10th Championship.
1. Petter Narsa (54) Hentges Racing
2. Lincoln Lemieux (13) Amsoil/Air Force/Rockstar
3. Tucker Hibbert (68) Monster Energy / Arctic Cat / Ram Trucks
4. Adam Renheim (311) Boss Racing
5. Ross Martin (837) Judnick Motorsports
6. Corey Watkinson (173) Watkinson Motorsports, Arctic Cat
7. Tim Tremblay (11) Amsoil/Air Force/Ford
8. Andrew Lieders (857) Lieders Racing
9. Jake Scott (42) DOC /Arctic Wear / Arctic Cat
10. Kyle Pallin (324) Mystik, Loctite, Polaris, Red Bull
11. Corin Todd (36) Leighton Motorsports
12. Zach Pattyn (99) Stud Boy Racing
13. Tyler Adams (705) Christian Brothers Racing
14. Matt Piche (51) ROYAL DISTRIBUTING/Arctic Cat/Arctic Wear
15. Michael George (307) Woodies Racing