NIELSEN'S SNOCROSS GRAND FINALE – PRESENTED BY DAYCO – LAKE GENEVA, WI. (March 20, 2016) – The AMSOIL Championship Snocross Series 2015-2016 final day begins with beautiful blue skies and mild temps, no better way to close the books for the final rounds of racing action. The Pro Lite division as expected came down to the final rounds where Montana Jess(765) who has been consistent all season long with a podium finish every single round was crowned the Pro Lite Champion.
The Pro Open division champion Tucker Hibbert(68) inked his name once again in the record books, while Tim Tremblay(11) and team mate Lincoln Lemieux(13) battled to the wire for second and third in the final points standings.
It has been an incredible season from the drop of the first green flag leaving fans on their feet cheering for more at every venue and riders and teams hungry for the adrenaline of the victory. This is the AMSOIL Championship Snocross Series, this is with out a doubt, "The Best Show on the Snow".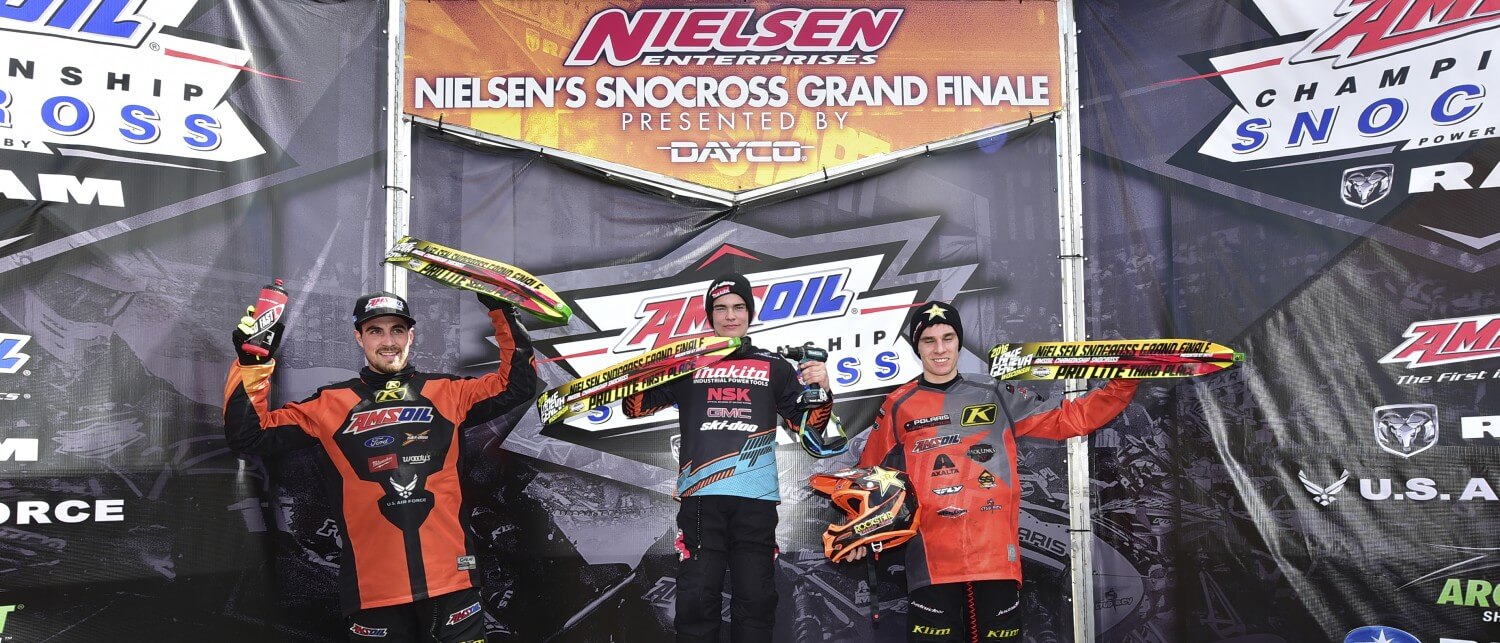 PRO LITE –
Top three in points were the top three qualifiers with Elias Ishoel(200) qualifying first followed by Jake Angove(177) and Montana Jess(765). It is all about locking up points in the final Pro Lite final, only eight points separate second and third in points with Jake Angove(177) in second and Elias Ishoel(200) in third.
Montana Jess(765) launches out of the start line to the Stud Boy Holeshot but gets tangled up with sponsor signage in the first turn where Elias Ishoel(200) quickly takes advantage and moves into first, followed by Jake Angove, Elias Ishoel(200) must finish several positions in front of Angove to take second in points.
Third place battle between Montana Jess(765) and Maxime Taillefer(144) continued lap-after-lap until Taillefer was able to capitalize with an inside pass, but Jess would fight back and move back into third. At the mid-point in the race, Elias Ishoel(200) has extended his lead by five seconds.
With only two laps to go, Maxime Taillefer(144) makes a hard charge in the RAM Runaway section to make the pass and move into third, on a rail and hooked up he tracks down Jake Angove(177) to overtake second. With the checkers in the air Elias Ishoel(200) takes home his tenth win on the season followed by Maxime Taillefer(144) and Jake Angove(177) holds on for third. Elias on the podium makes the announcement that he will be moving up to the Pro Open division for the 2016-2017 season.
Congratulations to Montana Jess(765) for his National Championship in his Rookie Pro Lite year!
FINAL RESULTS –
1. Elias Ishoel (200) – Warnert Racing
2. Maxime Taillefer 144 Amsoil/Air Force/Ford
3. Jake Angove (177) – Judnick Motorsports
4. Montana Jess (765) – Jess Racing
5. Daniel Benham (221) – Factory Arctic Cat
6. Travis Muller (436) – Cottew Motorsports
7. Brett Nastala (248) – N2 Racing
8. Cole Cottew (21) – Cottew Motorsports
9. James Johnstad (14) – Cottew Motorsports
10. Brady Love (444) – 444 Motorsports
11. Shane Sewell (219) – Team Bauerly Racing
12. Kyle Rau (25) – Rau Racing
13. Brandon Lind (378) – RSDWinterRacing
14. Kevin Wallenstein (122) – KW RACING
15. Korbyn Anderson (17) – Anderson Racing
TOP TEN FINAL POINTS STANDINGS –
1. Montana Jess – 583
2. Jake Angove – 546
3. Elias Ishoel – 543
4. Daniel Benham – 511
5. Maxime Taillefer – 485
6. Kevin Wallenstein – 437
7. Cole Cottew – 380
8. Travis Muller – 365
9. Michael George – 354
10. Korbyn Anderson – 318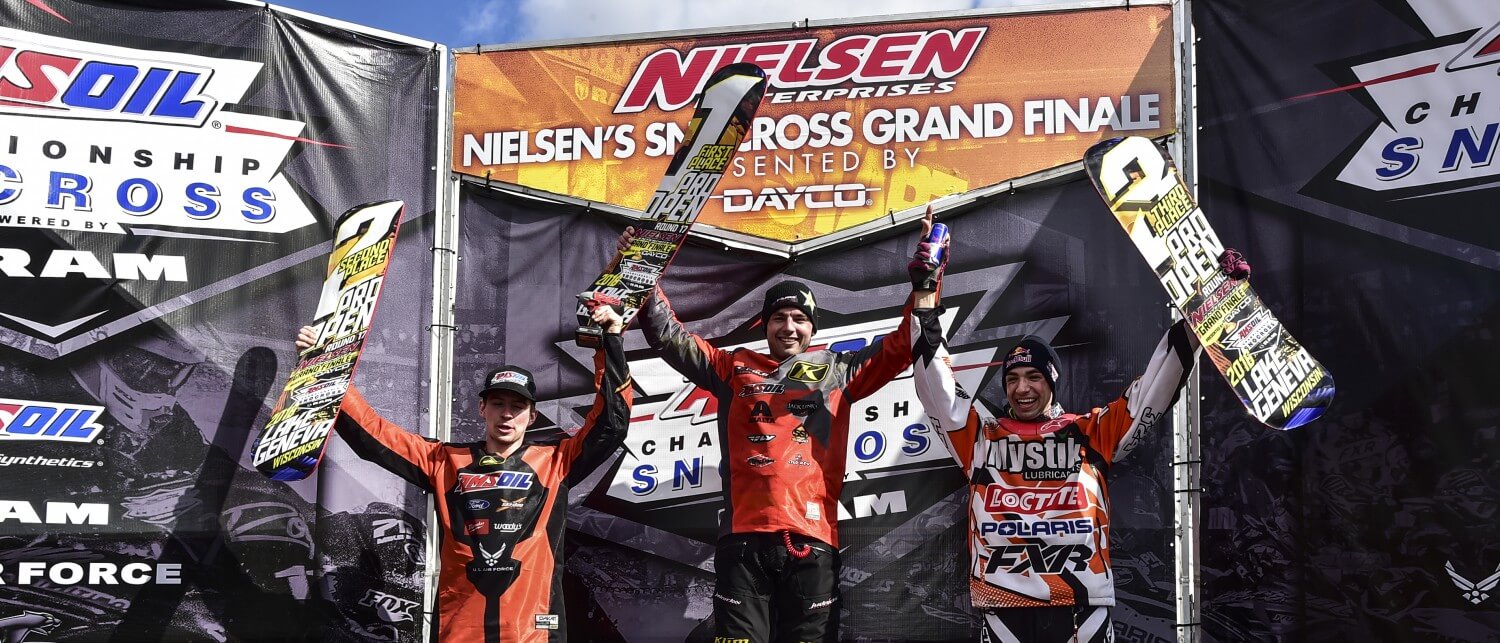 PRO OPEN –
Qualifying rounds finished up with Tucker Hibbert(68) as the top qualifier, Petter Narsa(54) had some mechanical troubles in the first round, but came back with a second in Round 2 and Lincoln Lemieux(13) with a solid second and first place finish.
The final race of the season lines up at the Hayes Start line with all eyes set on the ISOC Starter, out of the gate and onto Stud Boy Holeshot, is local rider Ross Martin(837). Top qualifier Tucker Hibbert(68) gets tangled up with another rider on the up hill section of the start putting him far behind the field on the first lap.
Due to snow deterioration, ISOC officials were forced to change the Pirtek Fastline to the primary path of the race course, all riders are now required to run to the top of the track one time within the race. Ross Martin(837) continued to lead the race until Kyle Pallin(324) was able to move into first when Martin took the high side. As the laps winded down, Martin was able to close the gap and when Pallin took his high side lap, Martin was in the ideal position to run the Pirtek Fastline and move back into first.
The crowd was on their feet, arms and cheers in the air as Martin rode to the checkers to take his second win of the season. Season Champion Tucker Hibbert(68) battled hard to catch up to the field but was unable to finish in the top five. Hard charger Lincoln Lemieux(13) has come on strong the last half of the season making his way to several podium finishes makes a move on Pallin to bring home a second place finish while Pallin holds on for third.
FINAL RESULTS –
1. Ross Martin (837) – Judnick Motorsports
2. Lincoln Lemieux (13) – Amsoil/Air Force/Rockstar
3. Kyle Pallin (324) – Mystik, Loctite, Polaris, Red Bull
4. Petter Narsa (54) – Hentges Racing
5. John Stenberg (259) – Warnert Racing
6. Tim Tremblay (11) – Amsoil/Air Force/Ford
7. Corey Watkinson (173) – Watkinson Motorsports, Arctic Cat
8. Adam Renheim (311) – Boss Racing
9. Jake Scott (42) – DOC /Arctic Wear / Arctic Cat
10. Corin Todd (36) – Leighton Motorsports
11. Andrew Lieders (857) – Lieders Racing
12. Zach Pattyn (99) – Stud Boy Racing
13. Michael George (307) – Woodies Racing
14. Tyler Adams (705) – Christian Brothers Racing
15. Tucker Hibbert (68) – Monster Energy / Arctic Cat / Ram Trucks
TOP TEN FINAL POINTS STANDINGS –
1. Tucker Hibbert – 757
2. Tim Tremblay – 646
3. Lincoln Lemieux – 610
4. Adam Renheim – 599
5. Kyle Pallin – 582
6. Corin Todd – 523
7. Petter Narsa – 480
8. John Stenberg – 450
9. Ross Martin – 430
10. Corey Watkinson – 419