AMSOIL CHAMPIONSHIP SNOCROSS 2015-2016 SEASON WRAP UP. (April 12, 2016)
It would be hard for anyone to say this season hasn't been anything but incredible from start to finish, there has been epic battles, tremendous accomplishments and season ending injuries. Record crowds came out to watch the best of the best riders in snocross battle bar-to-bar on some of the most challenging tracks they have ever raced. Rookie riders reaching new heights and veteran riders pushing harder to achieve greatness.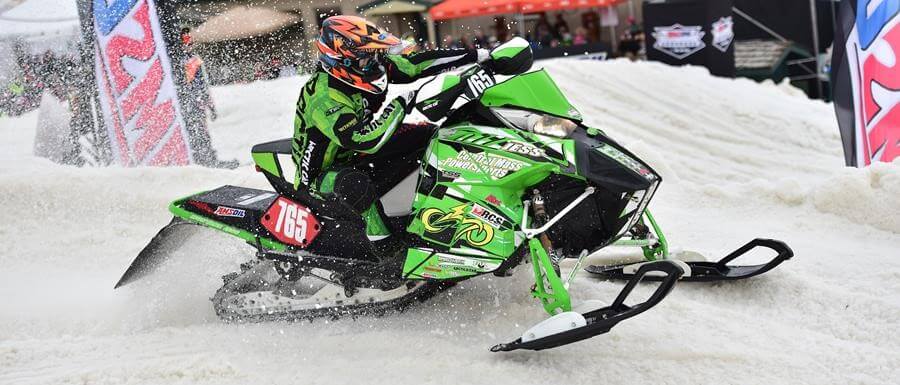 PRO LITE –
Making the decision to go from the amateur ranks to the pro ranks raises the bar to an entirely new level. Setting goals higher than before, preparing for an entire season that requires a full time commitment from the maintenance on the sled to building the physical endurance necessary to compete at this level and developing a race program that will bring home victories are just a few of things necessary for these riders to lock in a successful season.
When you start out your rookie year in the Pro Lite division for most, the hope is just to finish the season in it's entirety without injuries or major setbacks, finishing as the season champion is only a dream that few achieve as rookie. Montana Jess(765) brought that dream to reality. As the season moved from race-to-race, Montana was able to finish all but one final race on the podium, but never with a win, proving that hard work and consistency will pay off in the end.
Judnick Motorsports rider Jake Angove(177) battled race-after-race with Montana Jess(765), Elias Ishoel(200), Maxime Taillefer(144), Daniel Benham(221) and many others hoping for a chance at the championship. Angove teamed up with Judnick Motorsports for the 2015-2016 season who together were able to bring home several podium finishes and a second place in national points.
Elias Ishoel(200) came of the gate on fire only to be quickly extinguished by an injury in the first rounds of racing. Unable to ride to his full potential, Ishoel lost valuable points in the race for the championship, however taking things one step at a time, staying focused and with a team effort, Ishoel was able to capture multiple wins that landed him third in points for the season.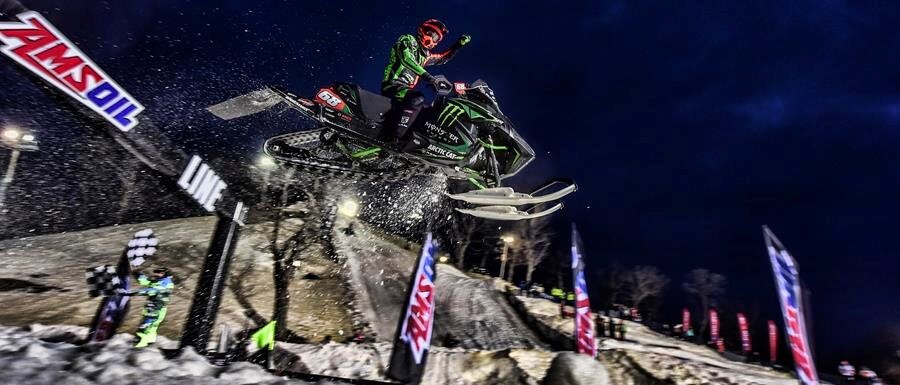 With a quick review of the Pro Lite roster, many names with many different stories begin to unfold. Each with their own successes and disappointments. Daniel Benham(221) proved to be a top contender finding podium finishes through out the season and finished 4th in national points. Maxime Taillefer(144) supported by the AMSOIL/Air Force team finish in the top five. Taillefer was a continued threat to the top points runners with several podium finishes.
The Pro Lite division had a full field of top competitors,  James Johnstad(14) grabbed a first place podium in Fargo and several top five heat finishes. Cole Cottew(21) of Cottew Motorsports also had a fair amount of success with podium finishes and top five heat race finishes.  Kevin Wallenstein(122) landed a third place podium at Canterbury and finished the season 6th in national points.
PRO LITE FINAL POINTS STANDINGS –
1. Montana Jess – 583
2. Jake Angove – 546
3. Elias Ishoel – 543
4. Daniel Benham – 511
5. Maxime Taillefer – 485
6. Kevin Wallenstein – 437
7. Cole Cottew – 380
8. Travis Muller – 365
9. Michael George – 354
10. Korbyn Anderson – 318
11. Tyler Adams – 308
12. James Johnstad – 300
13. Brett Nastala – 277
14. Jacob Blanshan – 250
15. Nick Pattyn – 201
16. Brady Love – 191
17. Shane Sewell – 183
18. Travis Kern – 180
19. Zak Mason – 160
20. Kyle Rau – 120
21. Martin Moland – 117
22. Stephen Turchanik – 113
23. Marcus Ogemar Hellgren – 102
24. Jordan Kraus – 96
25. Luke Wollenberg – 61
26. Eetu Karjalainen – 50
27. Dex Savage – 50
28. Grant Glashagel – 47
29. Jake Dasilva – 45
30. Ian Buchman – 38
31. Zach Herfindahl – 33
32. Mikko Osmo – 32
33. Kristoffer Holm – 30
34. Christian Huber – 29
35. Chase Rosemeyer – 28
36. Brandon Lind – 22
37. Tyler Kinnie – 20
38. Jake Erickson – 20
39. Jake Tijan – 20
40. Pieti Puhakka – 18
41. Jacob Gervais – 17
42. Derek Sanftenberg – 17
43. Dylan Jansen – 13
44. Eddie Neubauer – 12
45. Colton Lugert – 11
46. Camryn Anderson – 9
47. Jeff Jasan – 8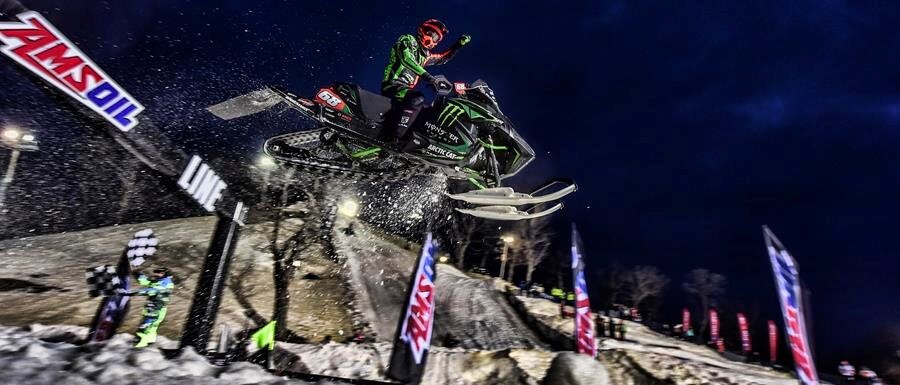 PRO OPEN –
Few forms of motorsports cross the boundaries like Pro Open Snocross, racing in sub zero temps, contending with challenging or no visibility with relentless roost and blinding snow dust. Navigating 400lb + sleds on tracks that change with every lap, holes and dips deep enough to swallow sleds dead in their tracks, courses that would push any motocross rider to their limit.  Pro Open Snocross is the best of the best pushing it to the edge every time they compete.
Building and planning a championship season for any competitor and team involves endless commitment, constant planning and preparation and sometimes a little bit of luck. Stacking together multiple championships in a racing career is an achievement few can claim. As the season drew to a close, Tucker Hibbert(68) inked his 10th Snocross Championship, a feat that cannot be ignored, a feat that deserves  respect, a feat that may never been seen again. Congratulations to Tucker Hibbert and the entire team for your 2015-2016 Championship.
Veteran rider and past champion Tim Tremblay(11) finished off the season 2nd in national points. Tremblay riding for the AMSOIL/Air Force team brought home the number 11 Ski-Doo to multiple podium finishes as well as numerous top five finishes in heat races. Lincoln Lemieux(13) started out the season with some mid-pack finishes, however came on very strong mid-way through the season with continued podium finishes and numerous first place finishes in the heat rounds. Lincoln finished out the season with 3rd in national points. The Swiss rider Adam Renheim(311) competed in all 17 finals bringing the Boss Racing Ski-Doo to 5 podium finishes and finishing the season 4th in points. Finishing off the top 5 in points was the man with the big smile, Kyle Palin(324), riding for Team Lavelle, Palin locked in podium finishes throughout the season.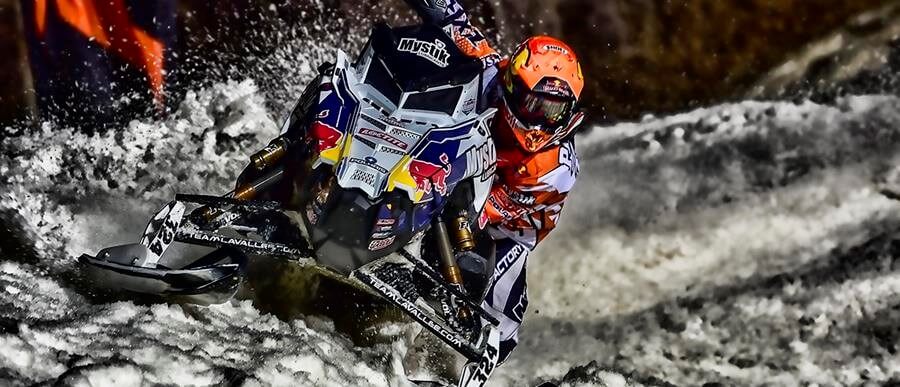 Many riders were challenged with injuries throughout the season, early in the season Kody Kamm(53) rode very strong with feature wins and was tied in national points for first with Hibbert. Kody was unable to finish out the season after a season ending injury in Canterbury, MN. Also challenged with injuries, Corrin Todd(36) had a mixed season with some podium finishes, Todd rode through injuries to finish out the season 6th in points. Hentges Racing rider Peter Narsa(54) also was faced with injuries mid-season but was able to come back strong and ride to a dominating first place finish in Round 15.
Several riders stepped up to the Pro Open class for the 2015-2016 season, for  Rookie Pro rider Corey Watkinson(173) he turned out an incredible season staying consistent with solid finishes all season, Jake Scott(42) rode the race of his life in Deadwood, SD landing his first Pro Open podium finishing in third.
PRO OPEN FINAL POINTS STANDINGS –
1. Tucker Hibbert – 757
2. Tim Tremblay – 646
3. Lincoln Lemieux – 610
4. Adam Renheim – 599
5. Kyle Palin – 582
6. Corrin Todd – 523
7. Peter Nasra – 480
8. John Stenberg – 450
9. Ross Martin – 430
10. Corey Watkinson – 419
11. Jake Scott – 419
12. Ryan Springer – 351
13. Andrew Carlson – 343
14. Logan Christian – 324
15. Zach Patty – 297
16. David Janis – 281
17. Kody Kim – 235
18. Trevor Leighton – 183
19. Justin Bromberg – 168
20. Andrew Lieders – 154
21. Cody Thomsen – 120
22. Danny Poirier – 115
23. Matt Picher – 97
24. Colby Crapo – 64
25. Mathieu Morin – 60
26. Dylan Hall – 49
27. Iain Hayden – 47
28. Tyler Adams – 41
29. Michael George – 40
30. Mikko Osmo – 24
31. Pieti Puhakka – 22
32. Marcus Johansson – 13
33. Jeff Sanftenberg – 5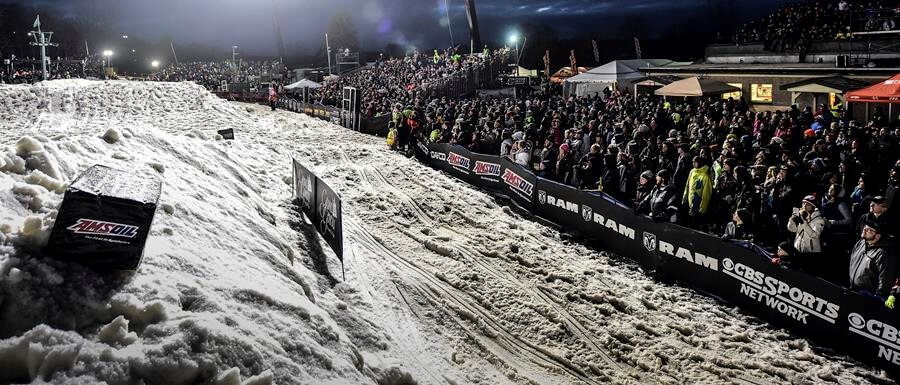 PRO AM WOMEN –
Lot's of action and exciting racing at the amateur level occurred through the season, the Pro AM Women's division has many younger women coming up through the division and working hard to improve, Marcia Renheim(311) has claimed the National Championship for the 2015-2016 season making this her third year in a row, in addition, Renheim has marked this as her last season to race.  Second in national points, Elina Ohman(170) battled hard throughout the season for the championship, with the growth and competition level, this an exciting class to watch in the future.
SPORT –
Top level competition occurred at the drop of every green flag with the Sport division. National Champion Nickolas Lorenz(572) rode well throughout the season, but came on very strong in the last leg to dominate the field. Second in national points Jacob Yurk(727) was in the points lead mid-season putting together a great season, however an injury in Salamanca, NY affected his points lead, but still finished out with a solid season. Rounding off the top three in national points, Eddie Neubauer(747) is also a strong rider on the rise continuing to be a top competitor in this division. Adam Peterson(113) made his mark early on in the season riding very strong and will be a force to watch next year.
PRO AM +30 –
The Pro AM +30 division has no shortage of top gunners, Kurt Bauerly(318) finish of the season as the National Champion setting the pace for every race coming home with numerous victories. Patrick Brodeur(811) locked in a great season moving up from third in national points last year to second this year with his sights set on the championship for next year. Matthew Tingstad(154) made his return to the national tour and came back in great fashion finishing third getting better every race throughout the season.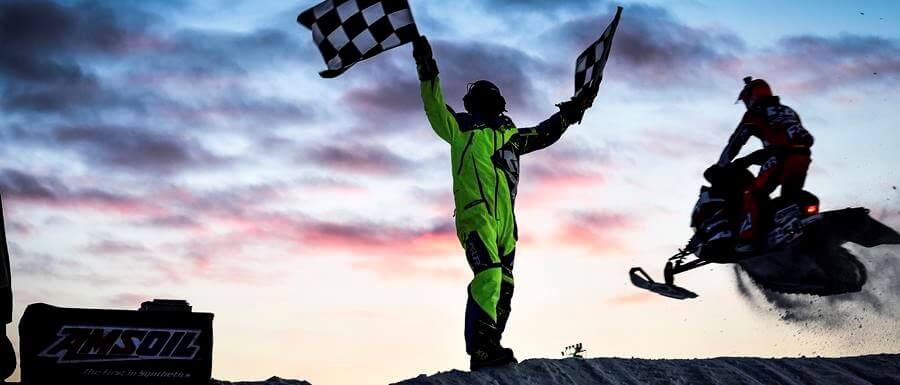 SPECIAL RECOGNITION AWARDS –
ISOC Officials wanted to recognize individuals for the outstanding efforts and achievements throughout the season.
Rookie of the Year: – Montana Jess
Fan Favorite: – Kyle Pallin
Team of the Year: – Woodies Racing
Employee of the Year: – Jake Vanada
ABOUT ISOC –
The International Series of Champions (ISOC) is the premier snowmobile race sanctioning organization in North America and sanctions national AMSOIL Championship Snocross, in addition to affiliating with nine regional circuits. Visit www.isocracing.com for more information, fan and racer memberships, schedule details and more.