Valcourt, Québec, September 12, 2016 – BRP introduces the 2017 Ski-Doo MXZx 600RS racing snowmobile designed specifically to attack North American snocross tracks. The sled will feature revised clutching, improved progressive coupling system and a refined slip gear that results in better holeshots, acceleration and traction with even more durability.
The 2016 MXZx 600RS made big improvements in all aspects of snocross competition with the radical engine changes, new pDrive clutch and unique progressive coupling system, while maintaining the sharp handling and superb bump capability MXZ's are renowned for – this new version just elevates it even further. This sled is the basis upon which the Open Mod snocross sleds that took 2nd, 3rd, and 4th in the National ISOC Snocross circuit are built.
The clutching changes combined with a further improved coupling system will result in explosive holeshots and instant response out of corners and deep snocross craters. The changes also keep a constant eye on making the most durable snocross machines even more so to lower costs and assure racers trouble free performance.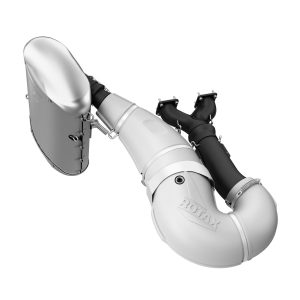 The Rotax engine features a proven cylinder design with a tight tolerance manufacturing process to maximize power and consistency. In addition, the crankshaft, drive clutch and stator reduce inertia for faster response. The powerpack also features a very efficient Y-pipe shape, and tuned pipe to match the cylinder, plus a lightweight muffler. The engine delivers fast revving, consistent and robust power from engagement all the way to the 8000 RPM redline.
Last year BRP introduced the pDrive clutch on the 2016 MXZx 600 RS and it immediately delivered results at the season opening ISOC race as this video shows https://youtu.be/dvGz81YIpEg. The pDrive is designed to reduce friction, reduce weight, tighten tolerances, allow for more consistent RPM delivery, require less maintenance and last longer. To accomplish this, the specialty racing pDrive clutch features unique elements like fast and friction-free dual rollers to transfer torque in place of traditional sliding buttons, the renowned BRP-exclusive adjustable clickers, needle bearings in oversize rollers and a compact open design.
Recap of changes
New Clutching calibration:
pDrive: +14mm of weight on pivot, stiffer spring for higher engagement 230-435 instead of
200-380, new clicker position.
Driven: 74-44×0.40 cam replaces 64-44×0.40
Progressive coupling: Improved fit, function and reliability for explosive holeshots
Slip Gear: Improved tolerances and production for better stability and smoother engagement
For more information on Ski-Doo snowmobiles, visit www.ski-doo.com or the On Track blog site for race-specific information.
About BRP
BRP (TSX:DOO) is a global leader in the design, development, manufacturing, distribution and marketing of powersports vehicles and propulsion systems. Its portfolio includes Ski-Doo and Lynx snowmobiles, Sea-Doo watercraft, Can-Am all-terrain and side-by-side vehicles, Can-Am Spyder
roadsters, Evinrude and Rotax marine propulsion systems as well as Rotax engines for karts, motorcycles and recreational aircraft. BRP supports its line of products with a dedicated parts, accessories and clothing business. With annual sales of over CA$3.8 billion from over 100 countries,
the Company employs approximately 7,900 people worldwide.
www.brp.com
@BRPnews
Ski-Doo, Lynx, Sea-Doo, Evinrude, Rotax, Can-Am, Spyder, MXZ, rMotion, pDrive and the BRP logo are trademarks of Bombardier Recreational Products Inc. or its affiliates. All other trademarks are the property of their respective owners.
For product information:
Steve Cowing
Ski-Doo Public Relations Manager
651-755-2520
steve.cowing@brp.com
For Racing Information:
Tom Lawrence
Ski-Doo Race Coordinator
920-370-7383
tom.lawrence@brp.com